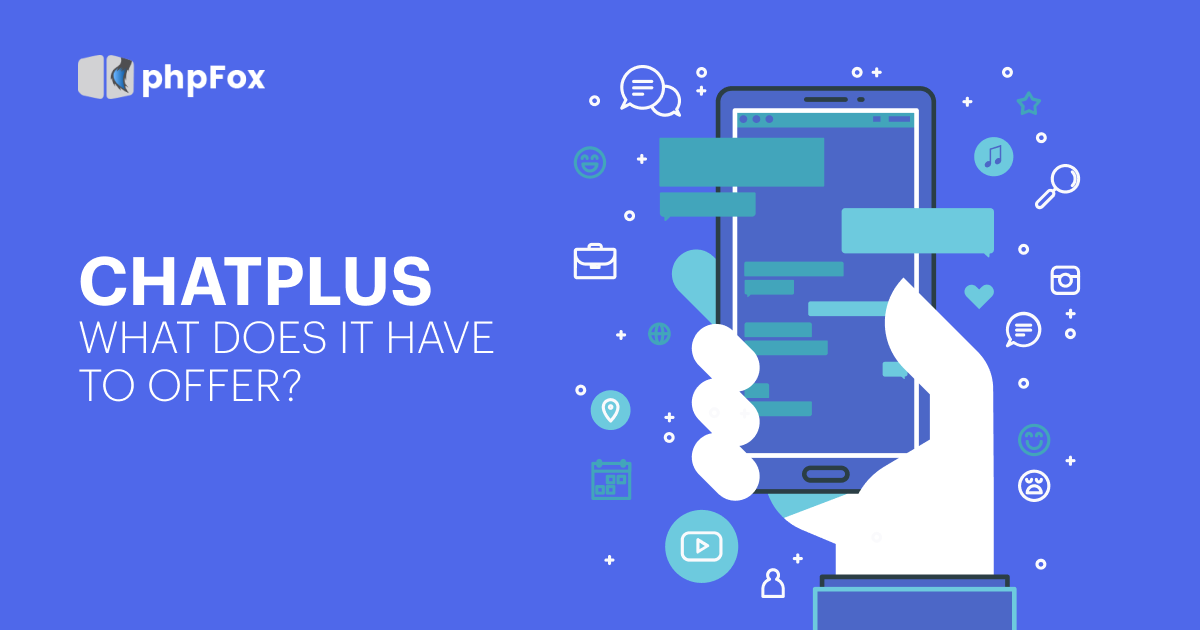 Chatting is obviously one of the most prominent and most-used features of every online community. That's why we here at phpFox are always looking for ways to improve Chatplus – the chatting solution to make it more accessible and user-friendly for everyone. Let's check out what it has to offer.
RELATED:
ChatPlus 4.1.4 and Live Streaming 4.1.1 Release
In This Article:
Interactive Chat

Sending Attachments

Group Chat

Voice Chat/ Voice Call 

Video Call
Chatplus from phpFox – the Chat Solution for Your Community
Interactive Chat
Chatting can be plain sometimes, especially when you're chatting with a friend with whom you want to share an exciting story and express your emotion. And sometimes, this can be limited due to the lack of interactive features. Worry not! phpFox's ChatPlus got you covered! ChatPlus allows you to be more interactive with your conversation by giving you the option to send GIFs, emojis, pictures, emoticons to the person on the other side of the screen. 
As owners, it's crucial for you to be keeping up to date with the latest trend and technology, having a way to instant connect you to users or user to user is essential.
You can also get to react to the messages that the other person sent you to create a better connection and mutual interaction for both sides. The ability to express emotions such as love, hate, sadness, etc., is essential for human beings. These features can satisfy the users' need to do so. 
Not only that, with a means to directly connect with others and your brand in a timely matter your user will have a better impression of what your business and online community has to offer.
RELATED:
Why ChatPlus can leverage your community's communication
Sending Attachments
Sharing files such as photos, GIFs, documents are also a big part of chatting. Being able to show other people your beautiful moments or funny clips is how you connect with them a lot better. 
ChatPlus supports sending multiple photos with complete resolution at once. You don't have to worry about distorted or low-resolution pictures when the other person receives them. In addition, if you want to check out the old photos sent, you can see all of them available in the chat room gallery. 
So you don't need to waste time scrolling down and digging through old messages to look for a particular file, videos, or photos in the conversation. This provide your user a faster method of conveying and transferring useful information, documents, files.
Group Chat
Online chatting is no longer limited to only two users; now, we have group chats with tens, hundreds, or even more members. These group chats can be private or public, allowing users to enjoy talking and sharing their favorite topics. 
The group chat feature is not limited to 2 users chatting and interacting with each other but it allows multiple user to join in the conversation and discussion at anytime. Letting more people to convey their idea and offer their opinion to others at once, without going to each different inbox and telling them individually.
The updated version of ChatPlus supports showing the typing status in the chat room when someone triggers the typing action. It also displays the user's status (online/away/busy) and "seen" status below the last message of the conversation if users on the other side have already read it. As a result, this helps the user communicate more effectively and proficiently with each other.
In addition, you can also use Group Chat feature to announce events, promotions, and special announcement for certain group of user and receive their live reaction which can be very helpful feedbacks.
RELATED:
A strategic thinking on building engagement towards Online Community
Voice Chat/ Voice Call 
In addition to text-only chat, ChatPlus allows you to send voice messages to others via the microphone on your mobile devices. Voice calling is also quite useful. Making a quick call to fellow community members is a great feature of ChatPlus. ChatPlus can call up to 50 users at once. 
Video Call
ChatPlus makes it possible for many people to join in a single video call with all of their cameras on. In addition, you will also be able to share the screen for other members in the call to see making both video and voice calls are exceptionally good for hosting
online events, meetings
, and
conferences
. Creating better communication and interaction among the host/ presenter and the viewers is an awesome way to get people more interested and pay attention to the message.
These newly added improvements and features from ChatPlus on the phpFox platform can help you push your online community to the next level. Connecting with your audience is more proficient and engages them more personally. 
So if you want to try things out for yourself, here is a FREE DEMO.
Contact us
now! Let us know how we can help you build your ideal online community complete with Chatplus! 
UP NEXT: