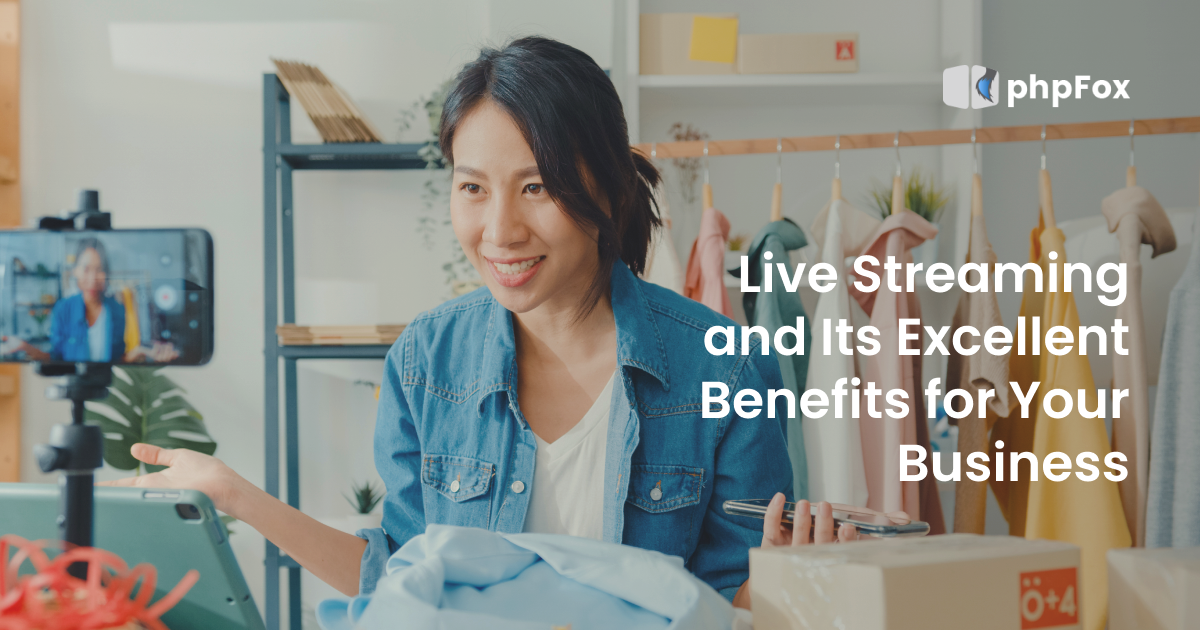 Live streaming has only been around for a short time, but it is swiftly gaining popularity and the attention of people who are always looking for new and inventive methods to provide content. Let's find out more about live streaming benefits in today's article.
RELATED: ChatPlus and Live Streaming requirements
In This Article:
Real-Time Engagement

Save Money

Provide Repurpose Content

Save Time

Easier to Target Niche

Users Consume Content on Your Time

It's Still a New and Uncharted Territory
Step up Your Game with These 7 Live Streaming Benefits
Real-Time Engagement
One of the primary live streaming benefits is why live streaming is gaining traction in content marketing. It provides real-time user interaction and allows viewers to participate in a direct discussion with the influencer. When you read a blog post, you read someone else's work.
It provides users with real-time engagement advantages, but it also allows businesses to deliver live help, Q&A sessions, and workplace tours.
The real-time engagement erases the distance between you and the viewers, helping viewers build trust and connection with your brand. The viewers will feel like they are watching a natural person instead of some paid actors/actresses on the internet. 
Save Money
When you think about it, live streaming is quite inexpensive. It is, in fact, entirely free. There is no need for any specialized equipment, software, or hardware. All you need is a smartphone or laptop with a camera and an active account on the platform of your choice. 
While traditional blogging and content creation typically need a set of properly configured software packages (e.g., hosting and platform), live streaming is available to anybody with a single click.
phpFox works with businesses worldwide to create niche social networks and online communities that meet the diverse demands of their customers. phpFox's Live Streaming solution includes all of the necessary tools to establish your brand through live streaming.
Provide Repurpose Content
Third on the list of live streaming benefits is its unique ability to be transformed into a variety of different content. Although this applies to almost any type of content, live videos may easily be turned into other types of content, such as a published video transcript on your own blog, an infographic on Visual.ly, or a replicated video on YouTube. Your options are endless.
Nonetheless, repurposing material is always recommended to extend the reach of your message.
RELATED: The Uses of phpFox Live Streaming
Save Time
According to Hubspot research, it takes around 2 hours to create a 500-word blog post and anywhere from 4-8 hours to publish a 1,500-2,000 word article. While a 500-word post would not be considered substantial and would not receive much attention, it can be readily read in 3-4 minutes.
The data differs when it comes to conventional video creation, such as vlogs. According to Make Use Of, an essential vlog may take up to 2-3 hours to develop and edit.
Do you know how long it would take to create a 4-minute live video with phpFox Live Streaming? You are correct; 4 minutes!
Easier to Target Niche
Viewing live broadcasts, as we've already discovered, needs greater commitment from your followers simply because they must tune in on your schedule, regardless of whether it's the optimal time for them. As a result, this conclusion employs an algorithmic filter that keeps irrelevant audiences at bay.
Furthermore, people who aren't interested in your issue will rarely join the conversation.
Users Consume Content on Your Time
The most significant and compelling of the live streaming benefits is that consumers consume material on your time, not theirs. This implies that you are only interacting with individuals interested in you, your business, and your content. You automatically direct material to folks who are more likely to convert and follow you.
No other content marketing channel can compete with live streaming.
It's Still a New and Uncharted Territory
History tends to repeat itself. Live streaming, like any other digital marketing medium, will rapidly become overcrowded. Although it has not yet reached that level, it is gradually gaining popularity, and an increasing number of individuals are using it regularly. So the last live streaming benefits are that it is relatively new to many people, and it's still uncharted territory waiting to be discovered.
As an example, consider the decline in organic post reach on Facebook. Because timelines grew too competitive, Facebook had to change its algorithm, resulting in just a small percentage of people seeing your organic postings. The same may be said about live streaming.
As a result, if you want to achieve the essential audience with live video, you need to move soon.
With all that live streaming benefits said, you may have seen live streaming as a very effective way of distributing content. However, like every other marketing medium, it has its own risks and obstacles. As a result, before diving deeply into live video, thoroughly assess all of the advantages and downsides and determine whether it is appropriate for your purposes.
Have you tried to implement Live Streaming into your business? If you want to get started, CONTACT US and let us know how we can help you! 
UP NEXT: