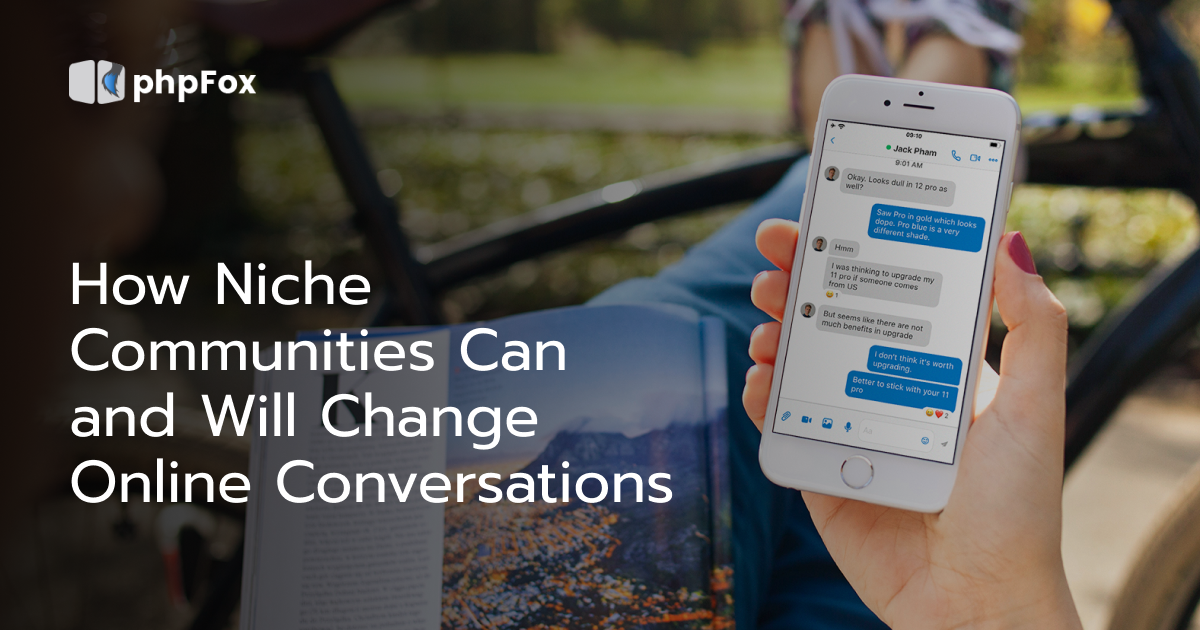 Social media like Instagram, TikTok, and Facebook are filled with online trolls and an abundance of ads. But with niche communities, you can avoid all of that. Let's find out more about niche online communities and how people use them to better their businesses.
RELATED: Advantages of Online Communities over Traditional Communities
In This Article:
What Are Niche Communities?

The Uses of Niche Communities

How to Create Niche Communities

How Niche Communities Change Online Conversations

Conclusion
Niche Communities – the Key to Growing Your Business, Increase Conversion, and Gain More Customers
What Are Niche Communities?
Before anything else, you need to know what a niche community is. A niche community is a group of people who have come together because they share the same interest, values, or objectives.
You probably have heard of Rotten Tomatoes; it's a site where people join and share their thoughts and opinions through the film reviews. All of the reviews can be read and accessed by everyone in the community. For instance, if you are into movies, a movie club is your place. 
The Uses of Niche Communities
Niche communities provide us with the exclusivity and sense of belonging we want. People nowadays want to connect with a community, such as a group of similarly passionate about anime or Game of Thrones plot theories.
In a niche community, you don't have to go through dozens of useless postings to discover individuals who want to chat about the subjects that interest or intrigue you. All you have to do to connect with individuals who share your interests is join a community.
Niche organizations can do what Facebook cannot. They cut through the digital noise to provide safe spaces for people to debate specific issues without being interrupted by judgment, trolling or irrelevant information. I appreciate these sites because they allow folks to tap into a hive of shared information.
How to Create Niche Communities
There are quite a few niche online communities out there already:
Instructables
Instructables is a DIY project community on the internet. You may connect with other creators by uploading your newest craft project or audio masterpiece. A group is also a place for folks who need assistance with a DIY project.
Simply make a post about your issue, and you'll likely obtain solutions from individuals who are more knowledgeable than you. You may also watch lessons and work with other users on projects.
BlogHer
BlogHer is a discussion forum for female innovators about digital marketing, blogging, and business. What began in 2005 as a conference has grown into one of the largest online specialized groups. A job portal for female creatives, yearly conferences, and women-led community support and feedback are available.
Quora
Quora may be able to assist you in building your brand and establishing yourself as a thinking leader. Millions of people use the site each month, asking and answering questions on various topics. You may use it to identify what people are dealing with or to uncover your next product idea and resolve your audience's most pressing problems.
Behance
Are you a skilled designer? Behance might be the community for you. Adobe founded it, and it now has over 10 million members globally. You may post your portfolio, look for employment, discuss projects, and receive community comments.
Stack Overflow
Not only is Stack Overflow the hub for all things IT, but its job board may help you find your next full-time or freelance developer job. The website allows you to obtain answers to your code issues from millions of users, contribute to open-source projects, answer queries, and get insights from developers worldwide.
These are only some of the very unique and useful niche communities for you to join. However, for those of you who want to expand your business and attract more potential customers, then thinking about getting your own niche online community is the way to go!
phpFox is a feature-rich social network platform that allows you to create robust niche communities where your audience can interact and actively participate (IM chat, live broadcast, threads, polls, quizzes, games, etc.). In addition to the online version, phpFox provides white-label mobile apps, live streaming, and sophisticated chat solutions known as ChatPlus. By allowing you to develop a white-label, stylish, and easy-to-customize website, phpFox saves you time and effort. 
With phpFox and its included features and solutions, you will be able to build your niche communities quickly.
Find out here: Different Steps for Building Different Online Communities
How Niche Communities Change Online Conversations
Niche Communities Are More Personalized
Because these communities are isolated from the rest of social media, they tend to become safe spaces for people to share their views, feelings, and interests.
You're connecting with folks who understand what you're going through and why you feel the way you do. This develops an accepting culture, which may be difficult to obtain on traditional social media platforms.
According to Plan International research, 39% of females have experienced online abuse. As a result, 13% modified the way they presented themselves.
Niche Communities Help You Meet People With Similar Interests
You may feel as if you are the only person in your life who is interested in the Impressionist art movement or backpacking across Africa.
Niche online communities allow us to avoid feeling solitary in our interests and connect with others who share our passions.
Niche Communities Provide a Sense of Belonging 
We are hardwired as humans to seek out communities, and as much as we may hate admitting it, we desire collective approval.
These little groups provide us with a sense of belonging that we would not have had otherwise.
Social media can be used to build significant social spaces, although, on larger sites, this is not always viable. As a result, individuals want more true online relationships and locations where they can "fit in" by engaging with others who are interested in SEO, hiking, or prepping for the zombie apocalypse.
Niche Communities Create and Encourage Meaningful Conversations
According to a Global Web Index research on online communities, 45 percent of respondents were upset by harsh language and bullying on traditional social networking platforms. Furthermore, 36% felt they didn't have a meaningful connection with other users.
Community chat applications like Chatplus from phpFox enable users to engage in meaningful conversations that aren't common in other public venues.
The app covers everything from mental health issues like anxiety and depression to identity areas like gender transition, racism, and coming out.
It allows you to share your experience, discover a support system, and have conversations that you would be too afraid to do in person.
Conclusion
Niche communities are a trend that all marketers should be aware of. As people lose faith in social media companies and platforms grow increasingly congested, locating and engaging in the online venues where your specialty exists is more crucial than ever.
Whether you're an eco-friendly e-commerce firm or a business coach, a specialized community will provide you with greater access to your audience, the ability to grow as a thought leader, and the potential to enhance conversion rates.
Create niche communities with phpFox and connect with your customer in a more personalized approach. Give us a call to get your online community up and running now! 
UP NEXT: