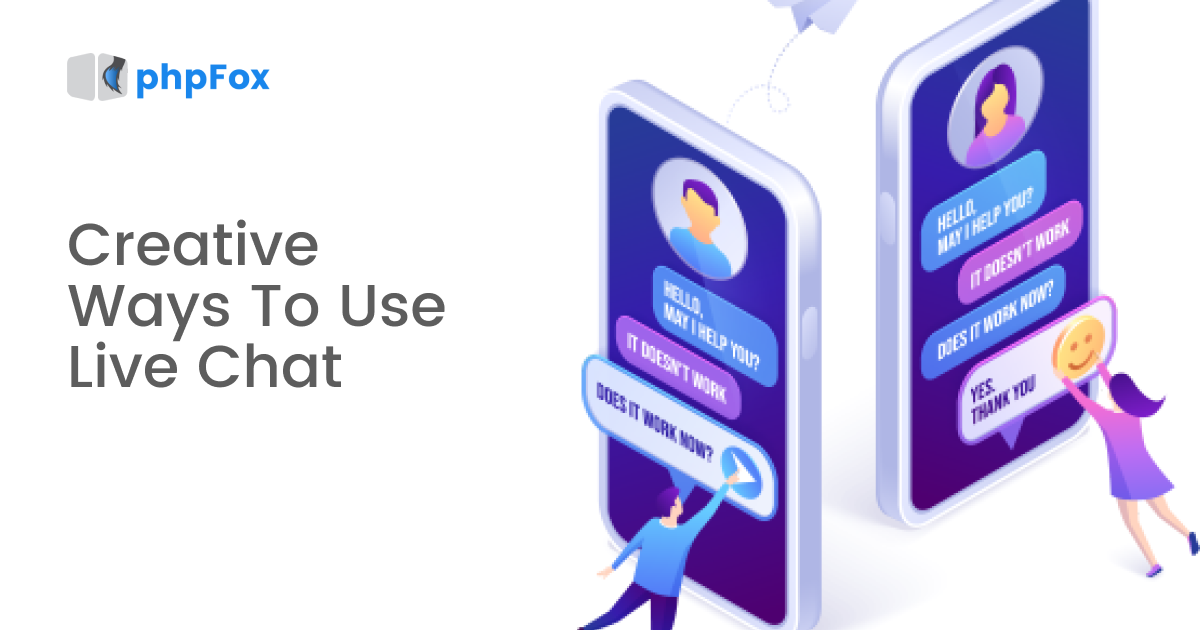 Live chat has been around for some time now. In addition, businesses have been sluggish to implement a live chat strategy despite customers' rising desire for instant attention. Worry not; we are here to help. These are some creative ways to use live chat and improve your business.
RELATED: Live Streaming benefits for business
In This Article:
Multilingual Chat Support

Text-to-Chat Customer Support

Build Mailing List

Using Chat Transcripts to Learn More About Customer Insights

Proactive Chat on 404 Page

New Client Onboarding Assistance

Getting Creative with phpFox
Improve Your Business and User Experience with These Innovative Ways to Use Live Chat
Multilingual Chat Support
With the rapid development of business, and globalization, it's becoming increasingly difficult not to have a multilingual working feature on your website; this also goes for your live chat. Having multilingual chat support means you will be able to communicate with different people from around the world in their native language. As a result, you will get endless opportunities for potential customers to come and check out your website.
Canyon Bicycles has a worldwide following, with clients who speak various languages. Clients are connected to the most relevant sales and support representatives in their visitors' preferred language using sophisticated chat routing rules.
Text-to-Chat Customer Support
Customers of U.S. Patriot Tactical can initiate a live chat with their support staff by sending an SMS message. Their website, order receipts, and packing slips all have a 'Text-to-Chat' phone number that may be used for order inquiries, status updates, and refunds.
By posting the necessary information about you and your contact, you will create a better impression and encourage your potential customers to interact with you.
Build Mailing List
Using live chat, a company's marketing staff may entice website visitors with an offer that isn't necessarily the product itself but rather something of value in exchange for the visitors' contact information. It is possible to send a white paper on a topic relevant to the web visitor's inquiry by email, pushing the prospect to provide their email address.
Using live chat as a marketing technique to build a mailing list to get a deeper insight into our customers is also helpful. You have an excuse when you ask for someone's email address to deliver your material. Your live chat box is critical to be linked to a CRM database as you deploy this procedure.
By integrating the live chat box with your CRM, you can transfer data between platforms and aggregate it for a complete view of each prospect or client. For example, your CRM recognizes him as a returning visitor if someone requests further information. This allows you to determine whether or not a lead is warm and ready to go on to the next step of the marketing funnel.
The CRM provides extra information about this prospect, allowing you to customize the discussion. As a result, it is critical that whichever live chat platforms you want to employ can be coupled with a CRM system. It's even better than the integration is native to avoid third-party problems.
Using Chat Transcripts to Learn More About Customer Insights
Live chat that is primarily intended to resolve customer issues or concerns may also be beneficial to marketing. It'll quickly create thousands of chat transcripts from various interesting, frustrated, and even hostile chats. That's a treasure of raw data about user behaviors, motivations, requirements, desires, and market data, just ready to be mined for your next strategic strategy or campaign. Here are a few examples of how conversation transcripts might reveal market insights:
Brand communication. Craft your brand message around your prospects' most prevalent complaints or challenges to portray your product as a benefit that answers their problems.
The material is correct. Create content that entices prospects by recognizing their requirements and generating material to meet those needs.
Aligned campaigns Run campaigns based on conversations regarding prospects' problems identified in chat transcripts.
It's a close race. Look for mentions of your competitors in chat transcripts to obtain a sense of who your nearest competitors are, and potentially create a comparison chart to emphasize your distinctiveness.
Segmentation of customers. Look for trends in the transcripts that might help you categorize possible client groupings, such as persons who have similar recurrent inquiries or the top areas from which searches come.
Proactive Chat on 404 Page
Another great example of using Live chat creatively is how Snapengage handles chatting with customers while the site is down. There are few things more unpleasant than not being able to locate what you're searching for, and arriving at a 404 page frequently leads to people leaving a website.
Rather than presenting a list of suggested links that may or may not be related to their visitors' search, SnapEngage sends an automatic proactive chat invitation when they get on their 404 page, allowing them to rapidly take them to the information they're searching for.
RELATED: 5 Ways ChatPlus Can Help You with Your Business
New Client Onboarding Assistance
A major online financial advisor, Betterment engages top-tier clients with tailored proactive chat invites when they sign up for a new account. Dealing with other people's money necessitates the highest level of credibility and trust.
Rather than depending simply on their established user experience (UX) flow to lead consumers through Betterment's investment funnel, proactive chat allows advisors to give new clients fast, tailored financial services so they can invest with confidence.
Getting Creative with phpFox
phpFox is a powerful social networking platform that allows businesses to create niche online communities, complete with live streaming and live chat features. Now you can freely use your newly acquired knowledge and ideas on how to use live chat effectively to improve your business and gain more users efficiently.
phpFox also offers customization services to help you develop and personalize your live chat to make it unique and appealing to users.
Do you have an ideal design for your chat plus? Contact us now and let us know how we can help you make it into reality.
UP NEXT: