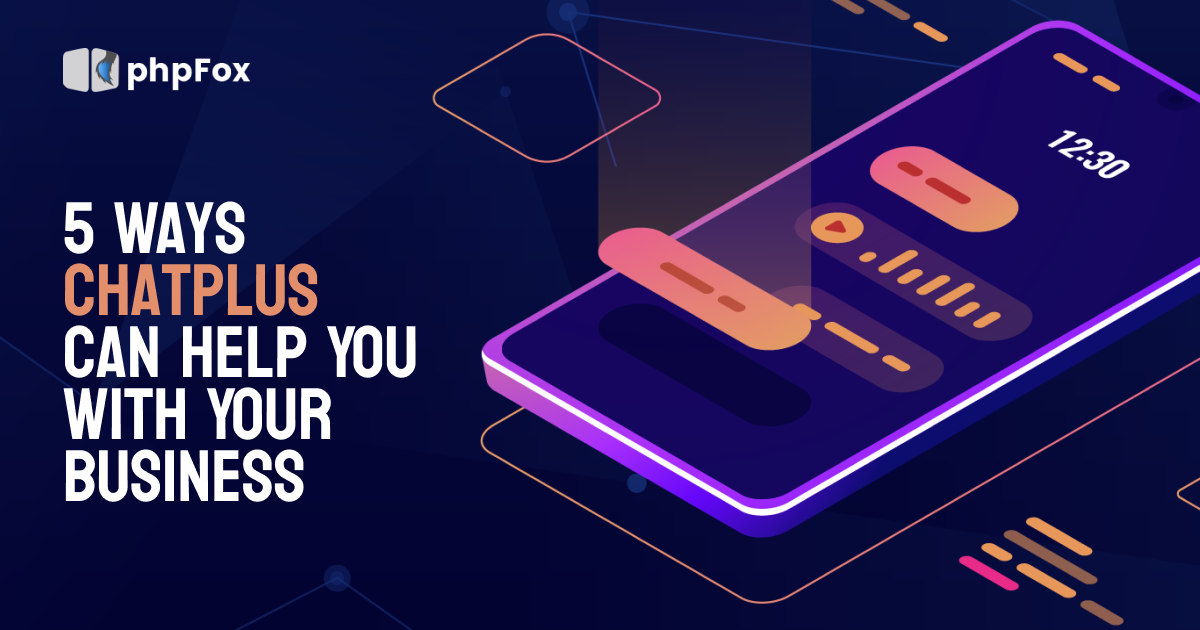 If you visit a company's website and check for a live chat window, you can quickly discover if they are outperforming their competition. Live customer support from ChatPlus provides better customer service, retention, satisfaction and conversion. Let's have a deeper look at how ChatPlus helps you with your business.
RELATED: Why ChatPlus is important for your phpFox online community?
In This Article:
Increase Conversion Rates

Stand out from the Crowd

Improve Customer Loyalty

Provide Better Customer Insights

Boost your Profits by Getting More Clients

The Best Solution for Live Chatting
Live Chatting and ChatPlus Is the next Step Step Customer Service
Increase Conversion Rates
`
There are many advantages for businesses to use online customer service, but lead creation is one of the most important ones. Because chat professionals are proactive in collecting visitors' contact information, conversions rise. Using connect-to-call tools or real-time email, SMS, or phone call notifications, some chat systems (like ours) can even link live chat customers to the company's sales staff within seconds.
For new customers, a chat window may make all the difference. Businesses who utilize phpFox's live chat get an average 40% boost in leads from website visitors.
Stand out from the Crowd
Given the popularity of live chat and its reputation for efficient client engagement, you'd think service-oriented organizations would be all in on it. Despite this, just 9 to 14 percent of all corporate websites include chat capabilities.
In other words, ChatPlus is the great majority of businesses—likely including your competitors—undervalued or are unaware of chat. In today's competitive marketplaces, when consumer attention is at a premium, live chat offers a major and very favorable chance for differentiation.
Improve Customer Loyalty
Live chat is designed with consumers in mind, with its speed, convenience, accessibility, and 24-hour availability. Chat removes many of the hurdles associated with traditional sales and service channels. People who utilize chat report high levels of satisfaction, which should come as no surprise. As a result, brand affinity and consumer loyalty rise.
Keep in mind that high consumer expectations are reciprocal. While satisfying such expectations is more difficult than ever, people are more likely to remain loyal to organizations who have earned their confidence. Live chat, whether used for sales, support, or both, provides an unusually rapid and adaptable experience, eventually inspiring users to return and become repeat customers.
Provide Better Customer Insights
Another important advantage of live chat is the ability to acquire information. Chat log data can assist in identifying recurring customer service difficulties, paving the path for innovative solutions. Other communication routes make identifying these pain areas considerably more difficult, if not impossible.
Our ChatPlus live chatting solution collects every discussion transcript in its entirety, together with the IP address and visitor referral source (Google, social media, etc.), giving you critical insight about your customers' demands as well as the performance of your marketing efforts.
Boost your Profits by Getting More Clients
Tired of squandering money on company marketing, sales, and support initiatives that have no discernible impact on your bottom line? There has never been a better moment to evaluate the advantages of live chat. Everything about chat is captured, transcribed, and timestamped, so you can track how long talks last and link those exchanges to sales figures and other performance measures.
The Best Solution for Live Chatting
ChatPlus is an advanced instant messaging system from phpFox community building platform. With so many interesting messaging features from texting and sending emotes to video calling and attaching files, it gives phpFox site developers a means to leverage their site communication and engagement.
Many various feature of Chatplus includes:
Advanced Instant Messaging
Allowing your customer support team to proactively connect with the customer when they need any kind of problem may occur. ChatPlus provides a way for your customer to send files including screenshots and pictures so you can exactly see what the customer's current issues are.
Group chats
This feature is extremely useful if you want to interact with 2 or more customers at a time, cutting down the time it takes to answer each question drastically. Not to mention the efficiency of being able to answer the FAQ faster.
Audio/Video call
In some cases, chatting is not the best option for solving a problem, that's why having the ability to make direct video calls or audio calls can greatly improve the result.
So if you're already using phpFox to build your business, ChatPlus is the ultimate solution for enhancing the efficiency and productivity of your customer service. In addition, you're able to become more interactive with your customers directly in the community. As a result, more customers feel the connection with your brand and you can slowly build your brand loyalty overtime.
RELATED: Pros and Cons of Online Meetings
In conclusion, it's better to invest your time and resources into building effective customer care service, because this can go a long way. Not only can you create a good impression on them by providing the necessary information and solution to their problem, but also this is the perfect chance for your brand to connect and build a better relationship with your customers.
So look no further as ChatPlus is the best live chatting solution for you phpFox developers who are trying to build their name and business.
BUY ChatPlus today and get your site out there! Don't hesitate to contact us via our Client Area if you have any questions. We're here to help.
UP NEXT: