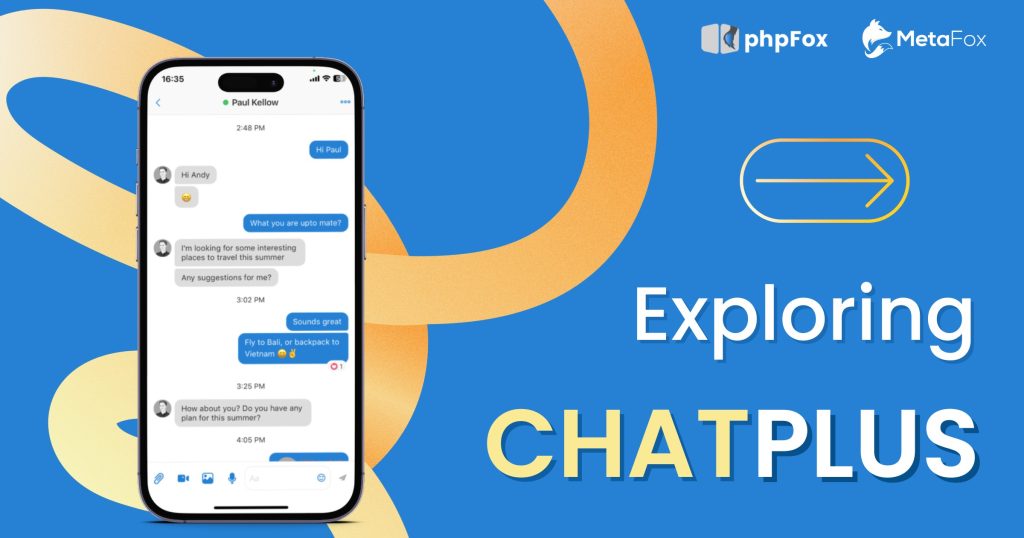 Chatting is a social tool in community interactions, consistently at the forefront of users' preferences. As people connect and engage within their communities, phpFox ChatPlus emerges as a significant player, offering many features to enhance the chatting experience. In this post, we will delve into what you need to know about ChatPlus, unveiling its top-of-mind features and how it elevates the art of communication within online communities.
What is phpFox ChatPlus?
Considered a top popular social app of phpFox, ChatPlus revolutionizes how users connect and communicate on their platforms. With its user-friendly interface and robust functionality, our ChatPlus app provides a seamless and immersive messaging experience for individuals and groups, including audio and video chat support, indicators for reading and typing status, and additional features like Pin Message and React to Messages.
06 Key Features of ChatPlus
Unlocking a new era of digital communication, ChatPlus introduces a compelling array of features designed to revolutionize how we connect and interact online. These six key features below stand as the cornerstone of ChatPlus, redefining the messaging experience and setting the stage for a more engaging and efficient mode of communication. From enhanced security measures to intuitive user interfaces, ChatPlus embodies the future of digital conversation, making it a pivotal tool for personal and professional interactions in our increasingly connected world.
Private and Group Chats
Users have the flexibility to participate in both private and group chats. The private chat enables one-on-one communication, ensuring privacy and security. Group chat facilitates discussions between multiple individuals, promoting collaboration and community building. Users can easily create, join, and manage groups based on interests, affiliations, or shared goals. Admins have full control over group chats with built-in multitasking features like Add members, Starred messages, Add to favorites, Edit notifications, etc.
Audio and Video Chat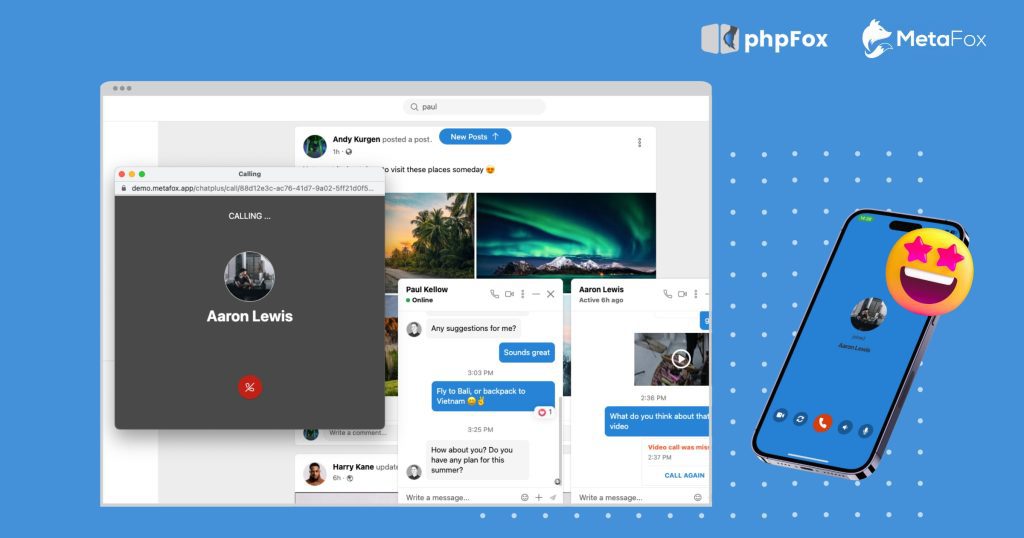 ChatPlus goes beyond text-based messaging by offering seamless audio and video chat capabilities. Users can initiate voice or video calls with their contacts directly within the platform. Whether it's a quick voice message, a face-to-face conversation, or even a group video conference, our software enables users to connect in a more personal and immersive manner.
Pin Message
Users can pin their important messages within their conversations, and these messages will be stored on the same site for later searching. Users can easily access and refer to crucial information, reminders, or any content they want to highlight by pinning a message. This feature is handy for storing essential links, addresses, or event details, ensuring they remain easily accessible within the chat thread.
React to Messages
Users can express their reactions to messages through emojis or custom reactions. With this feature, users can simply click on the response emojis like Like, Love, Haha, Wow, Sad, and Angry to convey their emotions, opinions, or appreciation without having to type a response. Reacting to messages adds an interactive and expressive element to the conversation, making it more engaging and enjoyable for participants.
Multimedia Sharing
In addition to basic features, ChatPlus can meet the need for sharing multimedia content in the conversation. Users can send photos, videos, audio files, documents, and links, enriching their conversations and making them more engaging. This feature enhances the storytelling aspect of communication, allowing users to express themselves creatively and share moments with others. Furthermore, users can easily find multimedia files in the file folder and share them across other chats.
Emojis and Stickers
ChatPlus offers a rich collection of emojis and stickers to add fun and expressiveness to your conversations. Users can choose from various emoticons and graphical stickers to convey their emotions, reactions, and personal style. This feature enhances the overall user experience and adds an element of visual communication to conversations.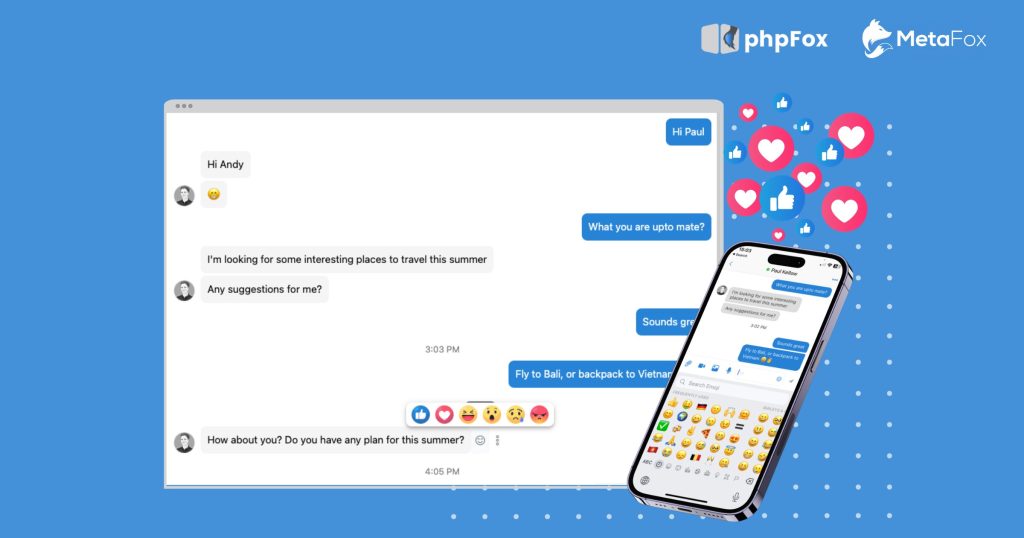 Other features
Apart from these vital features, ChatPlus offers many additional enhancements to elevate social conversations to the highest level of user experience. These features include:
Indicators for Reading and Typing
Message History and Search
Notifications and Presence Indicators
Secure and Privacy-Enhanced
Archive Chat
Explore the Benefits of ChatPlus
Real-time Messaging
At the heart of ChatPlus lies real-time messaging capability, fundamentally transforming how individuals engage with friends, acquaintances, and members in their networks. This feature facilitates instantaneous message delivery and audio and video calls, enabling dynamic and fluid private and group conversations. Whether a brief exchange or an in-depth discussion, the function guarantees swift and efficient communication. Furthermore, ChatPlus can adapt across various devices like PCs, laptops, tablets, or smartphones, ensuring that the online chatting experience remains seamless and convenient, effortlessly bridging the gap between users and their networks.
Effortless Information Sharing
With ChatPlus, you're not confined to simple text-based conversations; it's a gateway to a multimedia-rich world of communication. ChatPlus simplifies the exchange of information, allowing users to chat, share, and archive multimedia content in private and group conversations with lightning-fast upload and download speeds. The feature enables members to access specific content related to each conversation topic conveniently. With seamless sharing capabilities, there's no need for intermediary storage applications, reducing both time and space constraints. In doing so, ChatPlus enhances the efficiency of connecting and sharing within the online community platform, streamlining the user experience. It's not just about communication; it's about sharing experiences, knowledge, and creativity in ways that were previously unimaginable.
Increasing users experience
With the enhanced modern and trending features, ChatPlus creates an immersive and dynamic environment for users to engage with their contacts like never before. What sets ChatPlus apart is its dedication to staying at the forefront of technological advancements, ensuring that your messaging encounters are always at the cutting edge of what's possible. Its intuitive design simplifies the user journey, making it a breeze to navigate through its myriad features, even for those who might not be more tech-savvy. This dedication to elevating the user experience sets ChatPlus apart as the ultimate platform for live communication, where innovation and user satisfaction come together seamlessly.
System Requirements
ChatPlus server must be installed on a dedicated server or VPS using a Linux OS (such as Ubuntu, CentOS, Debian, etc.). And generally, the more influential the server is, the more users Chatplus can handle.
👉 You can see our guidelines for the ChatPlus solution here.
Conclusion
Are you ready to discover the power of the ChatPlus messaging application within your phpFox-powered social network and unlock new ways to connect and engage with your contacts? It's time to dive deep into its features and harness the potential to elevate your online community to a new height of messaging experiences.
If you have questions about this feature or related information about phpFox's products and services, please do not hesitate to contact us for our support. We are looking forward to receiving your valuable input.
👉 Purchase ChatPlus from our Appstore or directly from your Client Area.