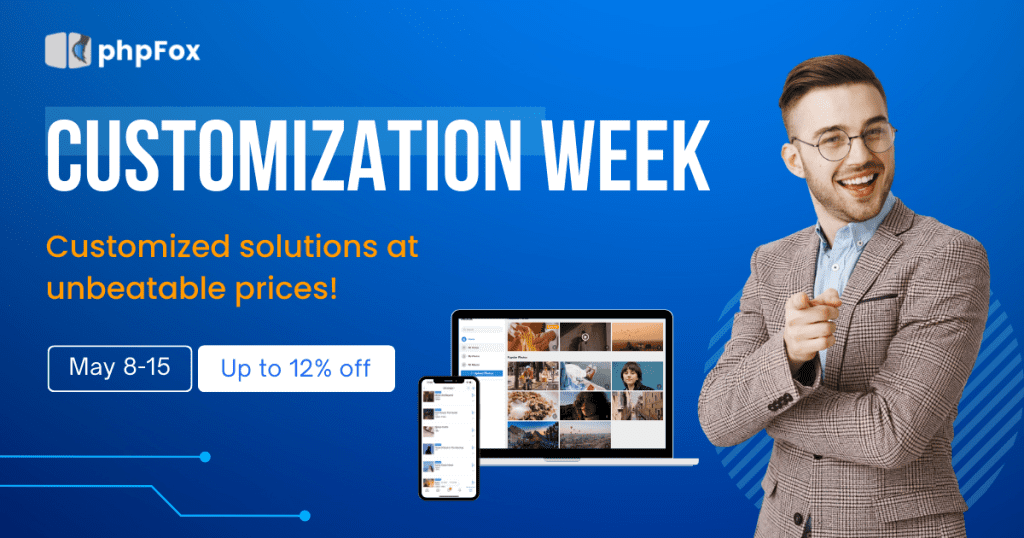 If you're a phpFox user, you're in for a treat! From May 8 to May 15, phpFox is hosting our phpFox Customization Week, where customers can receive attractive offers for all requests proposed during this period. This is your chance to make your website truly unique and tailored to your needs.
👉Estimate now and receive a discount!
What is phpFox Customization Week?
phpFox Customization Week is an exclusive event organized by phpFox to help users tailor their websites according to their needs and preferences. During this week, users can request any customization they need to make their site more unique, and phpFox will provide them with special discounts for their requests.
This event is a fantastic opportunity for anyone who wants to take their phpFox experience to the next level. Whether you're a blogger, a community manager, or an entrepreneur, phpFox customization can help you enhance your website's functionality and design. With phpFox's customization services, you can add new features, change the layout, or tweak the code to suit your specific requirements.
✨Customization Week: During the week of May 8th to May 15th, 2023, we will be offering special customization discounts for project estimation, as follows:

| | |
| --- | --- |
| Project Estimation | Discount Offer |
| <= $5000 | 12% Discount |
| <=$10,000 | 10% Discount |
| <=$15,000 | 8% Discount |
| >$15000 | Flat Discount of $1500 |
One of the great things about phpFox's customization services is that they offer a wide range of options. You can customize anything from the homepage to the registration process, from the user profile to the comment system. No matter what your website's focus is, phpFox can help you make it even better.
Mark your calendars from May 8 to May 15 and take advantage of this fantastic opportunity. Whether you're looking to add a new feature, tweak your design, or improve your website's performance, phpFox's customization services can help you achieve your goals.
Estimate Your Customization Project Now!
👉All you need to do is request your customization in our Client Area and our Business Development team will get back to you as soon as possible!
Customization Week is an event that no phpFox user should miss out on. It's a chance to make your website truly your own, with the help of phpFox's expert customization services and exclusive offers!
🔑In case you don't have a site yet, try our MetaFox Demo Site here to freely explore all premium features!
Don't hesitate to submit tickets at Client Area for any questions. We are more than happy to help!