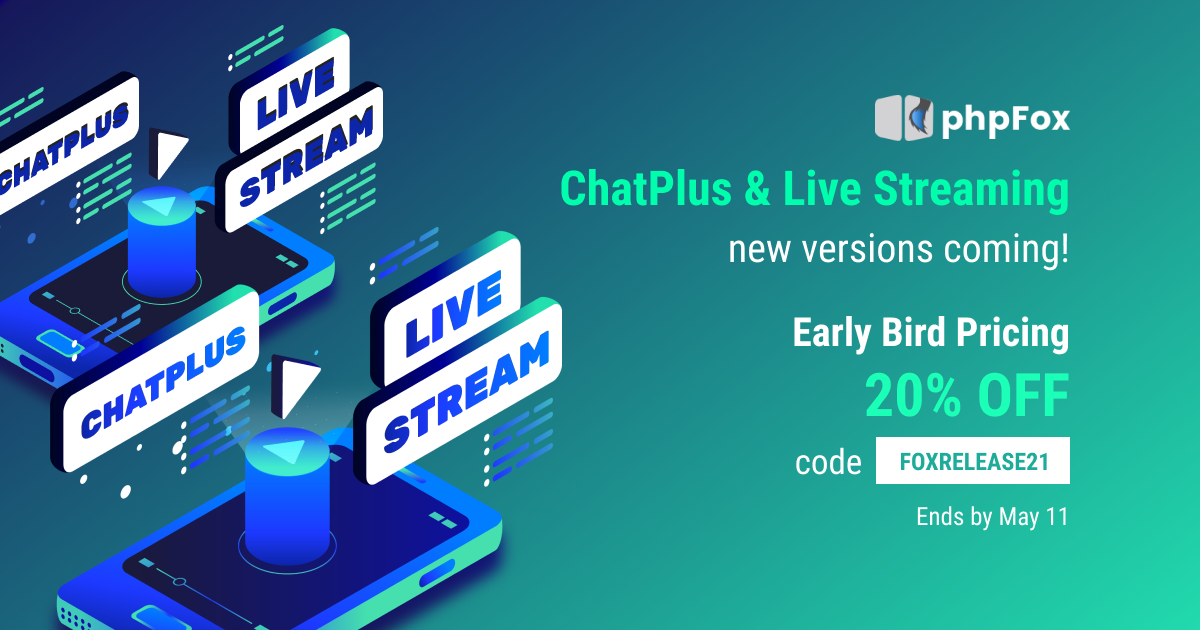 ChatPlus 4.1.4 & Live Streaming 4.1.2
The new versions are going to be officially released on 14th May 2021 with stacks of new features and improvements that you must get interested in.
Detailed information will go live in our Release Blog soon. 
ChatPlus 
Chat conversations can be deleted on one side while the other users are still able to see the message.
Showing user status online/offline on mobile apps depending on ChatPlus user status
Support sending multiple photos per message
Displaying Seen status
and more
Live Streaming 
Improve live video connection for better throughout while streaming
Fix interruption working flow to make sure live video would not be deleted (unavailable to playback) when get interrupted by the network, accepting calls or other unexpected actions.
and more
More detailed information will go live in our Release Blog soon.
Early Bird Pricing
To celebrate our solutions' new coming versions, we are happy to offer Special Early Bird Pricing.
20% DISCOUNT

on ChatPlus & Live Streaming purchasing. 
Duration 

7th to 11th May 2021

Coupon Code: FOXRELEASE21

After 11th May, ChatPlus and Live Streaming pricing will be back to $999 and $799. 
Don't miss out!
To get more detail about our solution, kindly go HERE for ChatPlus and HERE for Live Streaming