Recently, we released one of the phpFox's standalone core apps which is the Blog App v4.5.3. And as we continue, we are releasing more standalone core apps of phpFox in the store.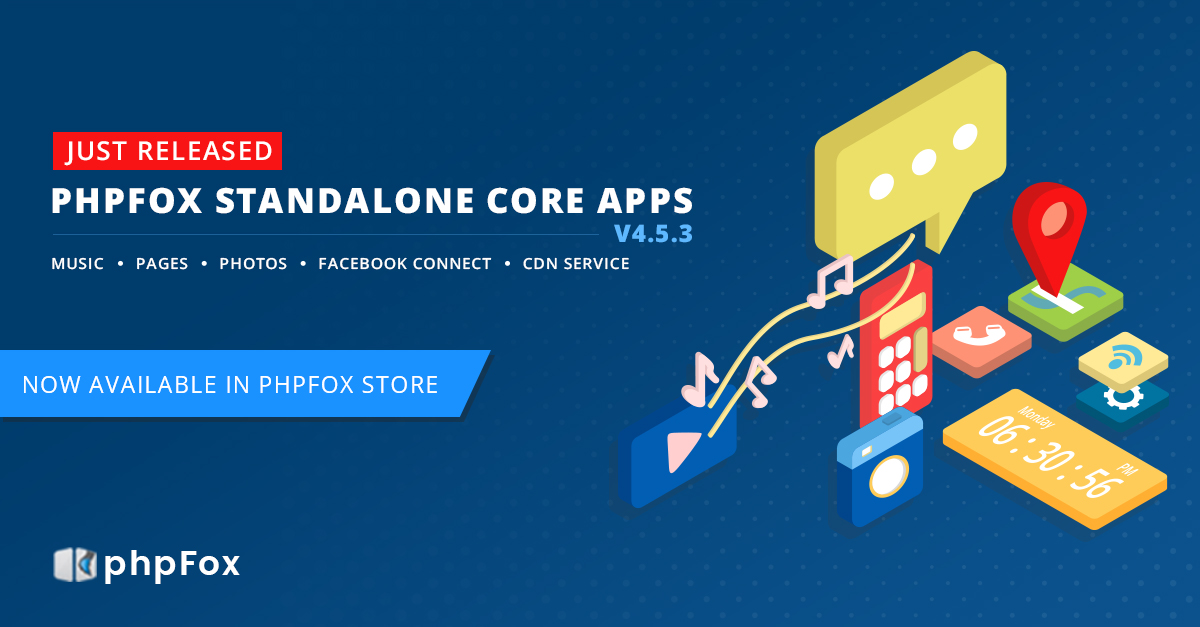 More phpFox Standalone Core Apps
As we released these updated core apps, we made sure that all the issues from the current version have been fixed.  We also added new features and improvements that will absolutely benefit your site. Now, let's begin to check them out one by one.
Music v4.5.3
Through Music app, you just don't make new acquaintances, you can also keep in touch with your friends. Music is a way that connects people more than words can do. Musicians can upload and share their songs and put them into albums and control the specific genre they are in. Your members can listen to these songs/albums and add them to their own profile.
New Features and Improvements
Allow uploading multiple songs
Multiple genres
Upload song thumbnail photo
Integrate with CKEditor (Song description + Album description)
Add new pages for owner can manage album songs
Integrate with AddThis in Song detail page + Album detail page
Add a tab to list user albums in user profile page
Add new block "More From <<user>>" to display all albums created by the owner of the current one.
Play all songs in album detail page.
Repeat feature added for the music player.
Support attachment, emoji for Song description and Album description.
Statistic information of music (songs and albums) are shown now in AdminCP.
Pages v4.5.3
In phpFox site, it is the place for your users to specifically create public profiles such as businesses, brands, organizations, public figures,  and other causes. Pages do not gain friends but fans or followers who choose to LIKE that specific Page.
New Features and Improvements
Display total like when browsing pages
Admin/owner can delete/manage pages in listing page
Mass action to delete/approve pages
Thumbnail for main categories
Invite to like pages via email
CKEditor for adding/editing pages widgets.
Support view more / view less in pages information block.
Add new block "People also like" to suggest pages which have the same category with the current one.
Support 3 modes for pagination
Add the settings

"Pages Limit per Category"
"Display Pages Profile Photo within Gallery"
"Display Pages Cover Photo within Gallery"

Add 2 settings for SEO: "Page Meta Description" and "Page Meta Keywords".
Statistic information of Pages is shown now in AdminCP.
Photos v4.5.3
"Photos" is an essential section of all social network communities. We know that images have become more and more important and that is why we don't just provide you a simple core photo app but we have added many trending actions to make it more attractive. Your members can choose to upload photos to a public gallery or to their own set of photo albums. Your members can also select the privacy settings for the photo they upload and choose who can view their photos online.
New Features and Improvements
All photos that shared from feed will be put in an album name "Timeline Photos" for each user.
Add new feed when user update cover photo
Integrate with AddThis
Support 3 modes for pagination
Facebook Connect v4.5.3
Since Facebook is one of the largest and most popular social network sites for the publicity, many people would like to use their Facebook accounts to join to other networks. By using Facebook Connect app, your users can join your community conveniently by logging in with their Facebook account.  Learn more…
CDN Service v4.5.3
A content delivery network (CDN) is a system of distributed servers (network) that deliver content of websites to a user, based on the geographic locations of the user. This is one of the most popular solutions to deliver large scale websites to a global audience. It is effective in reducing latency, accelerating site load times. The closer the CDN server is to the user geographically, the faster the content will be delivered to the user. Hence, if you are seeking for CDN functionalities on phpFox, this app is for you.  Learn more…
These standalone core apps are now available for download in phpFox store. You can also find the installation instructions in each app detail.  However, even they are all free and available for download in the store, you will still need to make sure that you are holding a phpFox license package which is legit to download the app. Every time you choose an app to download, the phpFox store will verify your license if you are eligible to download the specific app. As the LITE license holders can download Music App but not the Photos App while PRO license holders can download all the core apps. You can check the comparison page for phpFox license packages to see what are the features included in your license. You can also ask our live chat agent if you aren't sure about the features of the phpFox package you are holding.