We are pleased to announce the release of the latest phpFox core Blog App v4.5.3.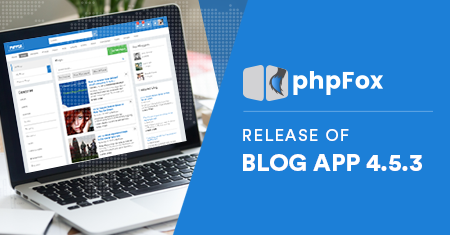 It is now added to the list of phpFox standalone apps and can be downloaded and installed together with the other phpFox core apps in the store.  Check out the complete list of the core apps here.
New Features and Improvements
Upload banner photo for the blog
Sponsor blogs
Feature blogs
Add new block "Suggestion" on Blog Detail page – show other blogs that have same categories with the current blog
Support 3 pagination modes for browsing item: scroll down to load more, next prev buttons, paging with page number
Integrate with AddThis in the blog detail page
Admin can control show/hide blogs posted in pages/groups
Add new block "Popular Topics"
Check out the complete feature list at here.
Find bugs with this version? Please report them at our Github tracker.
Do you need support? Don't hesitate to submit tickets right from your account to reach out or visit our website and ask our live chat agent. We will reply to you very soon then.
We hope that you feel interested and joyful in this release. Stay tuned as we will get back with more updates soon.