phpFox releases SE Importer or SocialEngine Importer app. This app is a tool for you to migrate a site from SocialEngine to the phpFox platform.
What is SE Importer?
SE Importer is a free app that can import all the core data from your current SocialEngine site to phpFox v4.5.2 or later. It can import all the data including users and their friendships, feeds, likes, blogs, polls, music, videos and so on. The complete list can be checked here.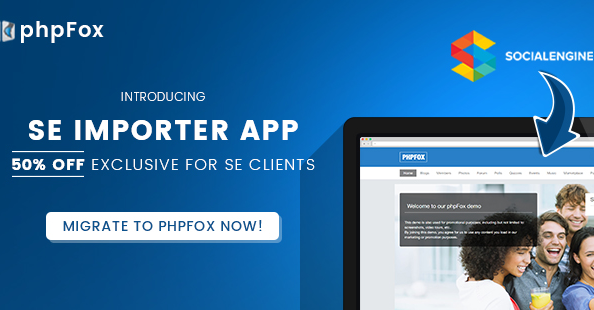 Move your site to phpFox and get 50% OFF Discount on your purchase!
As we release the SE Importer, we are also giving away BIG Discount for those clients who actually have an SE site and decided to migrate to phpFox. Clients who will migrate from SE to phpFox can purchase a license with 50% OFF discount until the end of 2018! Yes, it's only half the price!
Why migrate to phpFox?
Many of you might be asking why you should migrate from your current SocialEngine platform to phpFox. It is just simply because phpFox is top of the line. There are lots of advantages and benefits you'll get if you choose to move to phpFox.
Powerful Core Apps
We have a variety of powerful and fully customizable social network apps which can be easily managed via AdminCP/backend.
Yes, phpFox is extendable and supported by more than 250+ Addons from different 3rd party developers. These 3rd party add-ons are just one click away to install from the AdminCP of phpFox site.
It is given that by default, phpFox is written in the English Language. But our experts produced different languages that you can use on your site. You can even manually export any language of your choice on your own.
phpFox is also supported by the professional 3rd party developers all over the world. These experts are providing customization works and continuously developing 3rd party modules to make your site more stunning.
Android and IOS Apps by 3rd Party Developers
Our 3rd party developers produced mobile apps for phpFox which is compatible with Android and IOS devices. Making your site more accessible to your users.
phpFox supports changing the theme of your site. The color is adjustable via AdminCP. We also have full documents on how to add CSS/HTML for the developers. For ready-made themes, our 3rd-party developers also produced attractive designs in the store.
Fast and Reliable Support ever
When it comes to technical support, you can have exclusive access to our Community Forum for free support. Most of our developers and experienced users are actively participating and answering all the clients' issues and concerns. Furthermore, you'll be given free technical support on your first 30-60 days of using the platform.
Fully Documented Platform
phpFox comes with a User Manual to explain everything about the terminologies used in the script. It also serves as a guide wherein you can find a step by step tutorials especially for the new users of phpFox. Aside from that, we also have documentation for developers if you would like to dig into the codes of the script.
How to migrate?
All you need to do is to contact us and send us any proof that you are holding an SE license to avail the 50% off discount code in your soonest. This offer will end at the end of 2018. So what are you waiting for? Grab this exclusive offer now and enjoy the functionalities of phpFox!
For more details about building a social network with phpFox, please visit our website at www.phpFox.com and ask our live chat agent.