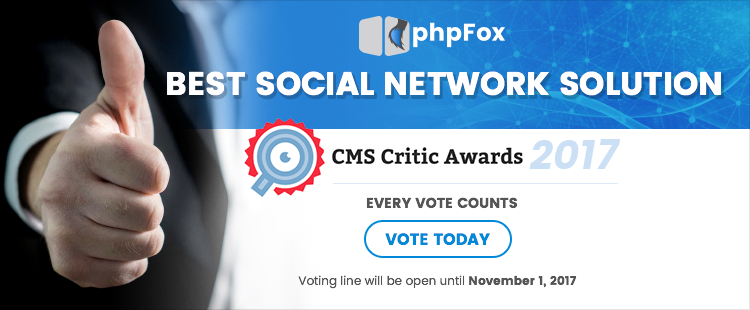 5 years ago, way back in 2012, phpFox won as the Best Social Network Solution in Critic's Choice CMS Award. And until now, we are so grateful for the people who voted for us back then. Now, we will need your full support again. phpFox has been chosen by CMS Critics as one of the Top 3 Best Social Network Solution in the market together with the two rivals, SocialEngine and Moosocial. Yes, we made it to the Top 3! This isn't possible if not because of you, who nominated us. Thank you so much for that.
The voting has officially opened and it will end on November 1, 2017. Once again, on behalf of the phpFox team, we will need your support for us to win this award.
phpFox as the Best Social Network Solution
phpFox has many qualities to become this year's Best Social Network Solution. Aside from the great features that are improved consistently, we also wanna give you some points that make phpFox best of the best.
Some of the core apps have been converted as stand alone apps and can be easily installed and fixed.
Improvised documentations for the normal users and developers.
Free trial installation with no hosting required.
Much easier to configure settings in the backend or AdminCP.
How to vote?
Voting is very easy. Just go this page cmscritic.com/awards/2017-web-nominations and click the "Start" button to enter to the official voting page.
Put on your email in item #1.
Scroll down to item#14 and select phpFox.
Scroll down and click the "Submit" button to finish voting.
From all of us in phpFox, we would like to say thank you for the support. Rest assured that we will always do our best to provide you the Best Social Network Solution. So what are you waiting for? Cast your vote today and let's all claim the victory!