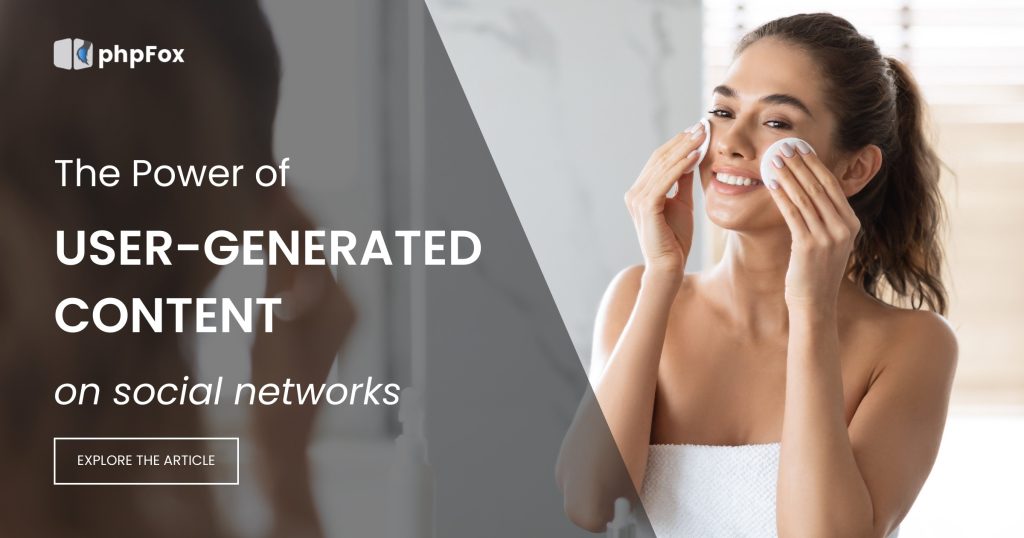 User-generated content (UGC) has emerged as a potent force, driving engagement, trust, and brand loyalty for online marketing on community platforms. With their vast user bases and interactive media, social networks provide an ideal stage for UGC to shine.
But what is UGC, and how can it significantly impact your SEO strategy? In this blog post, we'll explore the power of UGC on social networks and how it can bolster your search engine optimization efforts.
Understanding User-Generated Content (UGC)
User-Generated Content, or UGC for short, is a dynamic force in the digital landscape. As its name implies, UGC refers to content created not by brands or organizations but by users and customers. This content can take many forms, including product reviews, glowing testimonials, insightful comments, captivating images, engaging videos, and social media posts. What sets UGC apart is its inherent authenticity and credibility, qualities that are often challenging to replicate through conventional marketing tactics.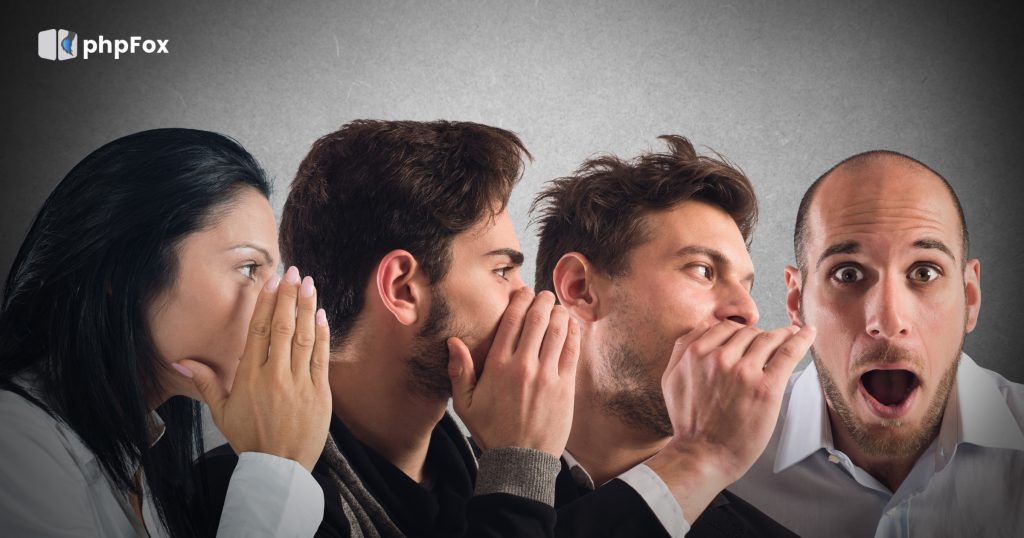 In social media marketing, UGC strategies have gained significant traction, serving as a testament to the power of word-of-mouth marketing, and for a good reason. Customers, today more than ever, tend to rely on the feedback and experiences shared by their peers. This reliance on UGC stems from a genuine trust in the voices of fellow consumers. As a result, UGC has become an invaluable tool for businesses looking to bolster their online presence, enhance brand reputation, and drive engagement.
The Benefits of UGC on Social Networks
Enhanced Trust and Credibility
User-generated content is a compelling social proof, vividly illustrating that genuine individuals actively engage with and vouch for your brand or product. When prospective customers encounter favorable UGC, they become more inclined to trust your brand and more likely to become loyal patrons. Notably, search engines, including the search giant Google, factor trustworthiness into their ranking algorithms.
The presence of UGC on your digital platforms can significantly bolster your brand's credibility and, in turn, improve your search engine rankings. UGC isn't just a testament to your brand's authenticity; it's a potent SEO tool that reinforces trust and drives conversions.
Increased User Engagement
Social networks thrive on user engagement, and UGC is a powerful tool for driving it. Users who contribute content become more invested in your brand's community. More and more content created by your customers will lead to enhanced engagement among the community. And increased attention on your social profiles can lead to higher visibility and better SEO rankings. In essence, UGC becomes a driving force behind the flourishing ecosystem of your brand's social presence.
Fresh and Relevant Content
Search engines prefer fresh and relevant content, and here's where user-generated content (UGC) comes into play. UGC is a continuous source of new material, keeping your social media profiles active and consistently updated. This ongoing activity signals search engines that your brand is dynamic and highly relevant in its respective niche. This can be a game-changer for your search engine rankings in the fiercely competitive digital landscape. The constant influx of UGC breathes life into your online presence, resonating with your audience and search engine algorithms, ultimately propelling your content to more prominent positions in search results.
Long-Tail Keywords
One of the hidden gems within user-generated content is the abundance of long-tail keywords and phrases. When discussing your products or services, UGC mirrors real customers' language and expressions. These long-tail keywords are often specific, focusing on your offerings' niche aspects. For example: 'running sneakers for kids' is a long-tail keyword people tend to search on searching tools for specific results rather than 'sneakers.'
When incorporated into your content strategy, they can attract users actively seeking your brand's services. UGC, therefore, serves as a goldmine of user-generated long-tail keywords that can be strategically integrated into your SEO efforts, resulting in enhanced visibility for niche searches and a more tailored approach to reaching your target audience.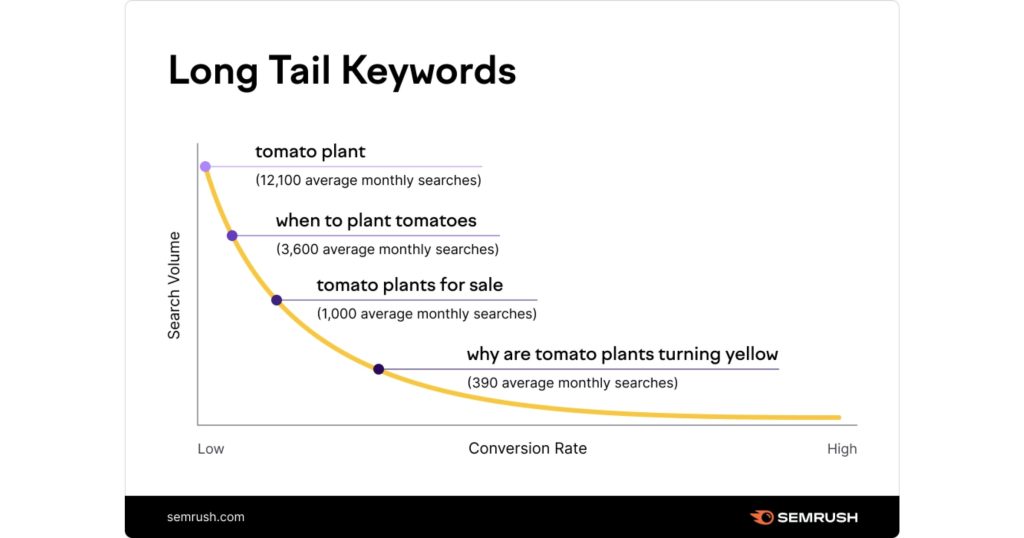 Source: semrush.com
Social Signals
Search engines have evolved beyond mere keyword matching. They now take into account a broader spectrum of signals when ranking content. Among these are social signals, encompassing engagement metrics, shares, and mentions across various social networks. User-generated content is inherently social, encouraging users to interact with, share, and mention it on their profiles. As users engage with UGC by liking, commenting, sharing, and saying, they inadvertently create a web of social signals. These signals endorse the content's value and relevance, influencing search engine algorithms to consider it more favorably. In this way, UGC not only captivates human audiences but also garners the attention of search engines, ultimately enhancing the visibility of your content in search results and amplifying your brand's reach.
Leveraging UGC for SEO on Social Networks
Now that we understand the benefits, here are some strategies for harnessing the power of UGC on social networks to boost your SEO:
Encourage UGC: Encourage your customers to create and share content about your products or services. Create branded hashtags, run contests, or offer incentives to motivate them.
Monitor and Moderate: Keep a close eye on UGC on your social profiles. Respond to comments and engage with your audience. Moderate content to ensure it aligns with your brand's values and guidelines.
Showcase UGC: Feature user-generated content on your website, blog, or other digital properties. Highlighting UGC can improve the user experience and provide fresh content for search engines to index.
Optimize for SEO: When sharing UGC on social networks, optimize the accompanying captions and descriptions with relevant keywords. This will improve the discoverability of UGC in search results.
Analyze and Iterate: Continuously monitor the performance of UGC-driven campaigns. Analyze which types of UGC are most effective and refine your strategy accordingly.
Conclusion
User-generated content on social networks has become a potent tool for SEO success. By harnessing the power of UGC to build trust, drive engagement, and provide fresh, relevant content, you can improve your brand's visibility in search engine results. So, start encouraging and leveraging UGC to supercharge your SEO efforts and propel your brand to new heights.
Do you want to create a social platform for your brand and community where you can run social marketing campaigns like UGC?
If yes, our phpFox platform is a good choice that suits your needs. With over a decade of taking this role in the market, phpFox is a trusted social community platform for connecting and engaging in an online community. With its enhanced social features, people can effortlessly utilize this platform to nurture their social image and customer engagement.
🤙 Contact us for more information and support if you are interested in our services and products.