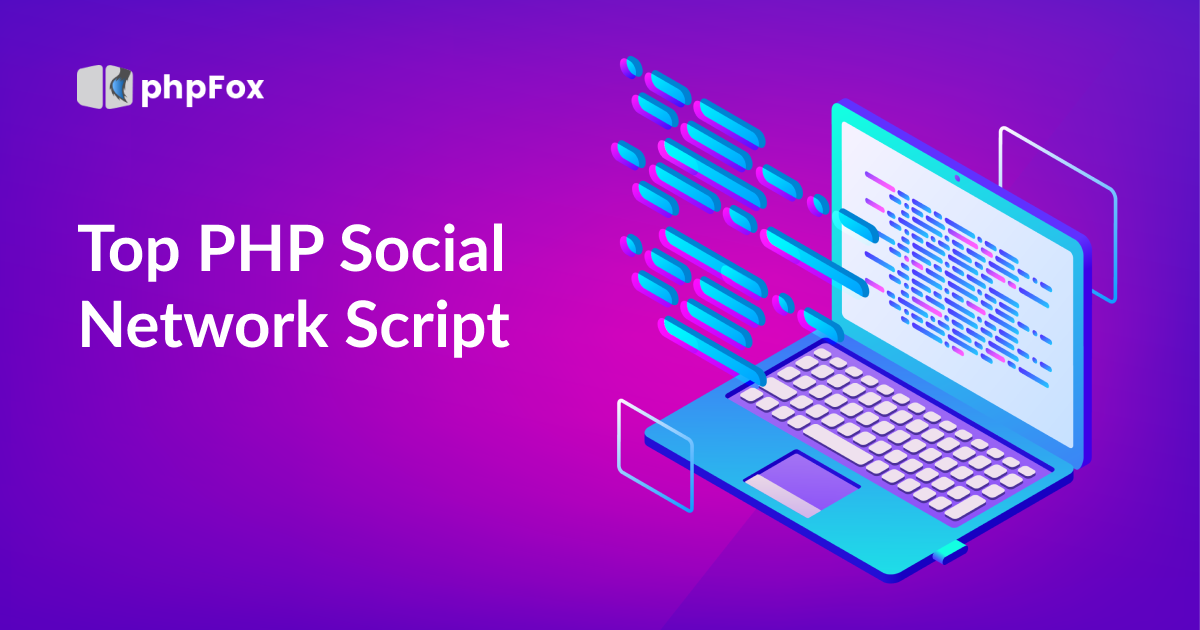 So, the purpose of PHP Social Network Script is to create powerful and successful social networking sites. So we are here to give you some options for solutions for building social network sites.
RELATED:
Different Kinds of Online Communities
In This Article:
phpFox

Breeze

phpSocial

Socialite

iSocial
Great Social Network Script for Building Niche Online Communities
phpFox
phpFox is a powerful social network tool for creating online communities. With plenty of ready-to-use features, phpFox allows community members to connect, share, and interact. Furthermore, this platform is designed to let your community create a limitless communication center with video calls, chat, and live streaming. 
This PHP social network script functions nicely on any screen size because of its adaptable site design. For a better mobile user experience, phpFox Android and iOS applications are also available. phpFox saves your time and effort by letting you create white-label, beautiful, and easy-to-customize sites. Besides the web version, phpFox also offers white-label mobile apps, live streaming, and advanced chat solutions called ChatPlus. 
Features:
Activity Feeds

allows 3rd party developers to integrate their products with the phpFox activity feed easily. Your users will be able to sort all feeds by top stories or most recent.

User Profiles

show the user's basic information helping other users connect better as they will know more about each other. 

Friends

feature the core of any online community and social network. phpFox provides a way for users to access their friend list with just one click.

SEO Friendly

is needed not only for building your website but also for helping your business grow and having a bigger online presence

Facebook Connect

allows users to join your online community via a Facebook account as an alternative to signing up for their email address and going through many other separate steps. 

Fast and Secure

are and should be the top priorities of all online communities as you are the one in charge of keeping your user's personal information safe and secure.
Those are only some of the useful features of the phpFox social network script. Please find out more on the trial and website.
Enjoy 14-day Free Trial to learn more at
phpFox.com
.
RELATED:
Building Your Powerful Customer Community with phpFox
Breeze
Breeze is rightfully referred to as a "huge" social networking site. Breeze allows you to create social community websites like Facebook in minutes. Breeze provides a fantastic responsive design for your social networking website, allowing you to give your website an exact Facebook-like appearance.
Breeze enables you to provide your users with rapid and advanced search options for sites, groups, photographs, videos, etc. Users can create accounts on your website. They may generate various posts, pages, articles, and other content.
Your users may access the news stream of following people/groups/pages, trending users, and movies shared, like on Facebook. Furthermore, users may easily like, comment on, and share each other's content with a few clicks.
Features:
The Breeze PHP script supports powerful search engines of the seventh generation. Users can utilize dynamic search criteria to find other profiles.

Breeze allows you to effortlessly advertise your company or community by creating pages with endless categories.

Using this PHP script, users can embed films straight from YouTube, DailyMotion, and Vimeo.
phpSocial
This social network script is quite similar to Facebook in that it allows users to do a variety of things. They may, for example, add life events to their accounts, maintain their profile privacy, comment/like/share photographs and posts, and so on.
Furthermore, you may give users other alternatives such as a news feed, live chat, alerts, and other current features.
Features:
Admin may quickly view numerous statistics regarding online users, pages, groups, site information, and various other features.

Furthermore, from the backend, you may define other website settings such as Captcha, word banning, accounts per IP, dynamic timestamps, etc.
Socialite
Socialite is a top-rated solution for quickly and easily developing a dynamic social networking platform.
The script provides users with infinite functionality such as 20+ real-time alerts, social login, live & group chat, etc.
Features
The social network script enables a multi-level commenting system on posts and an unliking option for users on comments.

Furthermore, users may report spam users, pages, groups, and posts, and administrators can handle this written content by eliminating it.
iSocial
iSocial allows you to create your social network and offers multiple services to users, such as messaging and live chat system, real-time alerts on like/comment/talk, etc.
This social network script also allows you to integrate a marketplace, an article library, games, and various other modules.
Users may customize the privacy of their profiles and choose whether postings are accessible to friends or the general public.
Features
You can include a marketplace area and allow commercial transactions on the website. This implies that merchants and potential customers may locate each other online and make purchases of various items and services.

Furthermore, the administrator may authenticate new users by requiring them to log in using their Facebook, Twitter, or email addresses.

You can use this script to allow users to establish an endless number of fan pages, groups, and events with only a few clicks.
Connect with us
and learn how to use PHP social network script to the fullest and create more value to your community!
UP NEXT: