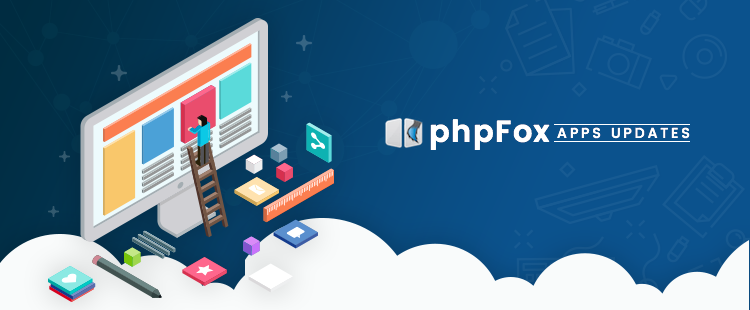 We all know that having 3rd party apps in your site make it looks more stunning and well-functioned when it comes to performance. Our 3rd party developers are continuously adding new apps and themes in our store. Let's have a quick look back about some new apps and themes in April 2017
1. Advanced Mail by FoxExpert – https://store.phpfox.com/product/1820/advanced-mai…
Introduction:
Replace core private messages with live chat like facebook
Add Stickers, WebCamera photo and voice records into messages
We use standard attachments, which allow adding pictures, files and etc media to message
Sound notification about a new message like facebook, Ability to change the color of messages.
Mobile responsive (we create a special design for the mobile great view!)
Different options like poke, block user, report user, see user profile in information block
Messages (threads) and Contact (Friend List) tabs.
Archives and ability to delete each message.
Ability to attach smiles.
No touch any core file, Installation with 1 click
2. Flags by Foxer – https://store.phpfox.com/product/1827/flags
Introduction:
Internet is a multi-language virtual world, people from every corner of our planet every day connect with each other. People have friends from other countries they can talk in different languages, also every person can follow interesting people in business needs and it is good to know where are they from or their location to make communication more effective. It doesn't take time to search for info in member accounts – just install Flags app to get flag icon next to user's name to know his/her location.
You'll have an opportunity to change flag icons size (large / medium / small) and make them more attractive to your eye and of course, enable or disable the app in one click.
Flags app will choose an appropriate flag from collection basing on country chosen by a member on registration. App can also be useful for indicating languages of people in your network – country flag will suggest you the language you may use to communicate with selected member.
Install our Flags app and get more comfort of usage of phpFox!
3. Notification Sound by Scheinwelt-Media – https://store.phpfox.com/product/1823/notification…
Introduction: This app plays a sound when the notification counter shows up.
4. Block Switch by Scheinwelt-Media – https://store.phpfox.com/product/1824/block-switch
Introduction: This app moves block location 3 to location 1 when the screen size gets smaller. On mobile devices, you can enable to collapse the blocks and show a button with Font Awesome icon instead. When the user clicks on the button the blocks show up.
5. Mobile Menu – Left and Right Blocks by Simplify Social Network – https://store.phpfox.com/product/1817/mobile-menu-…
Introduction: Mobile Left & Right Block with a purpose:
Display left & right blocks in tab format on Mobile devices
Make layout clean and save space
Save space for main features
This module help to improve a lot for mobile layout. Look at screenshot and demo to feel visually
6. EMoney and Affiliate Program by CodeMake IT Company – https://store.phpfox.com/product/1822/emoney-and-a…
Introduction: Do you want to increase your income easily and enjoy from it? Then the partner program and electronic money app are just for your website! This app provides possibilities to create internal currency and you will be able to give opportunities to your users to create partnership links and increase selling in marketplaces and other modules. Herewith the owner of the site can earn commissions transactions and enlarge financial profits.
7. Store by FoxExpert – https://store.phpfox.com/product/1788/store
Introduction:
Ultimate solution to have online Store/Listings section on your phpfox.
Rich information about products (specifications, photos, videos (youtube and mp4), user reviews, tags, big description with attachments).
Add ability to have User Stores (similar as business pages) with many different functions like (top selling products, user reviews, contact form and contact information, shipping information, return policy)
Cool Ajax cart and Ajax compare, which shows only in store app pages.
Pay using standard phpfox gateways + our Emoney app balance.
Good monetization with store commission and sponsored features (Products and Stores).
Manage in admin interface all things (categories, products, stores, orders). Also, have many admin and user groups settings.
Products, Store statistic for sellers in the user interface. All store statistic for admin in the admin panel.
More than 50 different blocks.
High quality and Live support chat support. Lifetime updates and fast support by email.
Mobile responsive (works great on any device).
Purchase this app and get a free emoney app. It is required for Store app.
8. Interests by Foxer – https://store.phpfox.com/product/1814/interests
Introduction:
Interests app will allow your users to find people who are interested in same things as they are.
When registering your users will be prompted to choose their interests. There are 300+ pre-defined hobbies, sports activities, professional interests etc so everyone will be able to find what they like.
Every interest has an own page with defined image and description and the list of people who are interested in chosen hobby/sport / professional area. This is a great way to people with same interests to connect with each other, start a conversation and share their ideas.
Of course, every interest page is SEO-optimized so the even presence of this pages will increase search positions of your website and users will be able to join your network basing on their interests. Additionally, interests are editable right from AdminCP which gives you an option to add a longer description or change image that represents specific interest.
9. Video by phpFox – https://store.phpfox.com/product/1819/video
Introduction: People love watching videos, and video is one of the important factors to keep your users engage and stay more in your community. phpFox makes it easy to share video from Youtube, Vimeo, Dailymotion, Mp4, Facebook or upload video directly from computers.
10. AddThis Integration by Scheinwelt-Media – https://store.phpfox.com/product/1809/addthis-inte…
Introduction: This app adds AddThis support for social sharing to your site.
11. Social Button by Scheinwelt-Media – https://store.phpfox.com/product/1810/social-butto…
Introduction: With the social button added to the userbar your users can share site content on other social networks.
12. Payment inline style by ComeMore – https://store.phpfox.com/product/1797/payment-inli…
Introduction: Quick installation – Just press Install and everything!!! Global payment solution with more than 150 popular local payment methods. To connect with over 150 payment methods globally to cover users from 192 countries.
13. Live Clocks by pteamp.tech – https://store.phpfox.com/product/1805/live-clocks
Introduction: We have created Live Clocks app which is simple and easy to use world clock application & widget.
14. Reslider by Scheinwelt-Media – https://store.phpfox.com/product/1806/reslider
Introduction: This app adds a slider on your sites front page and disables the standard banner images.
15. Userbar Icon by Scheinwelt-Media – https://store.phpfox.com/product/1808/userbar-icon
Introduction: This app adds up to three link icons to the userbar.
16. Paymentwall for phpFox by paymentwall – https://store.phpfox.com/product/1802/paymentwall-…
17. OAuth 2.0 Social network by ComeMore – https://store.phpfox.com/product/1799/oauth-2-0-so…
Introduction: This app will allow you to attract more traffic to the site. It is important!!!! After installation, go to https://ulogin.ru and add Your website to check. Each second level domain you need to confirm. You can choose any convenient way for you to prove domain ownership, download the file and add a text record
18. Advanced Footer by Foxer – https://store.phpfox.com/product/1791/advanced-foo…
Introduction: Advanced Footer is an app for phpFox that allows you to create your own interesting footer with enough information about your community or company.
19. Phoenix Template by YouNetCo – https://store.phpfox.com/product/1803/phoenix-temp…
Introduction: Inspired by the rise of the phoenix, our Phoenix Template is created with the strong and bold color of orange that will bring a unique and fresh look even to the most common sections. It is designed with individual pages combined together into the Landing page and make this page have many beautiful contents and visual effects. The template is attractively beautiful and outstanding with many modern designs and animations. Phoenix, a symbol of strength and longevity will bring you full of surprises. You utterly make your community become irresistible.
20. Premium Note Theme by Simplify Social Network – https://store.phpfox.com/product/1816/premium-note…
Introduction: Premium Note Them with the purpose:
Make Mobile and Tablet layout more friendly than existing themes on this market. See above photos to know visually
Re-arrange some element more reasonable to save space and make a clear layout
Allow to more color parameters in the layout easily
If you open our demo and think it looks professional and impressive. That's our success and why you need this theme.