Quick glance of the new template for phpFox 4.6.0
This is probably one of the best updates you will look forward to in phpFox 4.6.0. A new core template, which will be called the 'Material Template'.  Your site will look more attractive and stunning with the new look.
Get yourself ready to preview some of the highlights of phpFox's new template
phpFox 4.6.0 Material Template
---
Activity Feed
---
Your members will enjoy browsing on your site with the new look and feel and stay more on your feed. Aside from its looks, we enhanced some of the icons which are more attractive to the eyes of your members.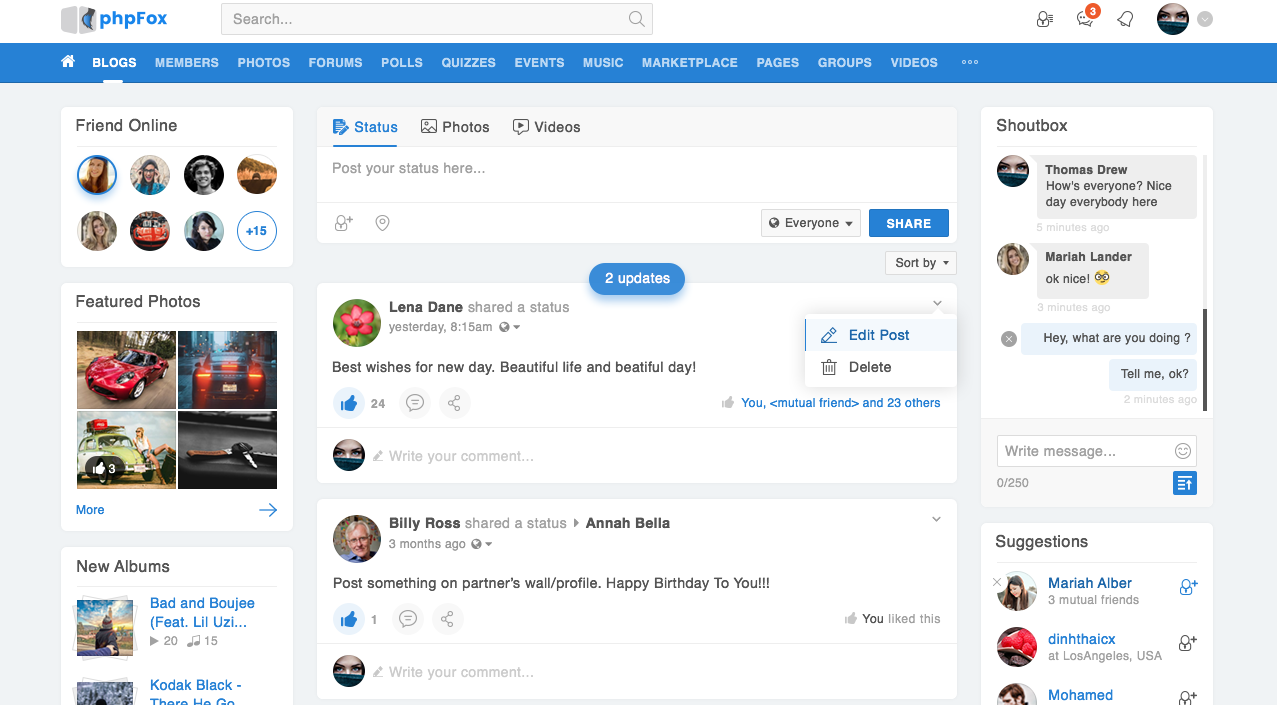 ---
Member Profile
---
It is designed to change the cover photo by just clicking the camera icon at the upper left edge of the photo.  The member profile menu also displays more option which will make other pages accessible to your users. This way, they will likely to visit their page more often.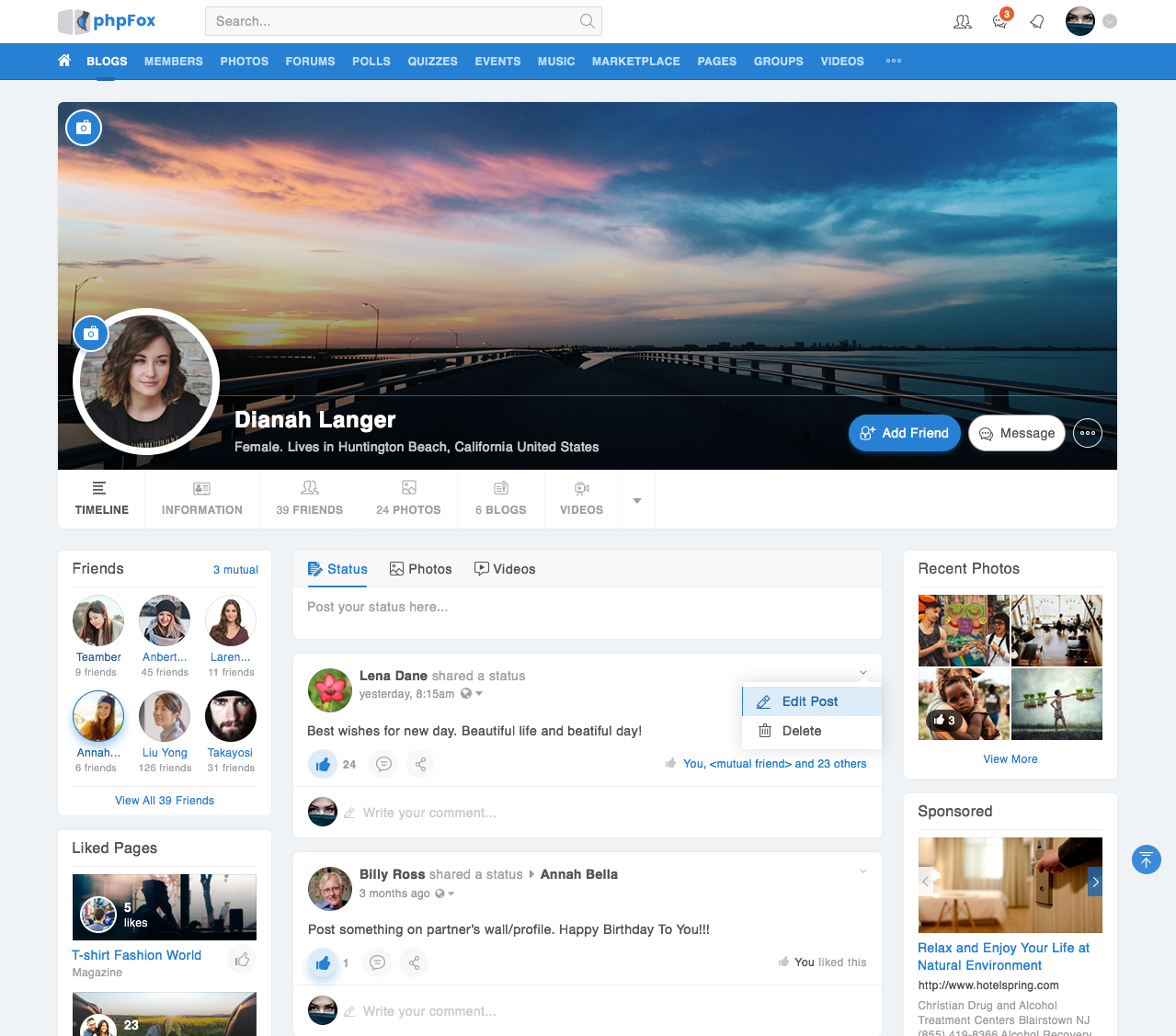 ---
Blog
---
With the new blog template, your users' blog posts will look more engaging and informative as it displays perfect size thumbnail, enough space for the title, and a quick introduction about the blog. The blog categories also display sub-categories to easily filter blogs based on which category they belong. The Top Bloggers section's new design will encourage your users to post more blogs as they want to see their profile is being displayed at the top. Under thumbnail of each blog, the number of reads and likes are also being displayed.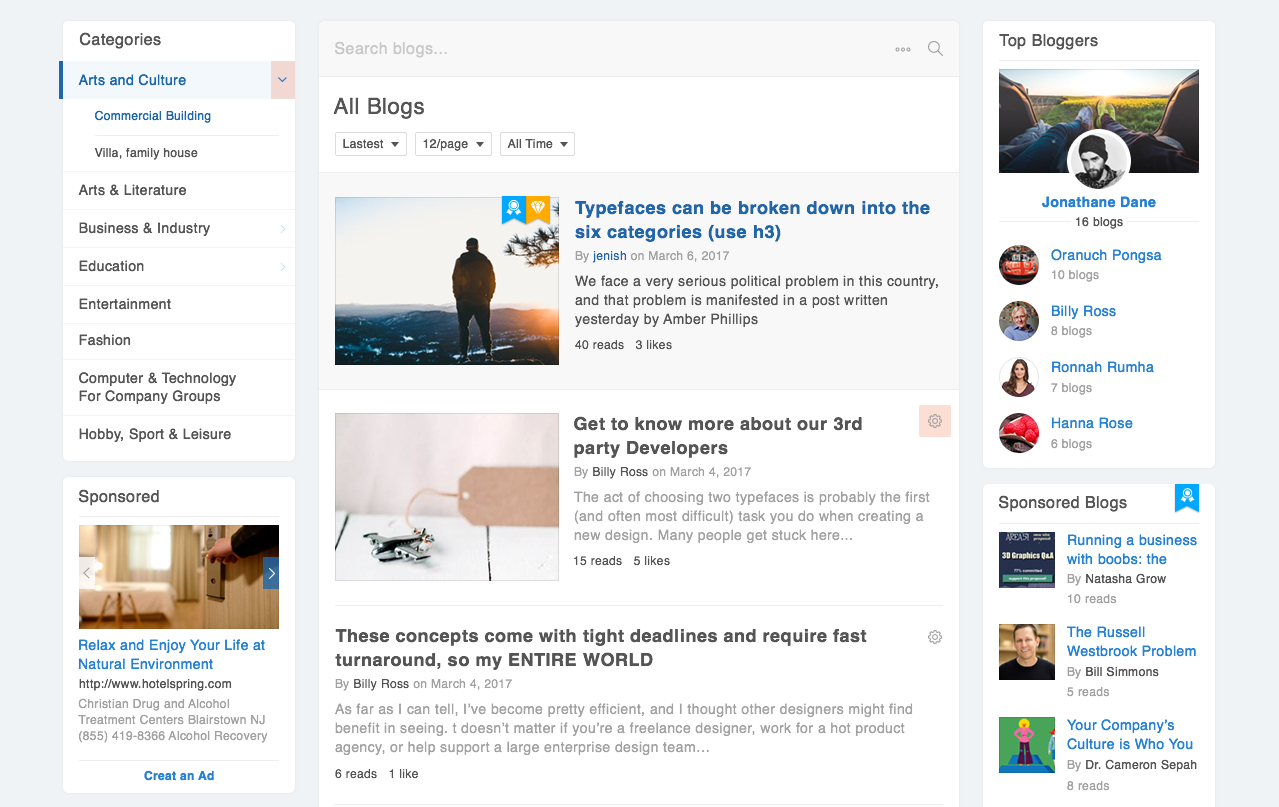 ---
Video
---
We created three tabs to separate All Videos, My Videos, and Friend's Videos for a member's better view. In All Videos tab, each uploaded video thumbnail will display user's mini picture of the uploader aside from other information such as name, date, and title of the videos. The number of likes and views are also easily noticeable with this new template. Your users can also select the category of the videos they most likely to view.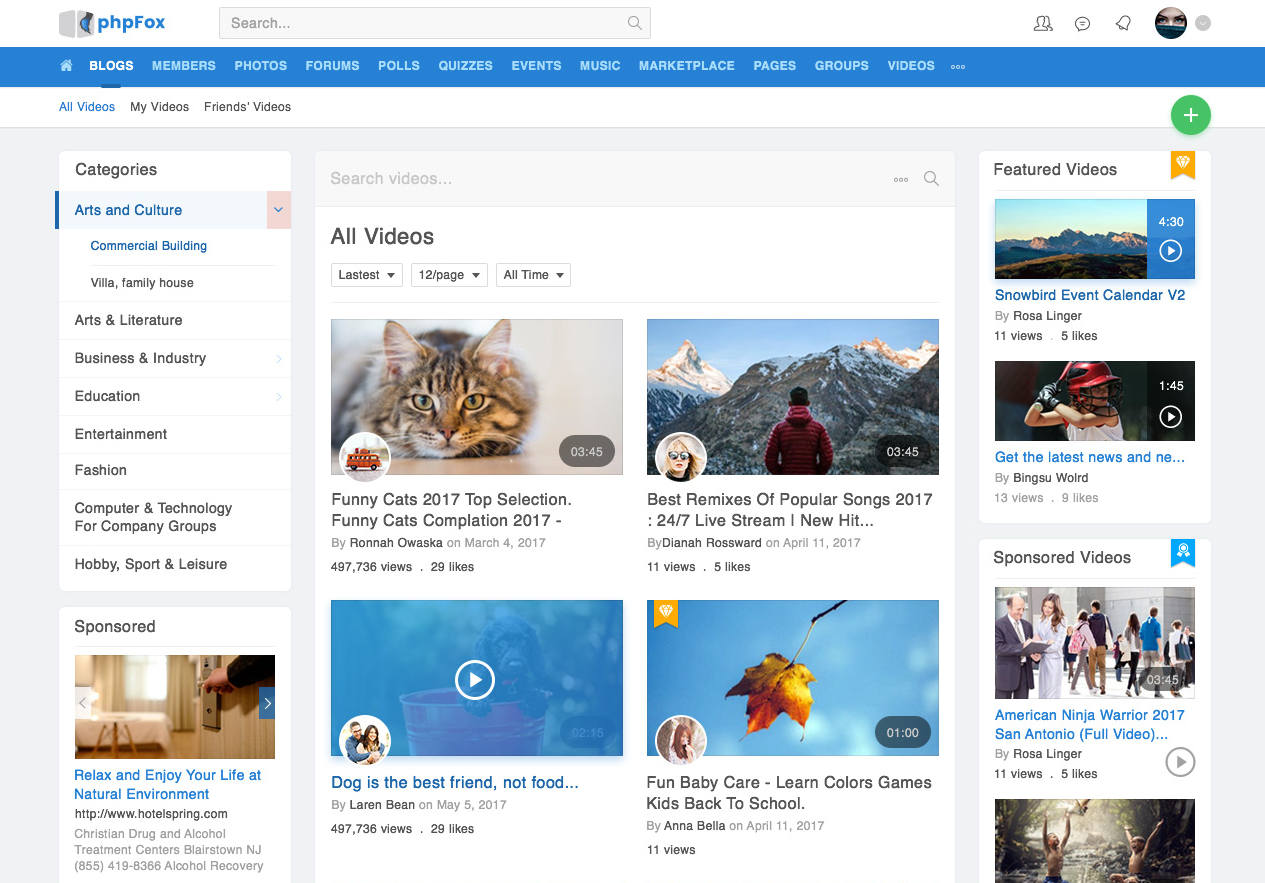 ---
Marketplace
---
We knows that Marketplace is one of the important and useful apps on your site. With its new style, your site will become more profitable to you and to your users. The thumbnail of the products or services on sale is a bit bigger than the current one.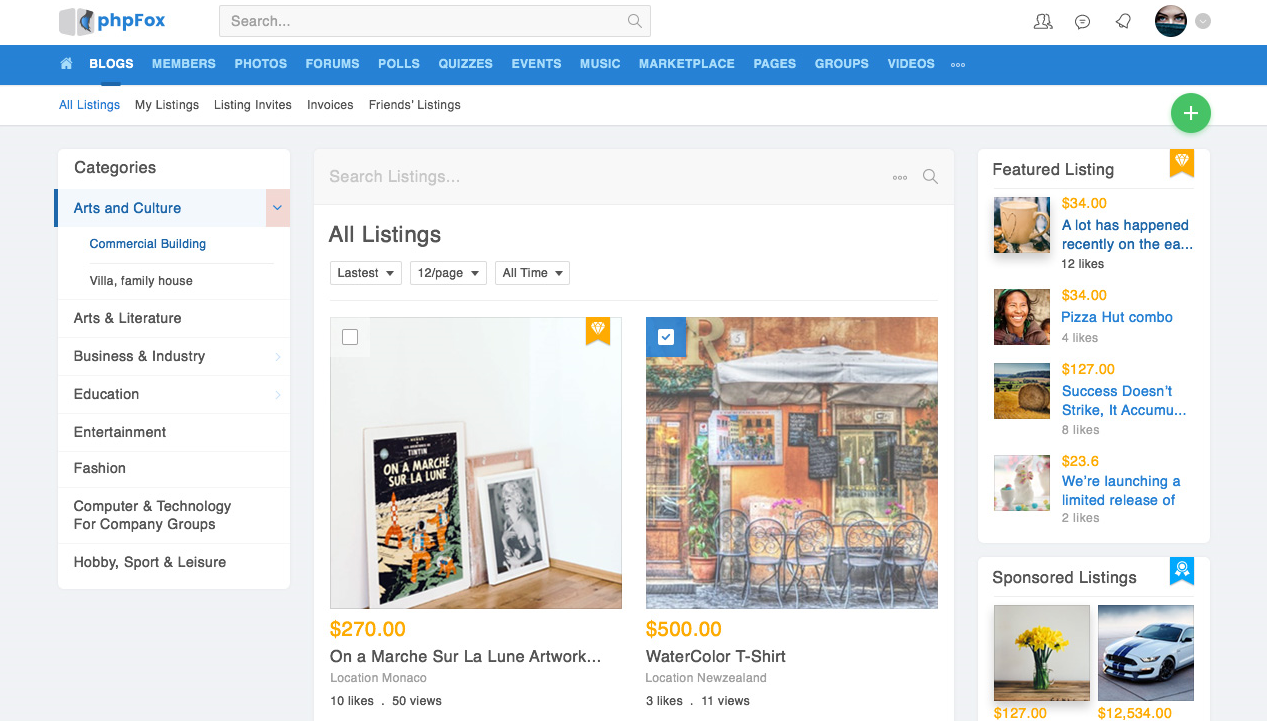 ---
Music
---
Music is one of the key features of your site to attract new members especially the music lovers. With this phpFox 4.6.0 Material Template, the experience of your members staying in your music app will be at the next level.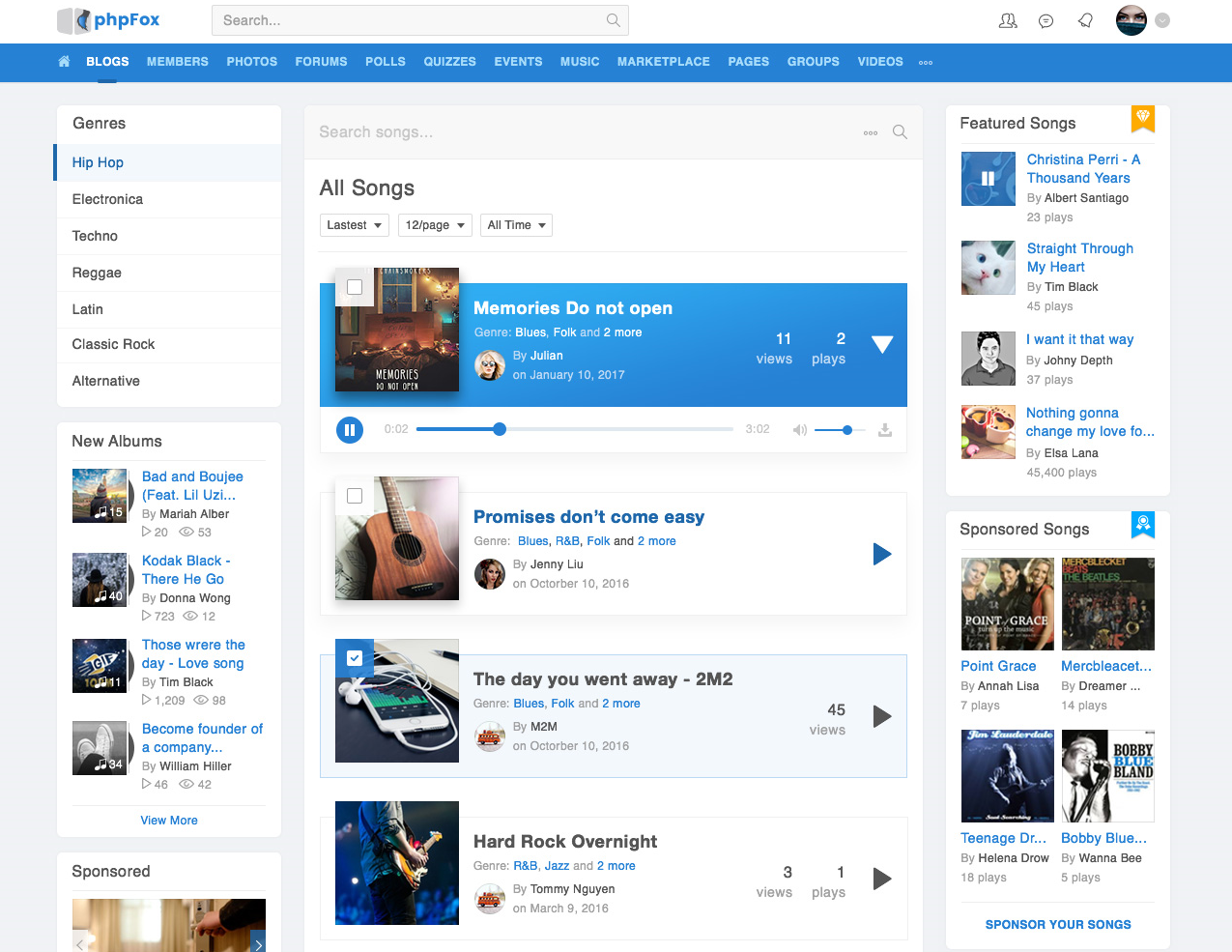 These are just some of the highlights of the phpFox 4.6.0 Material Template. It can change a bit during the development. We will provide you more updates on our next blog posts. So make sure to keep an eye on our blog site to always get the latest news.
---
www.phpFox.com
Start Your Social Network Today!