This article focuses on our phpFox store and how you can spice up your site with some third party products! Perhaps you have noticed that phpFox third-party developers have been busy adding Apps, Themes, and Languages to the store in recent months. These products should help you to make your site unique for your users.
Just so you know, our store also features a listing of all third-party developers, complete with ratings! This will help you find a developer if you need custom work done.
For more details…
Applications
There are a lot of different types of Applications (Apps) that you can get to spice up your site and offer your users a unique experience.
From Content Blocks to Social Media, it's all there. Perhaps you want to engage your users with more advanced comment options – no problem! Add more payment gateways – it's covered! From Movie apps to Instagram integrations, it's all there too! To find the various categories covered, just go to the store and click the Applications drop-down menu at the top left of the app's listings.
Here's one example of a cool app to add to your site, Movie System: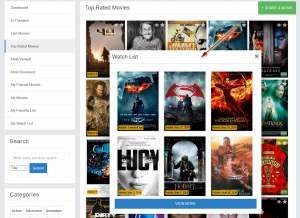 Needing an App and not finding it? Post your ideas in the community forum as third party developers are actively seeking ideas.
Not sure how to get the Apps? Our tutorial will walk you through purchasing and installing Apps – a one-click easy way to get them for your site.
Themes
Theme developers have been busy getting their awesome creations in the store as well.  Just take a look at some of the beautifully creative designs waiting to make your site sizzle! From Twitter™© and Facebook™© style themes to Music and Food-focused, there's bound to be a theme to fit right in with your site focus. Prefer a fixed header? No problem as that's a focus for one developer's themes.
Here's one of the top selling themes, Convo: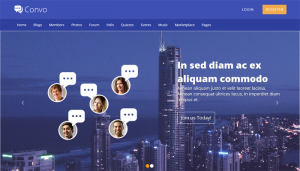 Not finding a theme you need? Ask any of the developers that already have themes in for custom work or give them your ideas for themes for the store. We're sure they'll be happy to have your feedback.
Languages
In addition to Apps and Themes, you might want to go international and get some Language packs . Language packs can help give your users a better experience if you have users from various areas or if your site is located in an area that speaks a language other than the default English language that comes with the script. It's always a great idea to offer localization to your users. The language pack developers work very hard to translate the thousands of phrases that come in the phpFox script. Each pack, from Spanish to German, Arabic, French, etc all offer humanly translated phrases. This can be a big advantage over the online translators as those can have errors with local terminology.
Here's one of the top selling language packs, French !
Are we missing your language pack? You can earn money by translating the phrases yourself and offering it for sale in the market, if you desire to do that. If not, feel free to post your language pack request in the Feature Requests area listed above.
Customizations
Perhaps your needs are not met with the various store offerings. You may need some special custom work done so that you can realize your website vision and make it unique to suit your Niche. No problem! Our Developer listing offers a listing of all of the third-party developers that have current store listings. Many of the developers on the list also do custom work. You can see their ratings on their profiles. This should help you discover just the right developer for your project!
Store Reviews
To wrap up this inFocus, we want to remind all of you to post your reviews. Free apps, paid apps, themes, and languages all need reviews. For anything you use, please review it. This helps the third party developers know what you like, what you don't like, what they are doing well and how they need to improve. Please also rate each developer's profile if you have used their apps/themes/languages/customizations/support as each one of them relies on good ratings in order to earn. If you like a particular developer's products and service, the best way to get them to make more, and to keep them around, is to provide your feedback.
Disclaimer: For any of the products listed here, please contact any of the developers that make them if you have questions. We've not received any compensation for the following, it is just a general listing and not endorsements or official recommendations. It is a courtesy listing only and for informational purposes.
#website #phpFox #socialnetwork
Don't miss out on info, tutorials and discounts! Subscribe to our channels and newsletter to stay inFocus!