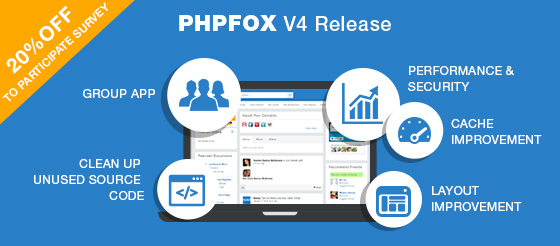 In preparation of our Neutron v4.4 release, we are having a special sale from Friday, June 17th through Sunday, June 19th. See at the end of our post how you can get a bigger discount!
As we mentioned in this blog, our Neutron 4.4 focuses on optimizations and security and looks to be our best version yet! We also have the Groups app that everyone asked for so that front end Fan Pages and Groups are separate for versions going forward.
The Discount is for the Neutron license purchase only and cannot be combined with Installation discounts.
The discount is for 10% starting on Friday, June 17th:
The discount voucher is: 10June44
Want a bigger discount? No problem, just complete this survey and send us a ticket with your survey email details and we'll enable a 20% discount just for you as we value your time and opinion!
Hurry and grab this deal while you can while supplies last as we've only enabled a limited number of codes!
This sale will start on Friday, June 17th at 12:00 a.m, and end on Sunday, June 19th at 11:59 p.m EST as long as supplies of discount vouchers last.
Order Neutron without installation
#website #phpFox #socialnetwork
Don't miss out on info, tutorials and discounts! Subscribe to our channels and newsletter to stay inFocus!