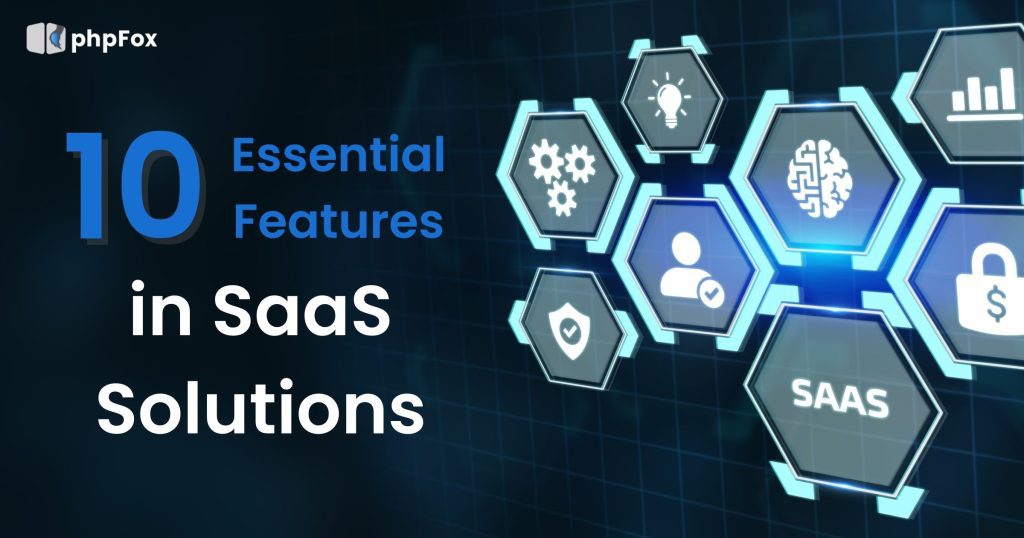 Choosing the right software as a Service (SaaS) solution makes or breaks your operations. From startups to Fortune 500 companies, businesses increasingly rely on SaaS platforms to streamline workflows, enhance productivity, and reduce overhead costs. But with an overwhelming number of options available, how do you ensure that the SaaS solution you choose best fits your business needs?
Firstly, we will define what SaaS is.
Software as a Service (SaaS) is a software distribution model in which applications are hosted by a third-party provider and made available to users over the Internet. You can easily access SaaS applications through a web browser, so you do not have to be concerned with hardware requirements, software installations, or keeping up with updates and security patches.SaaS applications are generally accessed through a web browser, so you do not need to worry about hardware requirements, software installations, or ongoing maintenance such as updates and security patches.
When considering SaaS and traditional software development, it is important to note that SaaS is not necessarily the opposite but rather viewed as an improvement. The image below shows some differences between these types of software: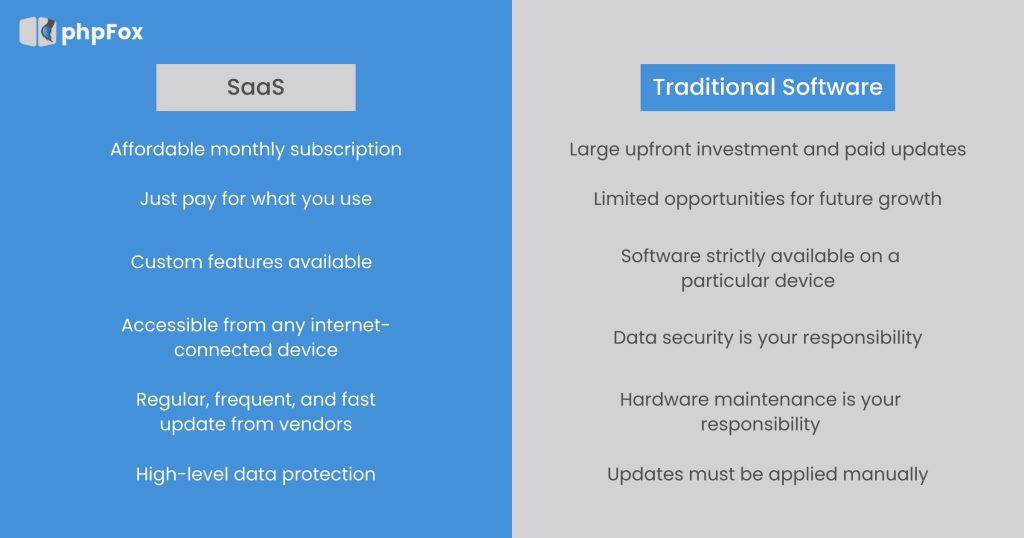 Selecting a SaaS platform is not merely about subscribing to the most popular service or attractive pricing. It is about identifying the features that will truly benefit your organization in the long term. Whether you are a seasoned tech-savvy entrepreneur or a small business owner venturing into digital tools for the first time, this blog post will guide you through the 10 essential features to consider when selecting a SaaS solution.
10 Essential Features of SaaS to Look for
User-Friendly Interface
A user-friendly interface is not just a nice-to-have; it is essential for rapidly adopting and effectively using any SaaS solution. Users should be able to navigate the application quickly, perform tasks efficiently, and find what they need without sifting through complicated menus. Look for SaaS solutions that offer demos, free trials, or sandbox environments where you can assess the usability before committing.
Scalability
The SaaS solution you choose should be able to adapt as your business needs change, which includes the flexibility to add or remove users without significant changes to your existing setup, the ability to upgrade or downgrade features, and even the capacity to increase storage as your data needs grow. The ideal platform will allow you to adjust your service level through a straightforward administrative interface without requiring you to contact customer service or incur downtime.
Data Security
Features like end-to-end encryption, two-factor authentication (2FA), and regular backups are not optional; they are necessities. Additionally, look for a SaaS provider that complies with industry-specific regulations like GDPR, HIPAA, or other relevant standards to ensure your data is handled responsibly. Check the provider's security certifications and review their security policy to confirm their measures meet your requirements.
Customization
Customization can range from cosmetic changes, like branding and layout modifications, to functional alterations, like adding or removing features. The software should also allow you to create custom workflows, fields, or reports. If the SaaS platform is flexible, it may fit your dynamic business environment.
Integration
Your SaaS solution is not an island; it must work seamlessly with your existing tech ecosystem. Whether it is CRM, ERP, or any other software you are already using, integration is critical for efficiency. Look for solutions that offer API access, third-party integrations, and native connections to other popular software. The smoother the integration, the more seamlessly data can flow between systems, reducing manual data entry and the risk of errors.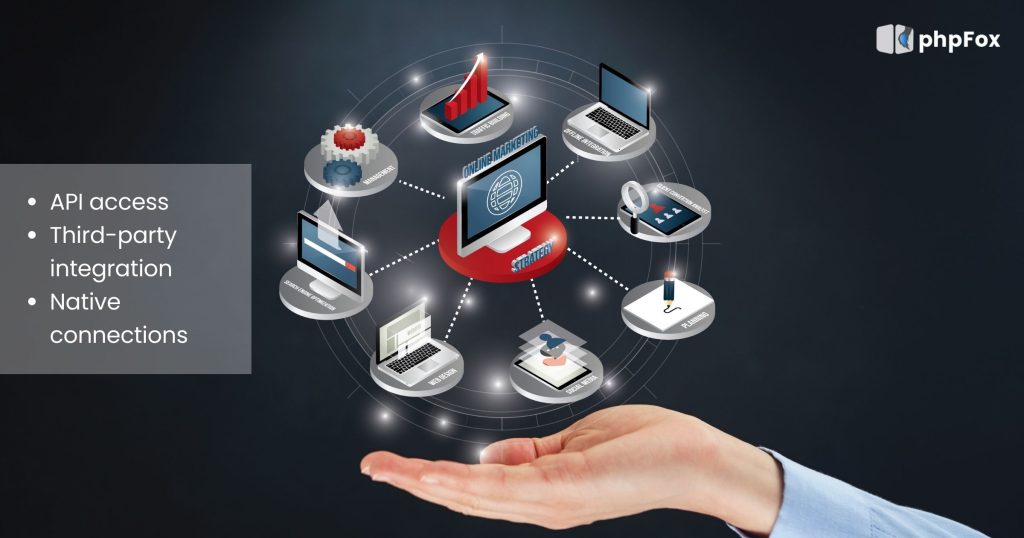 Mobile Accessibility
A mobile-responsive design or a dedicated mobile app can make or break the effectiveness of a SaaS application, especially for field staff, remote workers, or teams spread across multiple time zones.
Customer Support
Even the most intuitive and reliable SaaS platforms can present users with challenges or bugs. When that happens, accessible and knowledgeable customer support is invaluable. Look for providers that offer multiple support channels, such as email, phone, and live chat. Additionally, consider the provider's support hours, response time guarantees, and whether they offer a knowledge base or community forum for self-service support.
Regular Updates and Maintenance
The SaaS landscape constantly evolves, and your chosen solution should grow. Regular updates that add new features, improve existing functions, and fix bugs are signs of a provider committed to its product. Look for a provider that is proactive about sharing its product roadmap and that includes customers in its development process through feedback mechanisms or beta testing opportunities.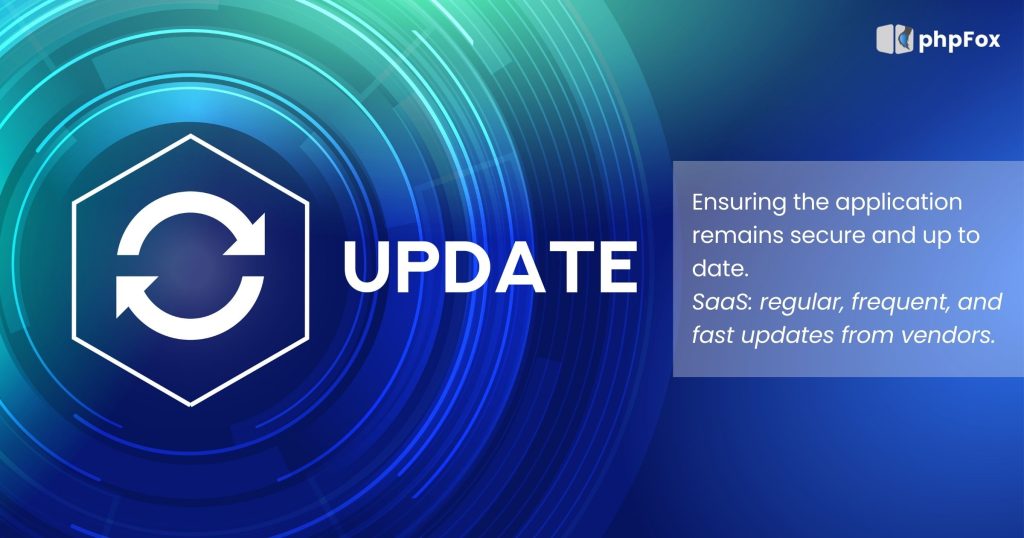 Transparent Pricing
Transparency in pricing is crucial to properly assessing a SaaS solution's total cost of ownership. Be sure to understand what your subscription includes, what constitutes an 'extra feature,' and what limitations (like data storage or several users) may result in additional charges.
Conclusion
Selecting the right SaaS solution is a critical decision that can significantly impact the efficiency and success of your business. Remember, the best SaaS solution is only sometimes the most popular or expensive but the one that complements your business operations and empowers your team to achieve their best work. Invest the time to evaluate each potential solution, considering its features and limitations. Ultimately, the right SaaS solution will help streamline your operations, enhance productivity, and drive your business towards its strategic goals.
What can phpFox do in the SaaS industry?
phpFox is a social network platform that helps businesses create their online communities. In the SaaS industry, companies can utilize phpFox features to develop or enhance their platforms in many ways. It provides a robust knowledge base with online communities that customers can access to blogs, video tutorials, and forums for updating information and knowledge. This encourages users to help each other and share their solutions to common problems. The sales support center is an essential feature of phpFox that assists the sales team with necessary resources and information. They can help with tasks such as lead generation, customer service, order processing, and sales reporting. For the partnership, SaaS businesses can utilize phpFox for their strategies with the partners that boost cooperation and engagement. Moreover, phpFox offers various plugins and third-party integrations that can help enhance the platform's functionality. This flexibility allows businesses to customize the platform according to their needs and integrate it seamlessly with their existing tools and workflows.
🔑 Any questions related to phpFox? Contact us via Client Area or email us at hello@phpfox.com