How are you doing? No more wait is needed. We are proud to announce that the Live Streaming solution is here for you. Since the live streaming videos can be created via mobile apps, this solution is available to those holding Ultimate license. For Ultimate license holder, you can order the feature in the Product Addons page of Client Area from today. If you aren't an Ultimate holder, no matter at all. You may purchase a license or upgrade after taking a look at our solution.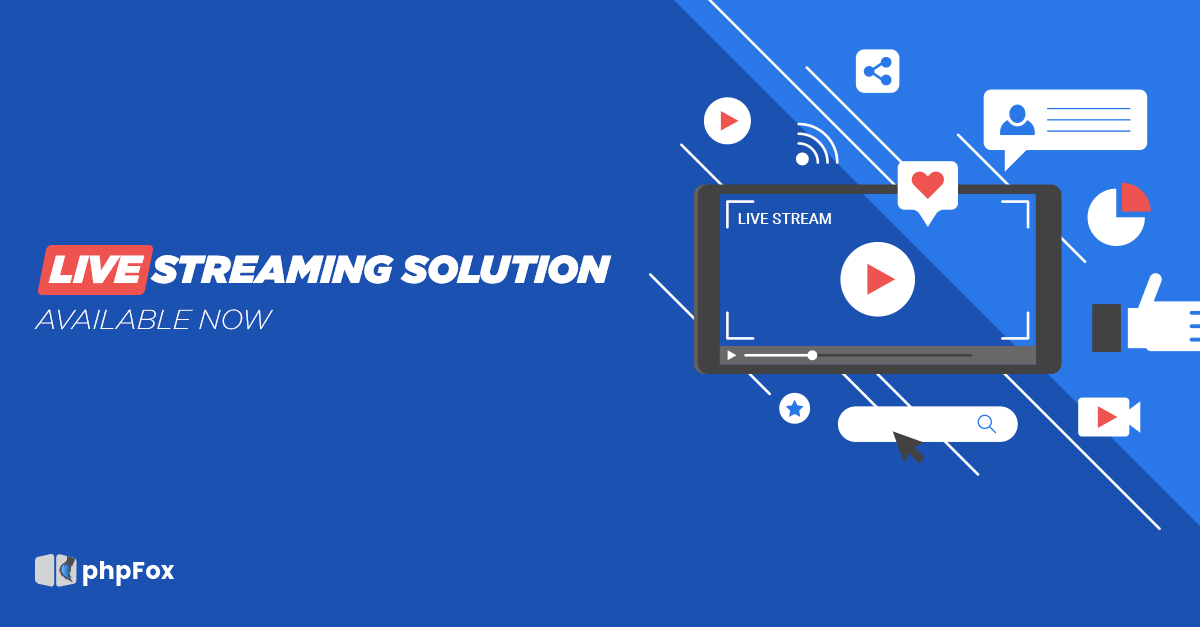 Live Streaming Solution
As you know, Live Streaming is so popular in every online community nowadays. This is obviously a great tool for users to create exciting video content and broadcast instantly on the community. You may wonder what you will get with Live Streaming solution. Let's talk a bit more about what functionalities supported in the first version.
In the Front-end, all live-streaming videos are listed in the same place and users can access the Live Videos main menu quickly. Pages of Live Videos are well-organized to help users filter which videos ended or which videos currently live-streamed, etc. in the most convenient manner. People can easily manage their own live videos as well as browse videos of their friends.
When a user starts creating a live video, their friends will receive notifications as well as a feed item on their Member Home page. While watching a live video, they can comment, add reactions and interact directly with the video owner as well as others. All comments and reactions are updated instantly without reloading the page. Is it fantastic? Especially, when the user ends live-streaming video, there is an option to save the video for others to playback then.
And, in the Admin side, you can configure which user groups are allowed to access Live Videos pages, who can use the Live Streaming feature and how long they can stream. Moreover, you can set up how many activity points users can get when creating, reacting or interacting live videos. So cool, isn't it?
With Live Streaming solution, all are ready for your users to start creating interesting videos with their mobile devices. People will have more funs when having more interactions with live videos.
What are you still waiting for? Let's bring this amazing feature for live videos to your online communities. Our deployment team will handle all setup work of the Live Streaming solution as well as build your mobile apps with Live Streaming feature.
Solution Pricing
The early-bird price of Live Streaming solution is $799. You can start ordering it from today. If you are not holding the phpFox Ultimate license, please upgrade your license first. It is necessary to note that the solution price is only for software and setup works. It doesn't include any monthly cost for infrastructure, such as servers, services, etc. to operate this solution. To get a general idea about how much the monthly cost is, please see our rough estimation.
If you are still having any questions or feedback, please don't hesitate to let us know. We can't wait for hearing your voice.
New to phpFox
If you are looking for a completed solution to build up your own Social Network, phpFox is the right platform for you. Thriving to be the best platform for Social Network, phpFox can definitely help you build your online community: Full-featured, Fast, Responsive, Stable, Easy to customize, Scalable, Mobile-ready with iOS and Android apps, and several extensions from 3rd-party developers.
You can build up your own Social Network within minutes with our best Support service.

That's all. We hope that you will like the Live Streaming solution. We will get back to you with more interesting updates.