Holiday Season comes upon us swiftly and dearly, when the first snowflakes touch the ground, we all know it's that time of the year again! Lift up your mood and get on the shopping spree with our phpFox Black Friday and Cyber Monday deals now!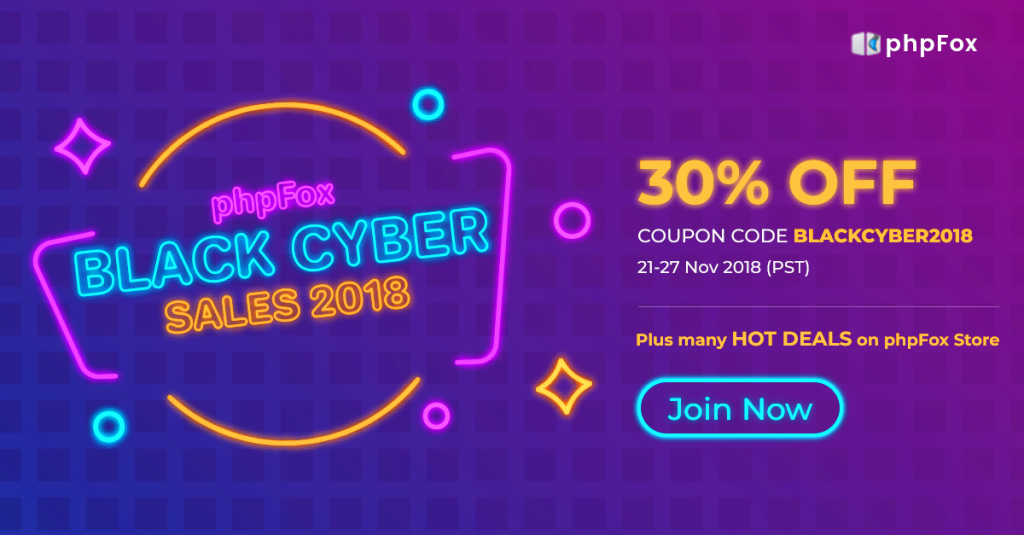 phpFox Black Cyber Sales 2018
We delightedly offer the biggest promotion of the year
30% OFF on new phpFox licenses and upgrades from November 21-27, 2018 (PST).
Don't miss on this amazing deal to start your own Social Network with phpFox!
Promo Code: BLACKCYBER2018

Best 3rd-party Deals are also here. Up to 50% Off!
Additionally, this year we cooperate with our Experts to bring you the best deals on phpFox Store.
Check out these marvelous deals, grab them with impressive price, and empower your community with products from our Experts.
YouNetCo is proud to provide the best solutions and services to help you build and manage your Social Network effectively and productively. YouNetCo is delighted to light up your shopping season with the biggest promotion of the year. As phpFox Black Friday and Cyber Monday promotion, YouNetCo campaign is held from Nov 21 to Nov 27, 2018 (PST), and early birds will get the best deals with below coupon codes:
YNBLAFRI18_50 – Get 50% OFF and Only for first 10 claims
YNBLAFRI18_40 – Get 40% OFF and Only for first 15 claims
YNBLAFRI18_30 – Get 30% OFF
The discount is applied to all products and packages on phpFox Store. So grab these great deals now while they last.
As a phpFox expert since 2008, Cespiritual develops wide-range of phpFox products and provides customization service for his apps.
In this shopping season, Cespiritual offers 50% OFF on all apps and packs (which are already discounted) with code blackfriday. The promotion is going from now until Nov 26th, 2018 (PST)
Scheinwelt-Media offers a discount on all products with a fantastic 50% OFF.
Just use the code blk2018 on any Scheinwelt-Media apps and themes at checkout.
Start to improve your social network today and support Scheinwelt-Media for future updates and releases!
Mainly focusing on developing utility apps and improving UI/UX, Simplify Social Network also partners up with several parties to give phpFox users the best experience in term of usage and administration with their apps.
Come to this event, Simplify Social Network is glad to offer a special 51% OFF for any purchase on apps using code SSNC51.
We will offer following discounts during Black Friday and Cyber Monday sale  from November 21st to November 27th
1. 30% off for our top-rated apps: Verified Members, Flags, Geo filter, InstaFox, Desktop Notifications
Ordering 2+ apps? Notify us and get a stunning 50% discount for any app or theme of your choice.
2. 30% off for phpFox Complete package (save $300) – Coupon: PHPFOXER_BF_18
You can get 20% discount for any App/Theme or Package for best Phpfox apps from 22-29 November. Coupon code – blackfridayfoxexpert
CometChat is a Chat SDK & API to enable user-to-user conversations on a platform. Other than that, CometChat can easily collaborate with 92+ platforms including phpFox. Our Black Friday Campaign Offers: 50% off for this first two months on all plans. Order plan with Code: TGIBF at our website.
What are you waiting for? Get on the shopping train and don't miss out on these extraordinary offers.
Have a blessing Thanksgiving and Happy shopping on phpFox Black Friday and Cyber Monday shopping season with phpFox!