Nowadays Marketing, building Customer Community is the Key to Create Value. That's the statement written by Bill Lee – president of the Customer Reference Forum, on HBR Blog. Let's check that out:
What are your customers telling their friends and colleagues about your business? Your prospective customers and buyers increasingly learn about you from their peers — including your current customers — while tending more and more to ignore traditional sales and marketing communications from corporate. Companies are now taking advantage of this new marketing reality, becoming more skilled at getting their customers to advocate for them, create peer influence in their markets, and make important contributions in areas like product development and services.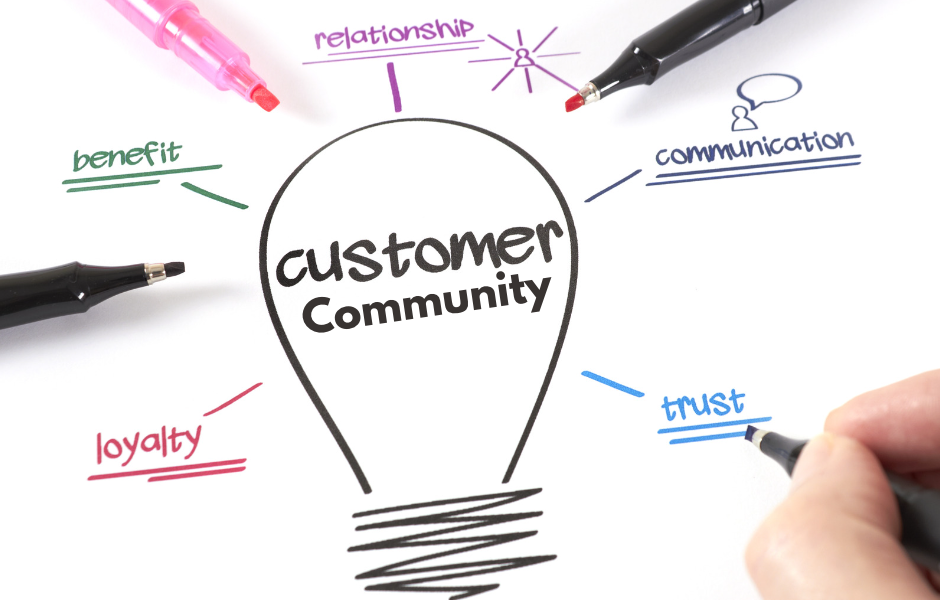 Creating and capturing such value from customer relationships doesn't just happen, no matter how stellar your products and services are. It requires an enhanced value proposition, what I call a Level 4 customer value proposition.
At Level 1,
buyers perceive you as the supplier of a commodity. They're entirely price sensitive. And more companies are at this level than think they are. Think PC makers, who load their computers with features and functionality believing they're adding value and creating differentiation. In fact, the vast majority of their customers not only don't care about such features, but find that all the clutter detracts from the user experience.
At Level 2,
Buyers perceive you as helping them get a job done. They associate your product or service with their desired outcome and the fact that you help them achieve that in some way that makes you stand out. Significantly (and ironically) companies that reach Level 2 often remove features or functionality that competitors provide. Think Apple, or Southwest Airlines, or for a more recent example, Zipcar.
At Level 3,
You engage the customer emotionally, which strengthens loyalty and retention. And here's where it gets interesting. Some firms have such great offerings (at least, great compared to the competition) that their products or services alone are enough to create significant emotional attachment, again, such as Apple and Southwest (when I fly Southwest, I can actually feel my blood pressure drop as I interact with their friendly people.)
But not everyone can create such awesome products or services — and even when you do, maintaining that emotional connection through your products and services may be fleeting. (With TiVo, for instance, customers have come to rely on the service so much, they don't even think about it.) Firms that excel in the new world are discovering that they can create strong emotional attachment by moving to the next level…
At Level 4,
You're helping customers build their social capital — that is, helping them to build and expand valuable support groups and communities.
Helping customers build social capital may seem far removed from the concerns a competitive business should occupy itself with. But think about it: These days, buyers and prospects are open to receiving and are even seeking, information from your customers &#8212 their peers. Helping your customers build social capital is the way to make it attractive to them to provide this information.
This is an area of tremendous creativity. Here are some specific ways that companies are doing this:
Help customers build their reputation
When Jeff Bezos made the controversial decision to allow customers to post reviews of the books they bought on Amazon's site — a seminal event ushering customer-based marketing into the online world — he reasoned simply that ordinary reader reviews were what buyers wanted. To encourage more of this, Amazon now designates top reviewers on the site and a reviewer Hall of Fame (based in part on ratings from readers), lets reviewers set up their own pages showing their reviews of other books, provides them with a distinctive badge for their pen names, and more — all of which builds their reputation in the book buying community. Top Amazon reviewers are often more powerful than traditional media reviewers.
Help customers build their affiliation networks
Customer advisory boards — in which a firm's customers provide input and guidance on products and strategy — have been around for years and are often an effective way to gain "buy-in" from customers. Firms like Microsoft are taking this up a notch, with industry councils. These are groups that focus not on Microsoft's products, services, and strategy, but rather on a compelling industry issue that is top-of-mind with people in the industry — a significant difference with great appeal to buyers. In particular, Microsoft formed a council that focused on one of the most vexing of all business technology issues: interoperability (the council is called the Interoperability Executive Council or IEC). Once people were convinced that this was a serious attempt to address the issue (and not a vehicle to push marketing), Microsoft was able to attract a marquee list of senior technology executives from around the world. At times, the IEC will address issues that Microsoft can't help with — and the firm will go so far as to bring competitors into the discussion who can.
What's in it for Microsoft? Over time, the discussions and work performed by the IEC have given the firm insider access to the best thinking on this issue, which informs its product decisions, helps it establish thought leadership, and burnishes its standing as a constructive force for the industry.
Help customers build status in the community
When marketing services and software firm, Eloqua, for example, decided to start recognizing outstanding work and results achieved by firms in its industry with awards, it decided to go the whole hog. And for good reason: helping customers build status is an exceptionally valued aspect of one's social capital. Eloqua patterned the awards ceremony after the Emmy awards (it even hired the firm that designs the Emmy statues — calling it the "Markie"). They're awarded at a lavish black-tie ceremony at a posh location, where some 20 awards are handed out over the course of the evening. The event attracts substantial media attention, in part because the firm is very careful to make sure that winners really are the best. And note — awards are not limited to Eloqua clients. They go the best in the industry, as determined by an independent industry council.
Give them a say
High glamour isn't the only way to help customers build social capital. CSC, which creates financial services software, has built a tier of for-customer communities that allow customers to exchange ideas and best practices, and have a say in new releases. As products or updates are being developed, customers can subscribe to RSS feeds keeping them apprised of new release progress, and provide input — which CSC takes seriously. This can slow the process down, but it creates enthusiasm, as borne out by the numbers. After implementing the process, request rates for new software releases increased by 50%.
What do all of these efforts have in common? They build communities that exert positive peer influence across all the relevant companies' markets. The ability to create this kind of Level 4 customer value proposition is the key skill set that companies will need in the new world of marketing.
Bottom line:
Customer Community powered by phpFox is your right choice of building your own Customer Community in days, not weeks. Our Marketing and Technical experts is ready to help at your click http://biz.phpfox.com or email biz@phpfox.com