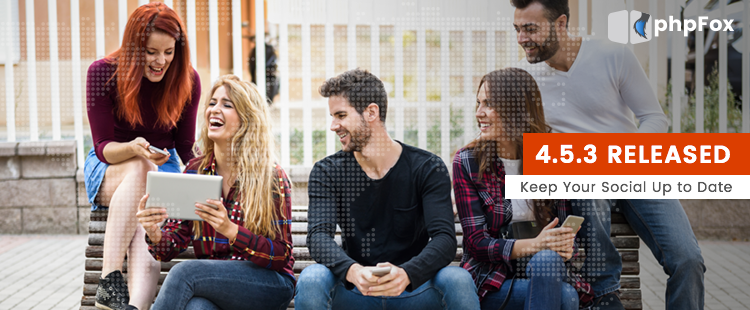 phpFox 4.5.3
We are pleased to announce the release of phpFox 4.5.3. We are talking about the latest stable version of phpFox. This version is focused on only 1 main objective: improving significantly the quality of the Core script. We also studied thoroughly and fixed all the issues you have submitted on phpFox Community and GitHub. You can also find some new features added as we mentioned on our recent blog and you would be surprised about the great changes, improvements, and additional features in this latest version. Because of this, we are confident to tell that this will be the most stable version of phpFox ever. We will have full focus on phpFox 4.6.0 to make our Core script even better while you are enjoying this latest version,
Fixed Issues
We have already fixed all major bugs from 4.5.2. You can get the full list here.
Improvements
A lot of improvements have been also implemented in this version. Visit here to view them all
Notice
The phpFox CDN and Amazon CDN are now separated from the Core platform and published as standalone apps from this version 4.5.3. Check out this blog to know more details about these apps.
While installing / upgrading platform, phpFox allows admin to choose which apps from Store will be installed/upgraded along with the platform. However, because the newest version of Video and IM apps are so different to the previous ones, if admin wants to use these new apps, admin has to re-check all configurations as well as installation guide of them
Installation Info
Please note that if you have phpFox 4.5.2 or lower installed, you do need to run the full upgrade routine.
Development Updates
If you are developers and you have a concern about our changes in the Core script on this version. Please visit here to get more detail information.
Change log
Find bugs with this version? Please report them at our Github tracker.
Need support? Don't hesitate to submit tickets right from your account to reach out just visit our website and chat with our live chat agent. We will reply to you very soon then.
We hope that you feel interested and joyful in this release. Stay tuned as we will get back with more updates soon.