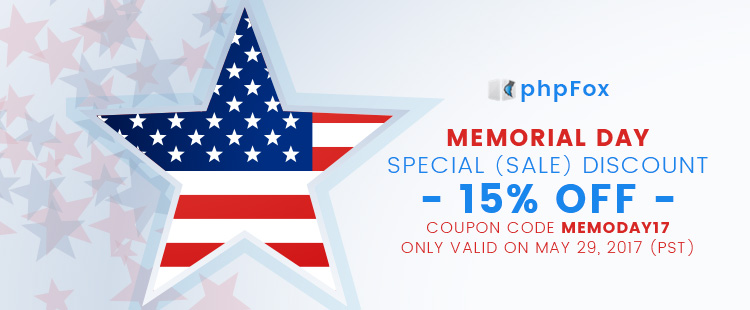 Memorial Day is a federal holiday in the United States for remembering the people who died while serving in the country's armed forces. The holiday is currently observed every year on the last Monday of May.
In part of remembering these so-called heroes, phpFox would like to give 15% OFF discount to all who will purchase the script on May 29, 2017, PST.  This is the best time for you to purchase the script.
You can use the promo code MEMODAY17 upon checkout. Refer to the original pricing page for your reference. https://www.phpfox.com/pricing/
Discounted prices of packages are listed below
Pro = $539 $459
Basic = $399 $340
Lite = $299 $255
These discounted prices are only valid upon using the promo code MEMODAY17 for 1 DAY ONLY upon purchasing. So what are you waiting for? Grab this opportunity now and start your own Social Network website.
Not yet ready to purchase the script? You can actually request to have access to our trial version. We will give you 14 days to explore and study the script on your own hands. All you need to do is to follow the instructions on our website and you will be able to run and test both frontend and backend absolutely free for 14 days.  Just click here if you're ready.
You can also visit our demo site at https://v4.phpfox.com/
Got some questions? Chat with us or Leave a message. We are always happy to assist you.