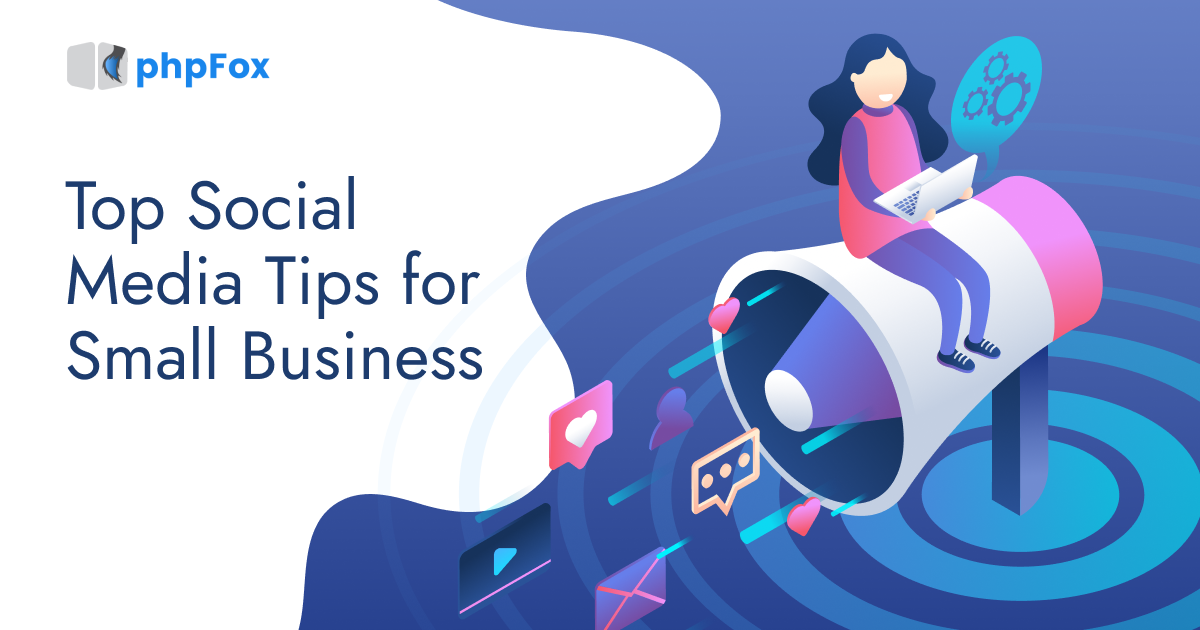 Using social media to their full potential is a good way for small businesses to get their name out there. Not everyone knows how to do it; here are some social media tips for small businesses.
RELATED: Tips to Build a Great Online Community
In This Article:
7 Great Social Media Tips for your business 
Understand Your Audience
According to Rachael Samuels, Senior Manager of Social Media at Sprout Social, small companies should participate in "social listening" to "understand wider patterns and cultural subtleties that affect how their audience connects with their content."
According to Sprout, males aged 25 to 34 account for 56% of Facebook's largest demographic. Instagram has the same age demographic as Facebook; however, it is 57% female. On the other hand, Twitter has a 68% male preponderance and a core demographic tilt between the ages of 30 and 49. The bulk of TikTok users is between 18 and 24, with females accounting for 59% of the total.
Increase Post Frequency 
Posting regularly can significantly enhance your chances of connecting with new potential consumers. Not only that, but your audience will want to know a lot more about your strategy, what you're doing, and what additional ideas you have in the works. That is why it is critical for you to constantly publish on social networking sites to keep them around for a longer time.
"How much is enough?" is the key issue that has to be answered. During Creator Week in June 2021, Instagram CEO Adam Mosseri shared a simple formula for anyone looking to grow their following: two feed changes each week, two stories per day.
Hootsuite estimates that the typical business produces 1.56 posts a day, so you need to post more frequently if you want to compete. This is because building a following on Instagram is a long and steady process, with businesses reporting a 1.46 percent monthly follower increase.
Use Hashtag
Instagram's hashtags are a bit of a mystery. For those of you who don't know, hashtags are really handy for putting your name out there to the people who haven't heard of you. Using hashtags isn't for everyone; some conceal them beneath captions, while others refuse to use them at all because they feel they clog up messages.
Instagram has issued a new set of rules for using hashtags. What should you remember? You're probably utilizing a lot more than you realize. According to Instagram, you should use a maximum of three to five relevant hashtags in your captions. And also, adding 10-20 more hashtags will not help you get additional distribution. 
Even after all these years, there are still a few things you can do to get the most out of Instagram, such as using certain hashtags or even making your own. Then, instead of being associated with spam, your hashtags will serve a useful purpose for your target audience.
Use Shopping Tools to Sell on Social Platforms
When it comes to finding new items, social media shoppers have access to an incredible array of resources. Fortunately, the same is true for small companies. Instagram shopping posts increased website traffic by up to 1,416 percent, according to a BigCommerce research of 50 brands, but Instagram isn't the only place where customers can buy your items.
On phpFox social networks, users can show off and sell their products directly and effectively with easy payment methods through phpFox marketplace. Not only that, but you can also collect money or donations with the many useful features built-in phpFox. 
Share Testimonials
Small companies operating in an internet environment filled with frauds and low-quality online storefronts require more credibility, which can only be achieved by positive press coverage and testimonials from satisfied customers. According to CXL, websites with customer testimonials increased conversions by 34%, and social media gives you countless opportunities to spread the word.
A poll conducted by Zendesk indicated that 90% of participants were impacted in their purchase decisions by good reviews. There is possibly no positive review more believable than one from a renowned news outlet. Over 70% of customers look at product reviews before purchasing.
Invest in Creating High-Quality Content 
The following social media tip is to make sure you invest your time and effort in producing high-quality content that appeals to your audience. Keep in mind that different target groups have other interests, so you must research and diversify your content. 
However, that can be tricky as you need extensive knowledge and data to understand which kind of content is suitable for your audience. With the help of phpFox, all of the critical data is accessible to you, allowing you to have a more in-depth view of your customers. 
In addition, phpFox is social network builder highly customizable, so you can easily change and design your layout and the user interface to improve your user experience. And if you are having trouble setting up your online community, phpFox's dedicated team of experts can help you. 
Social Proof Your Brand
Even if you put in the effort to make your content appear as polished and appealing as possible with the tools and time that social media provides, nothing is more compelling to potential consumers than hearing from people who have had a positive experience with your product or service. The most effective way to encourage new followers to become customers is through social proof.
You may achieve this by working with influencers or asking creatives to promote your items. More than half of Instagram users have bought a fashion item after seeing a creator advertise it.
With these social media tips, are you ready to promote your business and gain more followers? Contact phpFox social community platform now! Let us know how we can help. 
UP NEXT