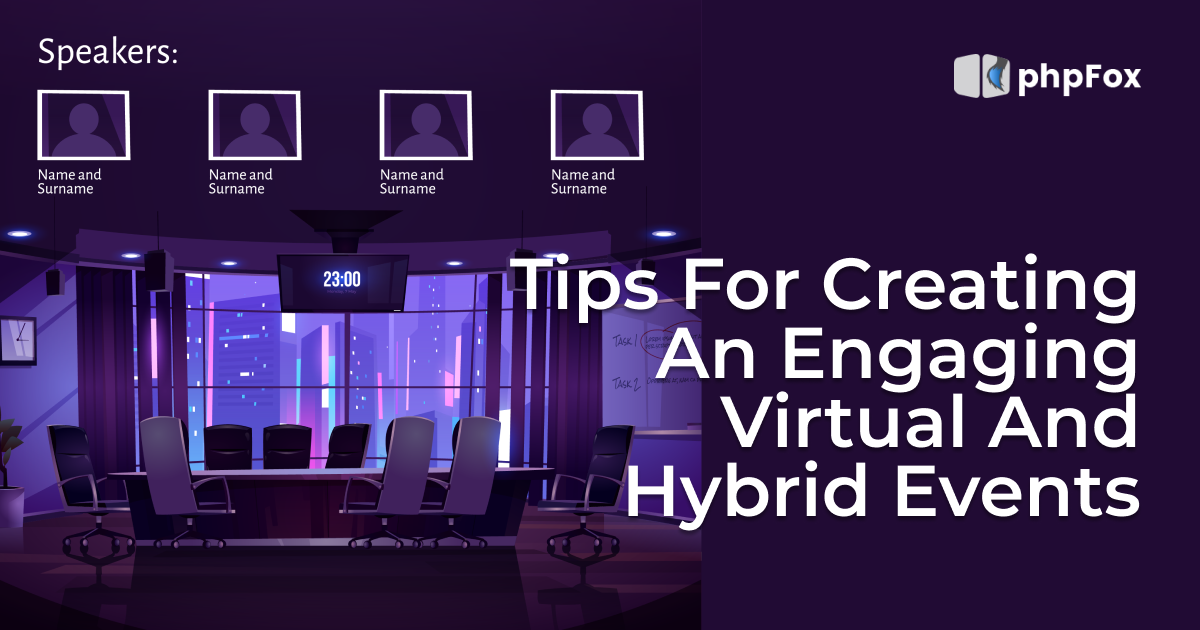 An online event, if done right, will create massive changes for your brand, from gaining a bigger audience and expanding your market to driving more revenue to your business. Check out these tips for creating highly-engaging online and hybrid events. 
RELATED: How to Host a Successful Online Event
In This Article:
What Are Online and Hybrid Events?

Use Data to Increase Your Engagement

Provide High Production Value and Quality Content

Create Core Moment 

Make It More Interactive
Create the Most Engaging Online and Hybrid Events with These Tips
What Are Online and Hybrid Events?
First, you need to understand what an online event (also known as a virtual event) is. In contrast to a formal meeting, a virtual event takes place entirely online and is also known as a virtual conference, a Livestream, or a webcast.
Some of the most common uses of virtual events include webinars and live broadcasts, virtual trade exhibits; online seminars; virtual tours; and business events, among many more options available. Hybrid events, which combine live events with online-accessible virtual material, have also grown in popularity.
With the use of technologies developed to duplicate the event experience online, virtual events can function. A computer, smartphone, or tablet with a built-in camera and microphone are all that's needed to get started; any other equipment will do.
Hybrid events it's a combination of both online and offline events. It will be hosted at a physical place where there will be hosts and seatings just like a formal event with the added screen or monitor where the audience can interact or contact with the presenter or guest on the other side of the net via the internet. 
RELATED: Live Streaming: 7 Ways to Make It Work for Your Business
Use Data to Increase Your Engagement
When compared to traditional events, one of the most unique and valuable advantages of virtual events is the data generated about your audience. Pay special attention to your best-performing content and make sure it really grabs the attention of your target audience!
Learn which videos or content were most popular and reorganize your presentation to more significant effect.
Change out low-performing material for something different. Try something new and find out what your target audience relates with.
Segment your audience according to the sort of material they consume. Then, follow up with a customized message that speaks to each group.
Use the engagement statistics to help you create fresh material for your next event, maintaining consistent engagement.
Provide High Production Value and Quality Content
Viewers expect the same comprehensive viewing experience as they do on television. A screen of talking heads is no longer sufficient. It must be packaged attractively.
The image and sound quality must be pure, robust, and clear.
High-quality images that complement the story you're delivering will hold your audience's interest.
Your host is an essential aspect in keeping your audience's interest. Your company's highest-ranking officer may not be the most approachable host.
The best presenters don't just provide information; they convey a tale to which the audience can relate.
Breakout rooms provide a more intimate setting that facilitates networking when networking is the primary focus. Consider creating spaces based on a particular theme or locality.
Integrating pre-recorded content with a live event allows you to invest in better production quality while also delivering it numerous times to meet different time zones.
Create Core Moment 
Your participants have just sat through a 45-minute to a one-hour session; instead of just thanking them for their time and then sending a recap email with an on-demand link attached, rejoice! 
They gave you their time, so consider creating a surprise and joy moment by throwing a short 10 – 15 minute afterparty with trivia or any other gamification element that allows your visitors to win a gift. Branded swag, e-gift cards, and customized and packaged beverage or snack boxes will ensure that your victors are satisfied (and possibly returning for future engagements too).
Make It More Interactive
Who wants to be talked at? That's right! Nobody! Several powerful and successful strategies to keep your audience engaged during your presentation. Consider using live polls and surveys after events and while inviting guests so that they may provide information about what they're looking forward to learning from the event. Live polls and surveys may also be used to keep people on their feet and actively engaged during events.
With all that being said, the first and utmost important thing before hosting or even planning any online or hybrid event is to have a stable and robust online community platform to host such an event. If you haven't had one yet, phpFox can help you with it. 
phpFox offers businesses a powerful social network platform for building niche communities, complete with valuable and useful features such as chatting, live streaming, and video conferencing. All of the mentioned features are exceptionally crucial for anyone planning to host an online or hybrid event of their own. 
Don't hesitate to contact us via email or client area and let us know how we can help! 
UP NEXT: