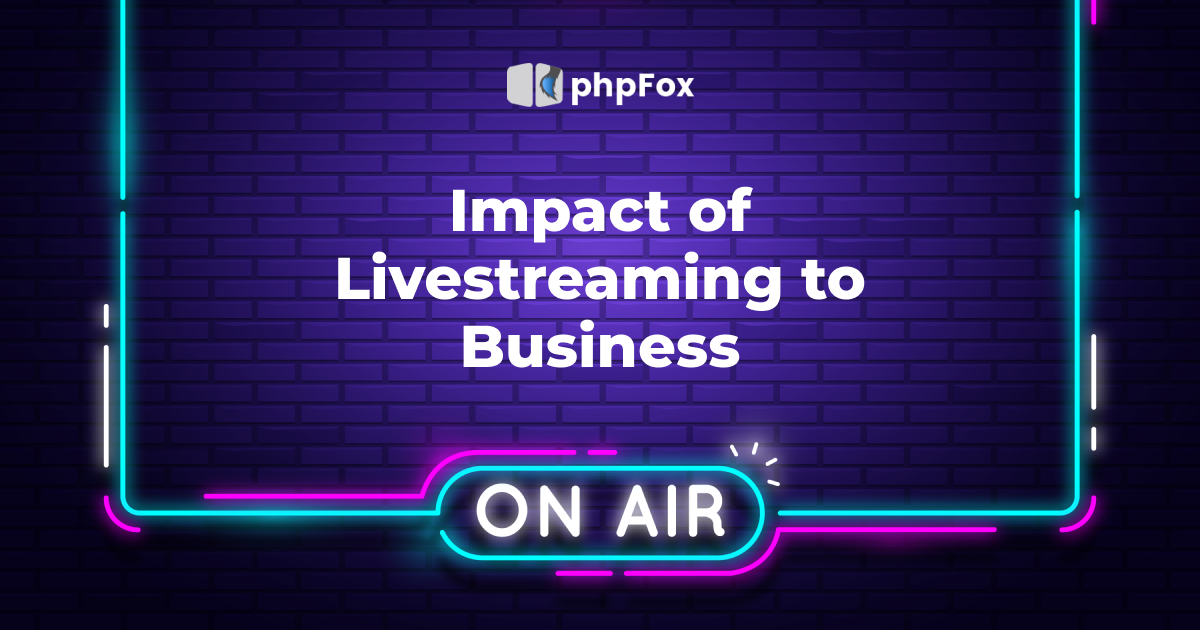 Live streaming has been booming with popularity, brands are increasingly using it to interact with their audiences, sell themselves, and promote specific products, services and releases. Marketing professionals now use live video in their social media strategy which can take the numbers to an even higher level.
RELATED: How to Build an Effective Social Video Platform
In This Article:
Why Is Livestreaming so Popular?

Build Communities

Cost Saving

Reach Younger Audience
Livestreaming – the New Solution for Online Business
Why Is Livestreaming so Popular?
In what ways does live streaming have an impact? Using this medium to reach your audience and promote your business has a number of distinct advantages.
Live streams are in demand because people want to see more. Compared to conventional social media posts, 82% [1] of respondents prefer brands' live videos on social media outlets. As a result of the increased demand, businesses who do not use live streaming are failing to meet the needs of their customers. You may expect brands who prioritize live streaming to easily steal and engage your audience.
It is effective with influencers. Today, 89%[2] of marketers feel influencer marketing is beneficial, and live streaming is an excellent method to connect those influencers to your audience. Seeing a recognized person in a live video may significantly boost your brand's visibility in the eyes of potential clients.
It's great for social networking. Since February 2020, LinkedIn Live streaming has surged by 158%, a pattern that has been replicated by many other social media networks. Live broadcasts are an excellent method to reach out to your social media followers and engage them on a large scale.
Because live streaming is still a new player in the social media game, many businesses are hesitant to use it to engage with their consumers. Although it limits the group of businesses who employ live streaming, it also helps them because it makes them platform pioneers.
Aside from demonstrating their uniqueness, it also makes their consumers feel more connected to them. It enables customers to build bonds with the brand as well as among themselves, eventually forming a community spirit.
Cost Saving
Most businesses, whether they're online or not, devote a significant portion of their advertising budget to traditional media such as television and radio. It's beginning to look as though live streaming can replace pricey advertising campaigns with similar results. 
Live streaming is one of the most cost-effective forms of advertising, even if it is not exactly "free" due to the requirement of a robust internet connection. There are no special equipment requirements for live streaming other than your phone and an internet connection.
Social media is growing out to be a major marketing tool, even if its effectiveness in marketing and advertising isn't yet sufficient to replace conventional media.
Adobe's Creative Cloud marketing serves as an excellent illustration of this. Periscope was utilized by the firm to host a day-long event that let their audience to interact with Creative Cloud workers and learn about the various products. According to Single Grain [3], the event was a big success for the firm since the hashtag #CreativeCloud trended on Twitter, raising the awareness of their product even more.
Reach Younger Audience
It is desired by a younger audience. Even if it's not the most complimentary thing to say, the fact remains. Laptops and smartphones are lifelines for today's youth, especially the millennial generation. More and more individuals are turning to the internet to catch up on their favorite shows, news, and other information. 
Despite the fact that "Gen X" may not be as interested in live streaming as younger generations, it is progressively proving to be a useful platform for companies looking to target this demographic.
Almost half of Generation Z uses social media to watch their favorite shows live. As time passes and younger viewers make up a larger and larger portion of the market, live streaming will grow increasingly popular. Companies who build a live video presence today will be ahead of this highly predicted trend.
As more companies spend money on live streaming services, and as well-known celebrities use live streaming to reach their fans, it's reasonable to predict that live video streaming won't be going away anytime soon. 
In fact, as the audience grows, it may get increasingly sophisticated. It's a young platform that companies are starting to use, especially online companies looking to take advantage of its many advantages. It's possible that live streaming may work its magic and rocket businesses to online success if they have the correct content, duration, and other components.
So in case you want to get started with live streaming, and stay ahead of the competition phpFox got you covered. With the latest update to phpFox Mobile App, you will now be able to livestream in higher quality thanks to the new improvement which allows you to live stream from the web using OBS. Create better user experience, and good impression with phpFox Mobile App 1.7.6 livestream feature. 
Not only that we are also running a seasonal promotion for this Halloween season, you will get 18% OFF all of your Purchases, Upgrades, and Solutions. So this is the perfect time to join in, and get the business up and running.
Click HERE! For more info on the promotion. ?️ Halloween Promotion ? Trick Or Treat ?
Contact us now and let us help you bring your ideal social network to life.
UP NEXT: