How is your day going? As our promise, next to the release of Reactions, Status Background apps as well as Mobile API 4.3.0, today we are proud to announce that the phpFox Mobile App version 1.4 Official Release is here. You can submit tickets in Client Area from now to upgrade your mobile apps. And certainly, before upgrading your mobile apps, let's see which features this new mobile app version brings to your users.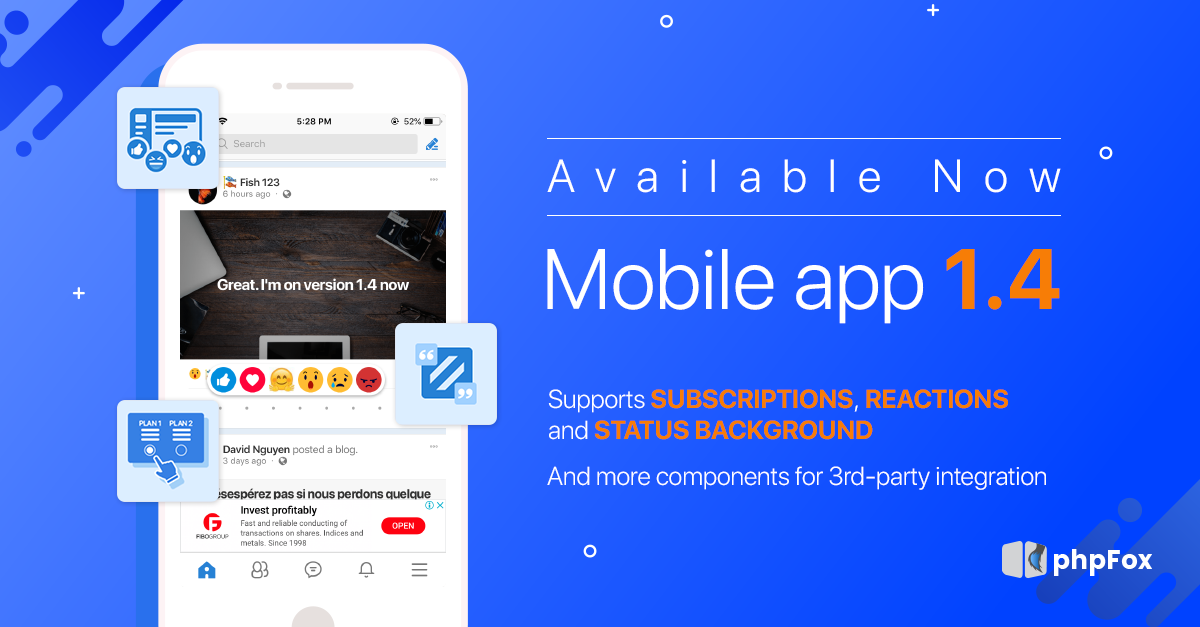 phpFox Mobile App version 1.4
Here are the highlighted features in the phpFox Mobile App version 1.4
– User subscription
– Reactions and Status Background
– Have push notification for new messages.
– Support more components for 3rd-party app integration.
User subscription
Subscription is always one of the main phpFox monetization features that bring site owner money. This is why we decided to prioritize this feature in mobile apps in this version. In particular, on mobile apps, users will be able to choose subscription plans when signing up, upgrade subscription in the Account Settings area, and then proceed purchase with Paypal or activity points as the web version. This feature will make your users feel more comfortable because they can subscribe to a package on either web or mobile apps.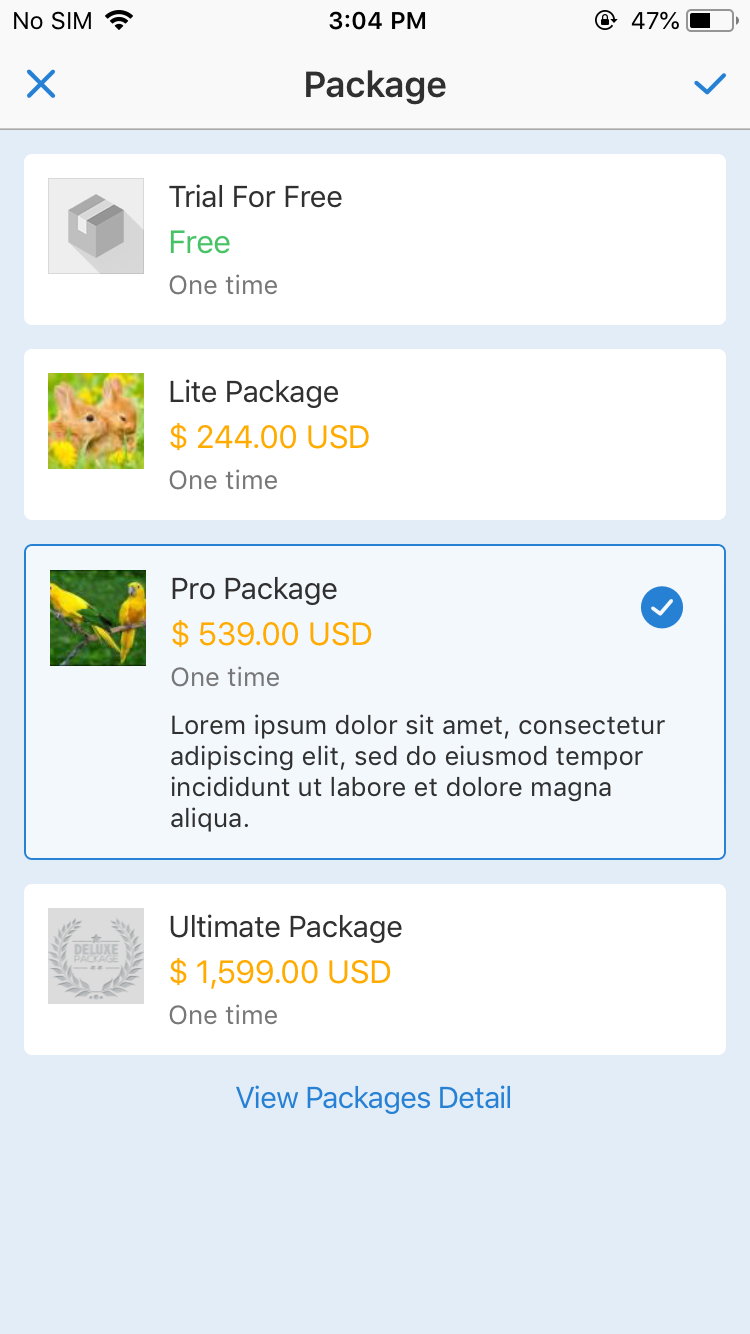 Reactions and Status Background
As you may know, these features were first introduced on Facebook a few years ago and quickly become Must-Have key features for any social network site to increase user engagement. Thus, we decided to support them on our mobile apps by default. By upgrading your mobile apps to version 1.4, your users will have the ability to react to a post or comment with their true mood like Haha, Wow, Like, Sad, etc and decorate their statuses with attractive backgrounds. It is necessary to note that you will need to install the Reactions app and Feed Status Background app on the phpFox site.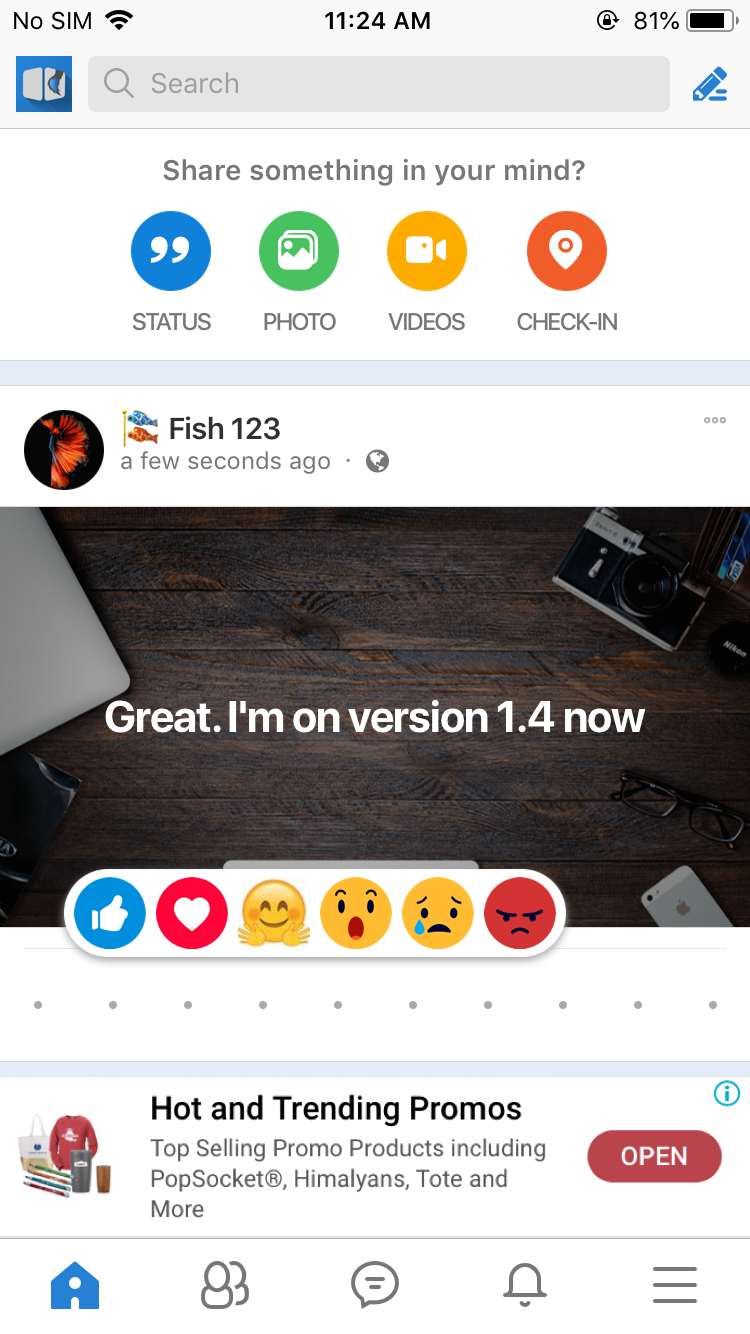 Push Notification for new messages
Similar to other popular Messenger apps, your users can receive a push notification when their friends send them new messages from now. It helps your users still get updates of new messages even though they are not open the app. This feature was proposed by valued feedback from our loyal clients. Thank you for always standing by us. For sure that phpFox always keeps listening to our client feedback in order to make phpFox better day by day.
Support more components for 3rd-party app integration.
3rd-party apps on phpFox Store are always important parts of phpFox. Our team continues supporting more API and layout components to help 3rd-party experts integrate their products to our mobile apps easier and quicker. Our documentation for apps integration solution is going to update frequently. Therefore, please keep watching our Developer documentation in order to receive our latest updates.
How to upgrade phpFox Mobile apps
It is necessary to note that the new features in phpFox Mobile app version 1.4 are only available when using with Mobile API 4.3.0. If you intend to build your mobile apps by yourself, please don't forget to upgrade the Mobile API on your phpFox site. If you use our Mobile Build Service, we will help upgrade the Mobile API app while building your mobile apps. You can open a Mobile Build ticket in Client Area to request for Mobile upgrade from now.
Moreover, I can inform that the Mobile API 4.3.0 already supports multiple API versions. It means that your users using the published apps (with older mobile version) could access the site normally after the Mobile API app is upgraded to version 4.3.0.
What's new on version 1.5?
You may be surprised if knowing that our team has started on mobile app version 1.5. I cannot wait to reveal some info on this new version now. According to our plan, in version 1.5, we are going to have the following significant updates:
– Able to purchase listing items on apps
– Support Mention (Friend Tagging) feature on feed status and comment.
– Improve the stability and performance of IM chat with new technology
– More components for the 3rd-party Integration solution.
– Able to hide feeds of abusive users directly on Home Feed.
– And many other improvements and bug fixes.
Is that cool? However, we still love to have your thoughts. If you are having more suggestions, please don't hesitate to share with us.
Wanna get Premium mobile apps today!
You can merely purchase new or upgrade your phpFox license to ULTIMATE license to get Premium mobile apps. With Premium mobile apps, you can build your mobile apps under your branding. In particular, you can have:
– Change App Launch Screen, App Icon, Logo, etc.
– Change Color Scheme of your mobile app to comply with the web version
– Distribute mobile apps to Apple Store and Google Play under your Developer account.

And, please stay tuned with us. We are going to get back with interesting news very soon.