Hello April. The beauty of Spring season and all around happiness made us so energized to start our exciting plan 2019. Time is flying too fast here since we are having the last moments of Spring season. Today, we would like to have updates but not about what we have been doing. We are going to discover new phpFox apps and themes in the first quarter of 2019. Let's sit down, enjoy a cup of coffee and start our journey now!
New phpFox Apps and Themes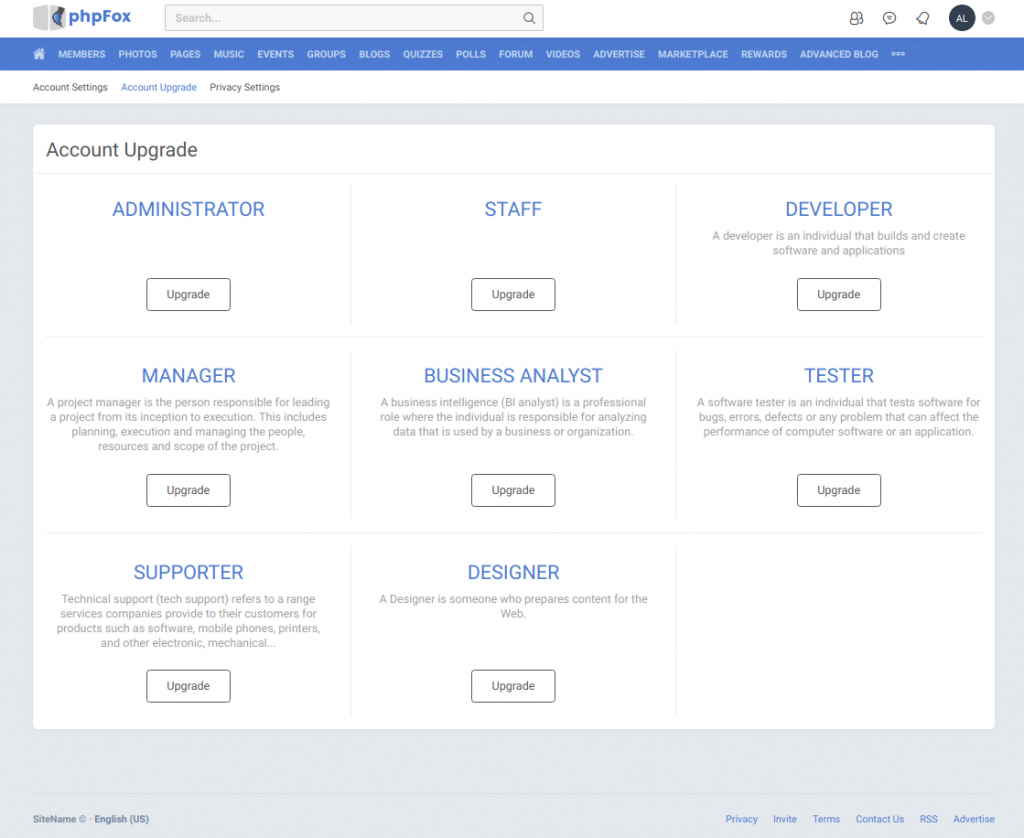 Imagine that when your community has several user groups such as experts, staffs, service providers, etc. or just normal users. Newly registered users (or current users) may expect to become members of these user groups. You surely don't want them to go over complicated steps to get their upgrade level requests to be noticed and approved. Upgrade Member Level app will be the best solution to solve this problem. Read more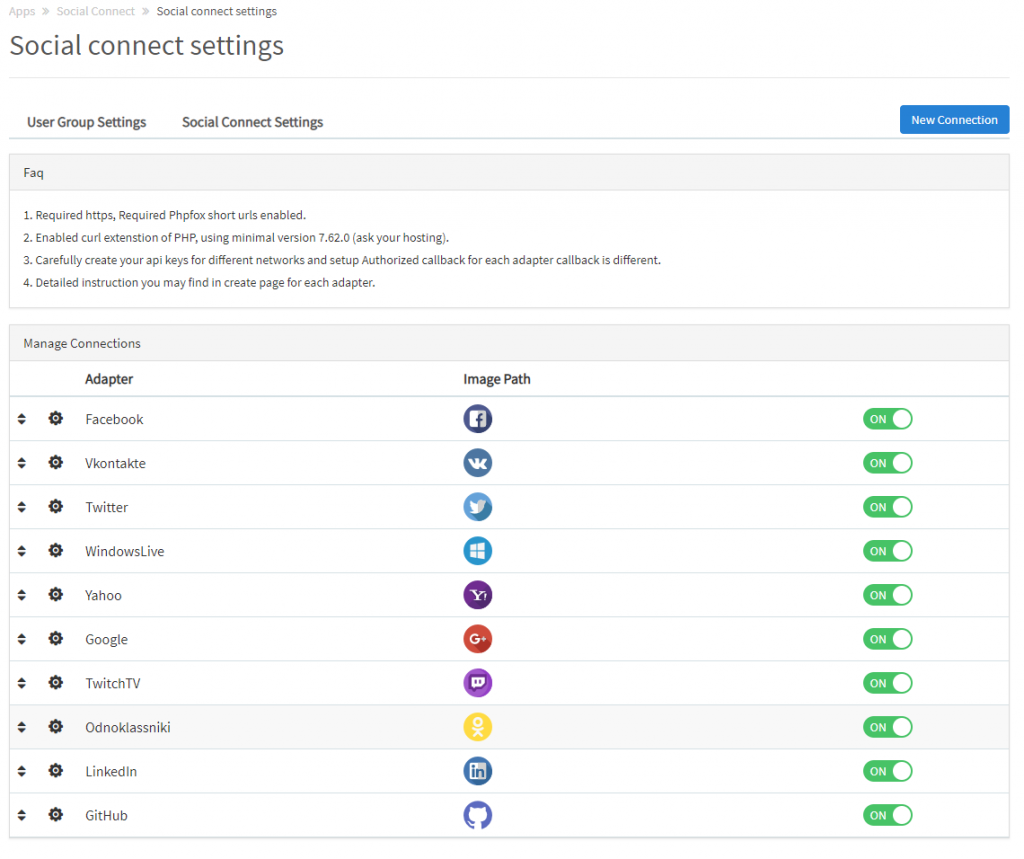 Social Connect allows users to make a connection between your website account and user existing Social IDs. This will increase user traffic and will benefit your website in terms of popularity. Read more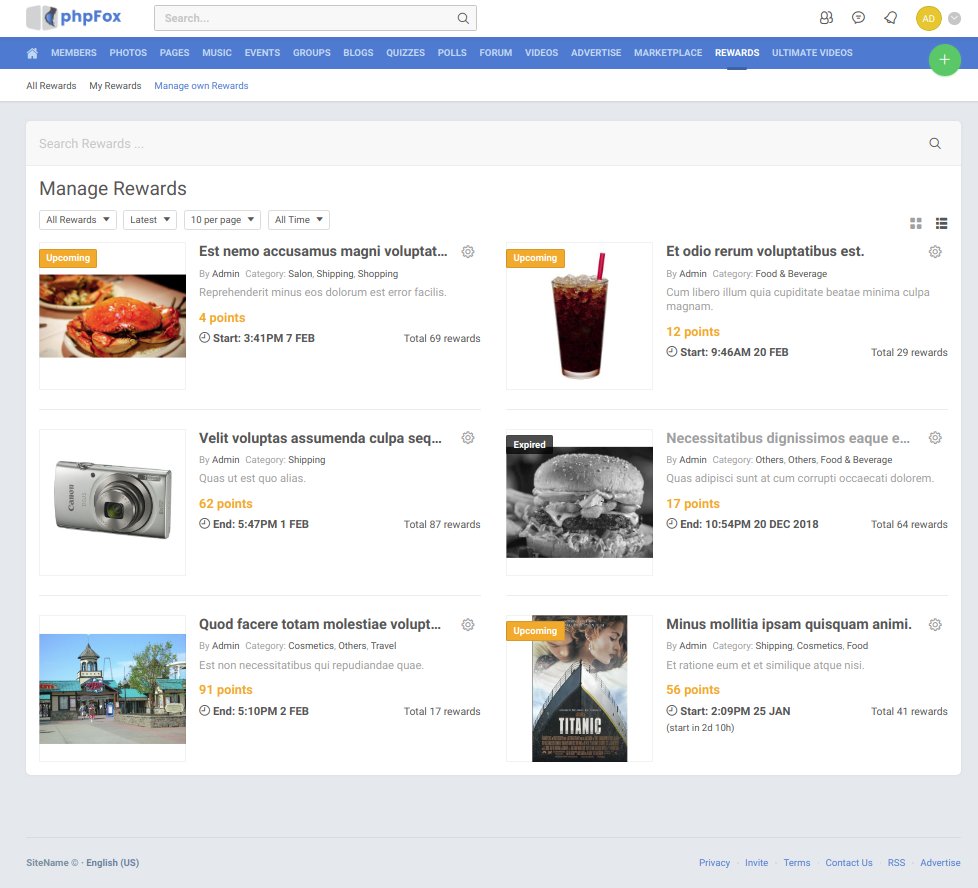 Gamification, or community rewards, is the program to reward prizes to most loyal and contributive users on your community based on their activities in the form of a game-like element. The app encourages users to join your community and engage in pre-defined actions to earn points. Read more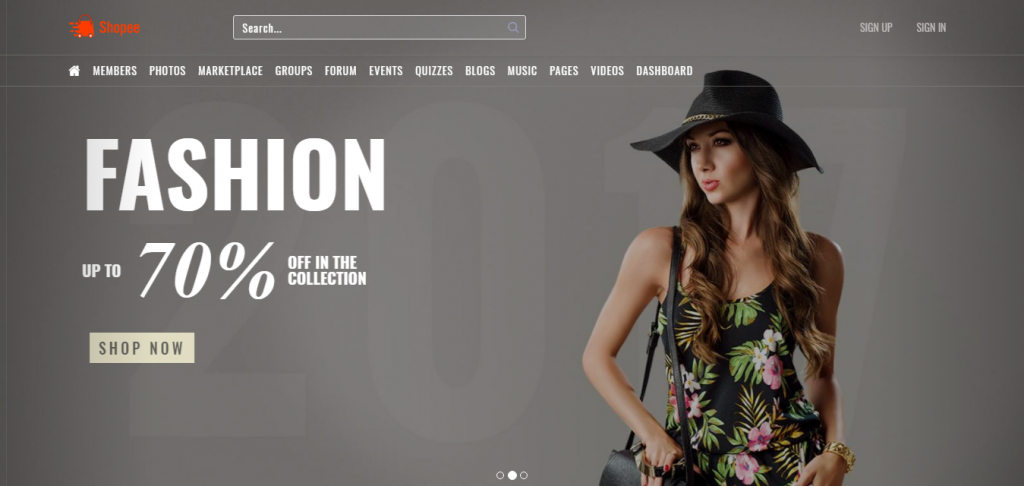 Shopee template is a high-quality E-commerce social networking theme with unique style and clean code. Shopee is the best suited for social websites, design with the sliding main menu and unique home page. Shopee template has a creative, impressive, totally different design with many specific sections in one page. And basically used for online store displaying on the Home page. Read more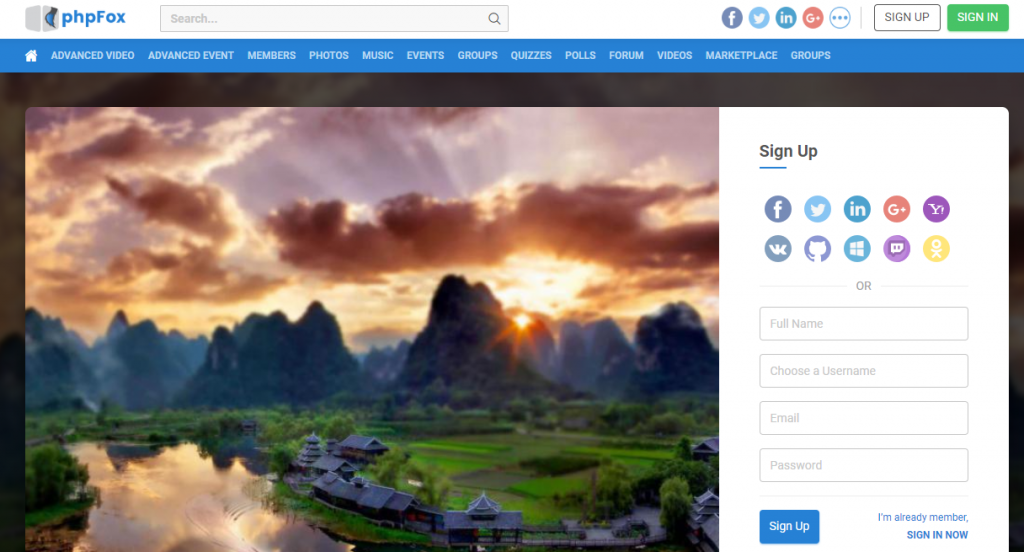 Social Login app increases user registrations on your website by allowing users to log on your website using their existing social media credentials and pre-verified accounts. This phpFox app provides single sign-on from existing social networking services and simplifies registrations and logins for your users. Read more

Given that voice messaging is a thing on nearly every other apps / social networks, this has been a long time coming for phpFox! With Voice Messages app users can send and receive voice messages from their friends directly on your phpFox website. Read more

When the app is installed, the front end of your phpFox social network will have floating hearts to help spread the love! Read more
Everyone is familiar with Ask Me Anything feature of Reddit, one of the most popular online communities over the world. We see that this feature is very essential for any social network site. Learning from others' experience is always a great way to obtain useful and interesting information and lessons. So we bring this feature to phpFox sites with AMA (Ask Me Anything) app. Read more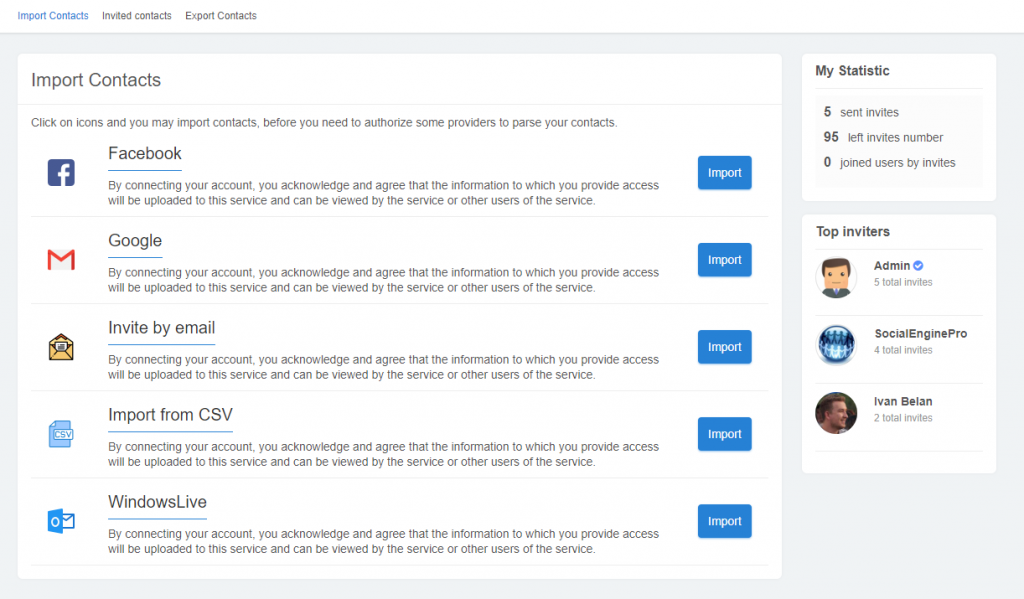 It is a new level of Inviter plugin with powerful tools for your members to import contacts and find friends. This plugin provides not only contacts importing tools, but also allows members to get connected with their Facebook, Gmail and WindowsLive (Hotmail) connections which are already signed up on your site and invite whose are not registered yet, and many other features. Read more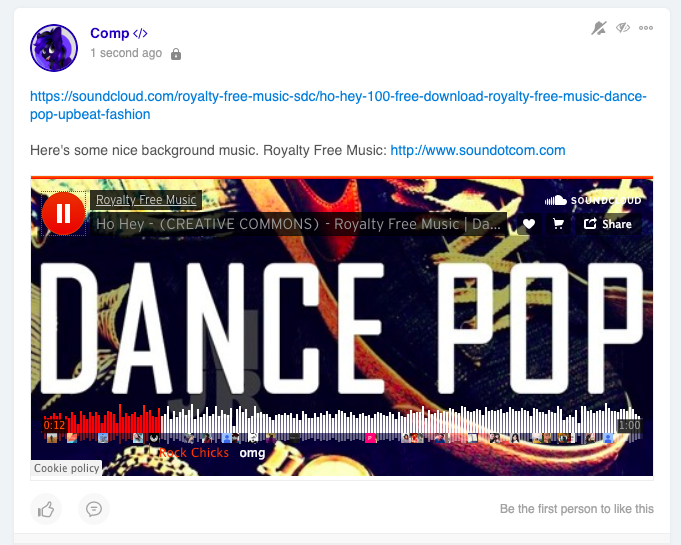 The app allows users to directly share their favorite music songs from SoundCloud, Spotify, and Pony.fm and have them directly embedded in feed posts. Simply add the link into the post, post it, then the embed will be available. Additionally, embedded songs can be viewed directly on the feed rather than a popup! Read more

Introduce Live chat for a whole new level of interactivity. Real-time conversations can happen privately between members. Connecting with Phpfox Messages system, allow to have a quick way to chat and use the history of messaging. Online members receive audio and visual notifications for incoming chat messages. Read more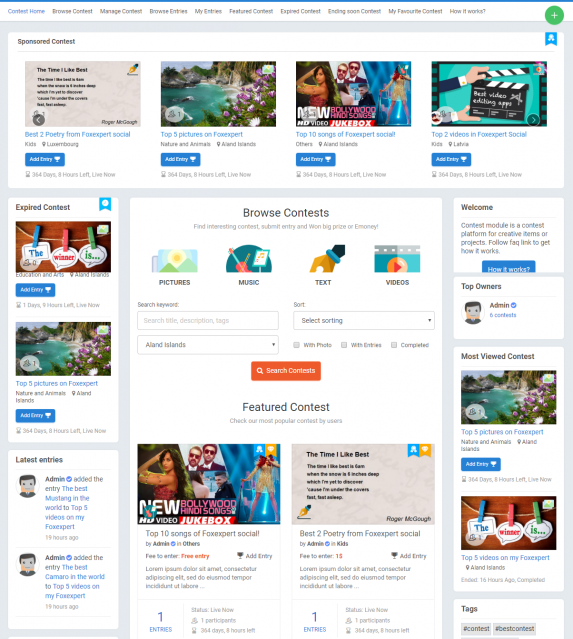 Contests app is a very powerful and robust app that enables you to run and manage contests and competitions on your website. This app provides you full control over the contests on your website by providing many features, settings, and options with optimized performance and easy interface. Read more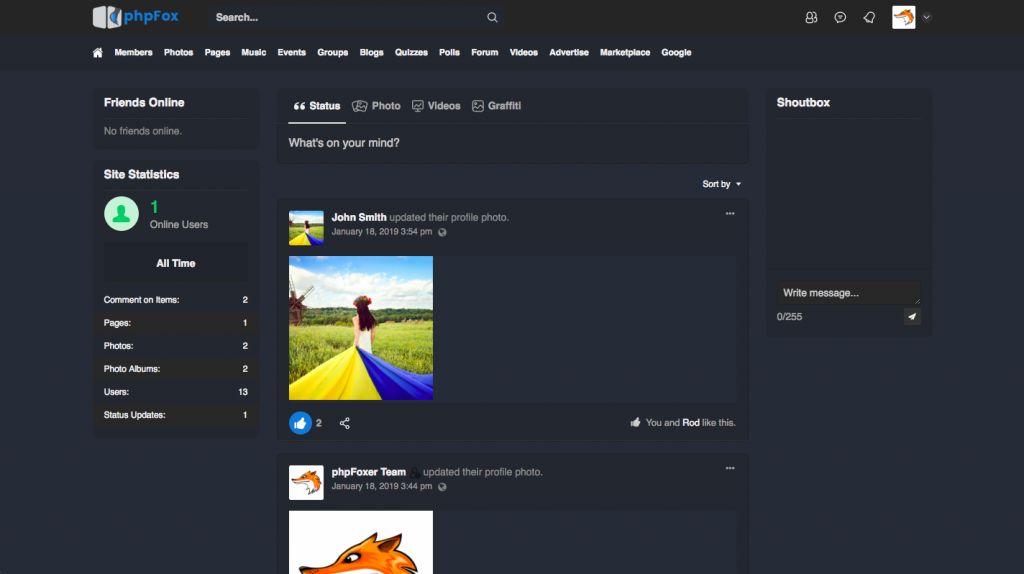 With Dark Mode app you can enable your users to switch Material Template's color scheme between Dark Mode and normal style smoothly to improve the readability of text, images, and videos. Reading website content at night time can be difficult. Help your visitors read more content, spend more time on your social network and protect their eyes from being hurt. Read more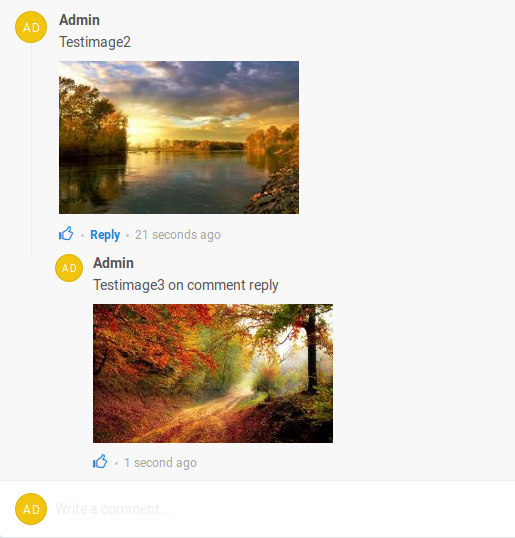 With this app, you are able to allow specific user groups to upload images or share image URLs within their comments. The app is a more advanced version of my better comment image app with image preview, cache system and new methods of uploading and displaying the image files. Read more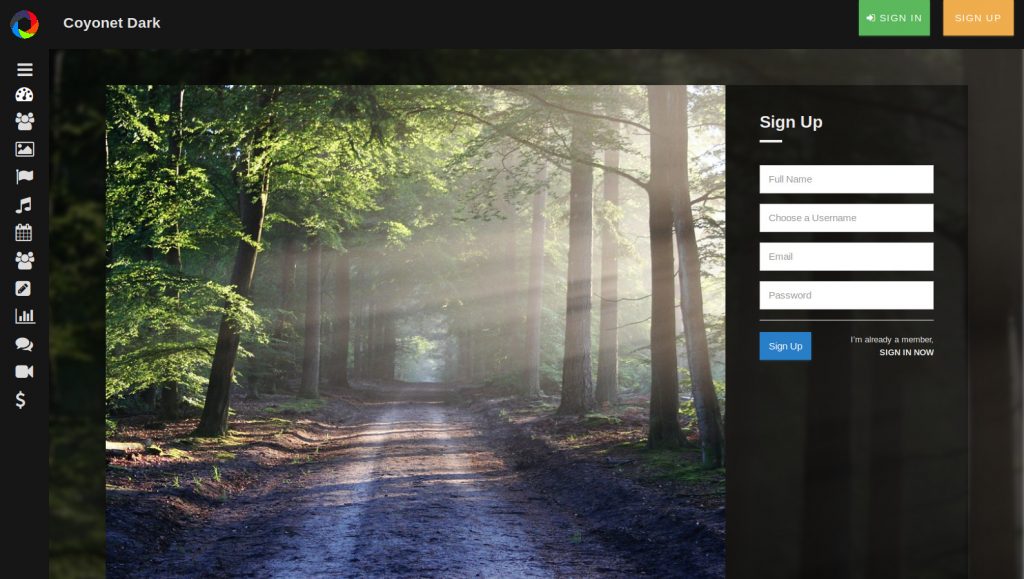 This is a dark version of the Coyonet theme. It is a very clean look theme and the full width of the site gives more room to display the users content. A fully responsive and modern looking theme for all site owners that want something different. If you are looking for a more colorful theme please check out Coyonet classic. Read more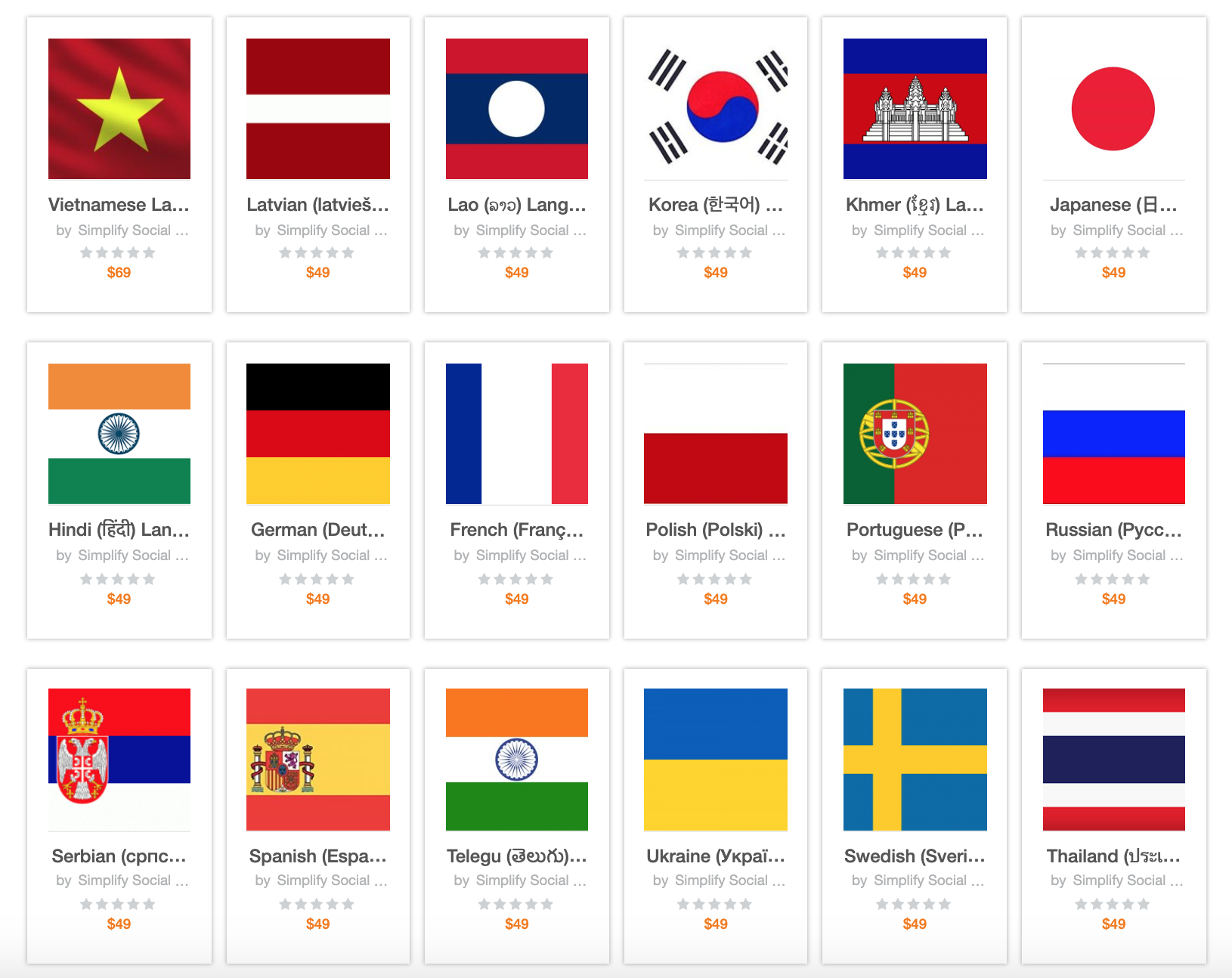 That's all. We hope that you are interested in these new phpFox Apps and Themes.
If you are having any inquiries about these products, please don't hesitate to contact the product vendors to get exact answers.
New to phpFox?
We are proud to provide the completed solution to create your high-performance social network. So you can build your social network with a web version as well as mobile apps (iOS and Android). The setup is easy and quick.

Don't forget to subscribe to our newsletter to receive the latest news and deals in upcoming events.