Hi everyone, snow is falling around here and Thanksgiving season gets back to us again. It is always the perfect time of the year for us to gather together to be thankful for what we have, for the family we love, for friends we cherish, and for the blessings that will come. At this special moment, phpFox team would like to show our great appreciation for your continuous support. Thank you so so much. Also, we are excited to announce that our Black Friday and Cyber Monday Sale 2019 is already here. Happy Thanksgiving and don't forget to join with us in our biggest promotion of the year from now.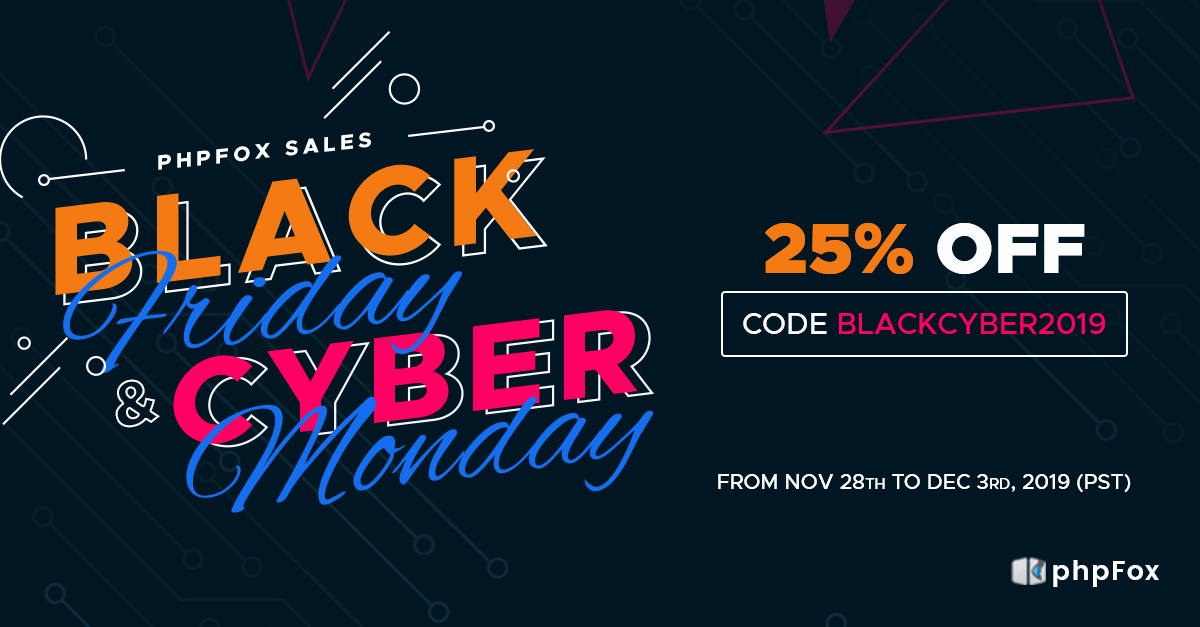 Black Friday and Cyber Monday Sale 2019
25% OFF on new phpFox licenses and upgrades
From November 28 to December 3, 2019 (PST)
Don't miss on this amazing deal to start your own Social Network with phpFox!
Promo Code: BLACKCYBER2019

What are you still waiting for? Let's get or upgrade your phpFox licenses.
3rd-party Deals are also here
If you are intending to get more 3rd-party interesting apps on phpFox Store, let also check out these marvellous deals, grab them with impressive price, and empower your community with products from our Experts.
YouNetCo is proud to provide the best solutions and services to help you build and manage your Social Network effectively and productively. Joining with phpFox Black Friday promo, we would like to offer you 25% Off to all products and packages on phpFox Store from Nov 28th to Dec 3rd, 2019. Coupon code is YNBLAFRI19. So let grab these great deals now while they last.
Get 25% discount for any App/Theme or Package for best Phpfox apps of Foxexpert from 27 November to 2 December. Coupon code is blackfridayfoxexpert
We're about to offer you some great discounts on our Black Friday and Cyber Monday sale (November 28th to Dec 2nd):
1) We offer 30% off for our top-rated apps: Verified Members, Flags, Geo filter, InstaFox, Desktop Notifications, Interests, Stories
Do you plan to order more than 2 apps? Notify us and get a stunning 50% discount for any app or theme of your choice.
2) We offer 30% off for the phpFox Complete package (save $300 now).
Coupon: FOXERBF19
That's it for now. We are going to update the blog for more deals from 3rd-party experts. However, don't wait until tomorrow. Let's come and get these deals from today.
And again, Happy Thanksgiving Day to you and your family!