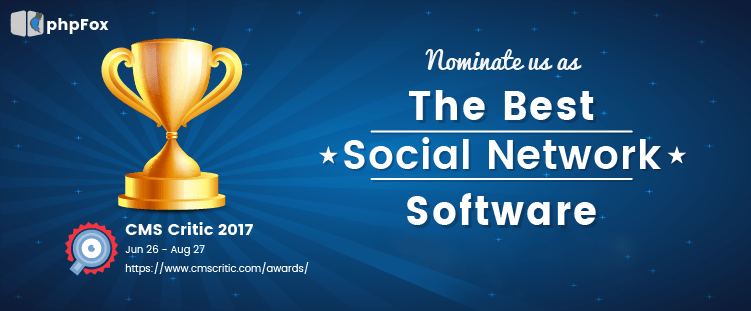 Hello!
Another year has passed and phpFox keeps growing up amazingly. As we constantly improve our platform, we also wanted to share our success to all of our clients. Definitely, we will need your help on this. Our appreciation to all the new and existing clients for nominating us as this year's Best Social Network Software at the annual CMS Critic Awards 2017.
We would like to reach the top and share it with you by giving you an outstanding social networking software. But we cannot achieve this without your help. This is the perfect time for you to show some love to all the hardworking team of phpFox.
We are very grateful that your participation in this contest would be a big help to us and to all the phpFox community.
Nomination runs from June 26 until August 27, 2017. It will only take you a few minutes to do the nomination process. All you need to do is to fill up all the necessary details, choose phpFox, write your message and that's it.
Here's a quick guide to nominate
Go to this link cmscritic.com/awards/2017-web-nominations
Fill up the form with your full name, email address, and put phpFox in the "I nominate" field

Select "Best Social Network software" in the award categories section. And make sure to put enough description why you are nominating phpFox.

Click Submit button to finish the nomination.
Thank you from phpFox and let's all claim the victory!