Since the release of phpFox 4.5 RC a few weeks ago, we have been receiving so many positive and amazing feedbacks for this version. How fantastic it is! We do appreciate your contribution and this encourages us to make phpFox better and better.
And now, we delightedly bring you very good news phpFox Neutron 4.5 is officially released! You can start upgrading your phpFox site for now by following our instructions in articles below: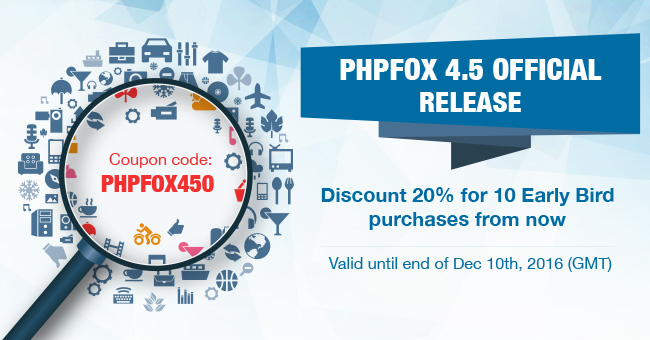 Here is quick summary of main features in phpFox Neutron 4.5:
UI improvements for all pages
Support Right-To-Left layout
New Apps Manage Page in AdminCP
Support users to edit their status
Support crop profile photo in Pages
And many more.
You can refer to phpFox Documents for the feature list in detail.
Especially, for those who are using our phpFox Neutron Pro, there are 5 new great apps (released together with phpFox 4.5) on phpFox Store which are FREE for you! Here are they:
CKEditor – A Web-based HTML text editor – is a text editor to be used inside web pages. This application will replace text area fields with a visual HTML editor, usually called a WYSIWYG editor. So no more painful when editing Blog Entry, Forum Post, etc.
Admin can easily turn this ON/OFF or replace by any other 3rd party Rich Editor Application.
Being a site owner you should have seen servers fail, misconfiguration and loss of data on more than one occasion, haven't you?
Backup your phpFox site fully, create as many backups as you need, choose the files to be backed up and distribute to other servers. Then restoring a phpFox site from backup if anything goes wrong. Everything is quite simple with Backup and Restore application.
The phpFox platform aims to be a fully-fledged application framework, so we need strong APIs that is an easy-to-use, easy-to-understand and well-tested framework.
This application provides an easy-to-use RESTfull API, available via HTTP. So you can allow other applications to securely access your site's data via simple JSON format, including users, posts and more. Retrieving or updating data is as simple as sending an HTTP request.
There is a discussion of how important of preventing concurrent logins to disallow users from staying logged into the same account from multiple devices. So this application allows admin to limit login to one device at a time for a user.
Per configuration, one user won't be allowed to login if same user login from another device. Or they will receive the notification if there is another login from a different device.
One of the simple definition of Shoutbox – A small chat box provides a chat-like feature that allows site members to quickly leave messages on your community. phpFox shoutbox, in simplest form, is lists of short messages, possibly with information about their authors.
As these amazing apps are available for phpFox Pro license only, if you are using phpFox Lite or Basic licenses, please consider upgrading to phpFox Pro license.
To celebrate the official release of phpFox 4.5, we are happy to offer discount 20% OFF for 10 Early Bird purchases from now. Please use the coupon code PHPFOX450 in your purchase. Hurry up as this promotion only lasts until end of Dec 10th, 2016 (GMT).
We hope that you feel interested and joyful in these updates. Stay tuned for more updates.